Editor's Note: I'd worked out my work schedule, so I could take off on a Tuesday in late May to go fishing with my buddy, fishing guide and tournament winning crappier, Jonathan Phillips of Wetumpka, Alabama. Phillips had just won the Alabama Crappie Masters Championship and was catching plenty of big crappie. He felt confident we could have a good day on the waters of the Alabama River, about 1-1/2-hours from my home. However, when I called him on Monday night, Phillips said, "We've had 7-1/2-inches of rain in the last 24 hours on the Alabama River. Since you live just outside of Birmingham, you know the entire state's waters, including numbers of feeder creeks, are flooded and out of their banks. I know this much water will move the crappie around from where they were during the Crappie tournament. Also, a lot of trash will be in the river. I think finding crappie will be harder, and there's an 80 percent chance of rain on Tuesday. We can go if you want to, but I really think we can pick a better day to fish. I've developed some summer patterns that have been really working well. If we wait a week or two, I feel certain we can catch some good-sized crappie." But we caught numbers of the biggest crappie I'd ever taken in these flood waters.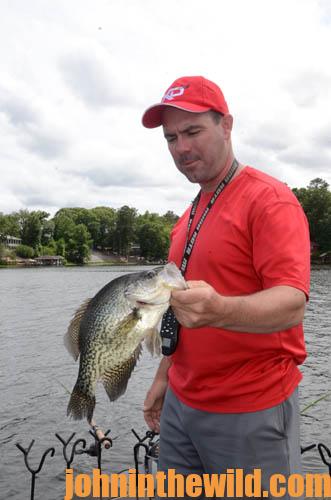 According to Jonathan Phillips, "The depth where a crappie is holding in on any given day will be different in just about every river or lake you fish. If you look at the crappie's eyes, they're really big and very-sensitive to light. So, in clear water, crappie will move much deeper than they will in stained water. Even under flood conditions in really-muddy water, the crappie still have to eat. So, they'll move up and suspend in water where they can see baitfish and feed on them. When the water's so muddy that the crappie hardly can see, they'll locate their bait by vibrations and water displacement. In very-stained water from a flood, I'll increase the size of the bait I use. If I'm fishing live bait, I'll use larger minnows than I normally will fish to catch crappie. Another way that crappie find bait in really-muddy, stained water is through their sense of smell. Under these conditions, that's when a fish attractant like Slab Slobber http://www.malcomslabslobber.com/Richards/Home.html plays a major role in my ability to catch crappie. Slab Slobber in the shad-scent flavor gives the crappie a little something extra that they can use to find the bait.
"On the Alabama River, once the water is really muddy and stained, even in the hot summer months, you often can catch crappie as deep as 6 feet – a fact that surprises many fishermen. The old principle that's often taught to springtime crappie fishermen is, 'When the rivers and lakes flood, the crappie follow the water into those shallow areas to spawn.' That can be true; however, one of the reasons that crappie follow that new water during a flood is to get away from the current."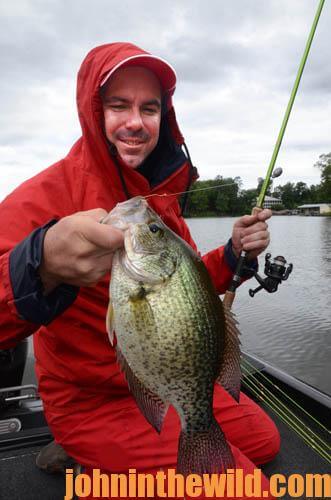 But Jonathan Phillips mentions that there are other places on a river or a lake where crappie can feed and spawn under flood conditions. "Crappie can move to the banks of the creeks or bays, or they can hold just inside the creek where the creek mouth breaks the current. Yet another place to look for crappie during a flood is at the mouths of creeks, ditches and any type of opening that breaks the current. Those openings also create eddies. However, if the water is coming up in a lake, and it's not muddy or not as muddy as the Alabama River can be, even though there may be a fairly-strong current, often, the crappie will suspend behind underwater stumps, logs, humps, mounds, and fallen trees in the river that can't be seen from the surface. That's how we're going to fish today and use my depth finder."
To learn much more about crappie fishing, get John E. Phillips' Kindle eBooks, and print and Audible books by going to http://johninthewild.com/books/#crappie or to www.barnesandnoble.com for Nook books. To receive and download for free "The Crappie Catchers' Cookbook," by John and Denise Phillips, go to http://johninthewild.com/free-books.
To fish with Jonathan Phillips and learn how he catches big crappie all summer long, contact him at 334-391-9735, or go to his Facebook page at Team  Phillips Guide Service https://www.facebook.com/Team-Phillips-Guide-Service-935028296557829.
Tomorrow: Learning How to Catch Crappie When Hot Weather and Floods Happen at the Same Time with Jonathan Phillips