Editor's Note: Matt Lee (http://www.mattleefishing.com/) of Guntersville, Alabama, finished 4th in the 2018 Bassmaster Classic (https://www.bassmaster.com/tournaments/2018). On the last day, he had two chances to win it all. In 2012, Lee won the Collegiate Bass Fishing Championship, and he had four, top-12 finishes in the 2017 Bassmaster Elite Series tournaments, which represents a very-good and consistent year for a Bassmaster Elite Series pro. Twenty-nine-year-old Lee, who has fished the Bassmaster Elite Circuit professionally for 3 years, has earned about $300,000 fishing for bass. 
Although my brother Jordan, who won the 2018 Bassmaster Classic, was fishing in the same general area where I was fishing and was catching spotted bass, he was fishing two, underwater road beds early in the morning to catch those spotted bass. Then he moved to the docks later to find big largemouths. He also had identified a couple of blow-throughs where there were some herring wakes. An island out in the lake had a shallow bar running all the way to the bank from it. The herring were pushed by the wind through those shallow flats, and the spotted bass would move up on these flats to feed on the herring. One of these regions was really productive for Jordan.
In the spring of the year, I usually fish small lures like the wacky-rigged 4-5-inch Ocho that's compact. The bass are in that shallow water to spawn and aren't very aggressive. Or, I'll fish very-large baits like big swimbaits – particularly the 5-1/2-inch Shadalicious and combination baits like a Pure Poison with a Shadalicious as a trailer, which gives me a vibrating jig with a swimbait trailer. For colors, I prefer the Pure Poison in green-pumpkin and the 5-1/2-inch Shadalicious in an AYU color. This combo lure has worked well at Lake Hartwell during the early spring around vegetation and grass. However, I don't fish this lure as much in the early spring if there's no grass in a lake.
Generally I fish about 25-30 tournaments each year, but for me, that's not many tournaments. But, the Bassmaster Elite tournaments are week-long events, and there's 12 of them, plus the week-long Classic. I'm also fishing three FLW tournaments (https://www.flwfishing.com/tournaments/flw) and hoping to make the FLW Championship on November 1-3, 2018, at Guntersville Lake – my home lake. I fished a 104-boat tournament last week that was sponsored by a marina here at Guntersville Lake. On Friday before the tournament took place on Saturday, a friend of mine and I went out and had a tremendous day of bass fishing. I told my buddy then that we couldn't expect that to happen on two, consecutive days. But on the next day on Saturday, we went out and caught 16-1/2-pounds for the day and finished 10th in the tournament. Our Friday catch after only 1-1/2-hours of fishing was 26.87 pounds for five bass. The first five bass we caught on Friday weighed 6.3, 6.17, 6.01, 4.54 and 3.83 pounds. However, that's just fishing. You always can seem to catch bass before or after a tournament, however, trying to produce those numbers during a tournament is a stretch.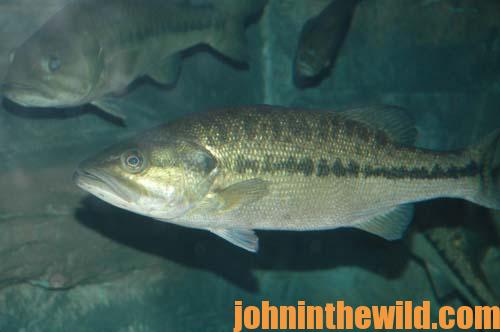 At Guntersville in the early spring of March, we were fishing with a white vibrating jig like the Pure Poison with a Shadalicious swimbait trailer, and a 1.5 flat-sided crankbait in the summer sexy shad color. I caught another good bass that day on a 6.5-inch Shadalicious in an AYU color with a 1/2-ounce jig head.
To learn more about bass fishing and get John E. Phillips' Kindle eBooks, print books and audiobook on bass fishing, go to http://johninthewild.com/books/#bass, or for Nook books, visit www.barnesandnoble.com.
Tomorrow: Matt Lee on His Biggest Bass and What He's Earned Catching Bass