Editor's Note: As a fisherman, you understand the necessity of investing in quality equipment. However, you may question the need to spend additional dollars hiring a crappie guide. But if you want to spend your time on the water catching crappie instead of looking for them, a knowledgeable guide is the best investment you can make. This week, I'll take a look at the advantages of hiring a guide, how to locate a guide for the lake you want to fish, what to expect from your guide, and which questions you need to ask before your crappie-fishing trip begins.
When you hire a guide for the day, here are some standards by which to judge him. A crappie guide: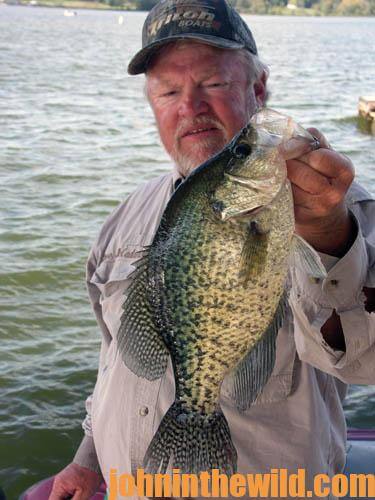 * should have good equipment. His boat should be clean and well-kept and his trolling motor and outboard in good repair. He should have tackle and equipment on-board for you to fish with, even if he requires you to bring your own equipment. If you break a rod or a pole, if you don't have the correct size of jigs or minnows, or if you show up with 10-pound-test line when you should be fishing 4-pound-test line, the guide should have equipment available for you to fish with to be successful with that day.
* should know the lake and the most-productive crappie locations. He should be able to put you in a position to catch fish at some time during the day. There are no excuses for your not catching crappie.
According to Steve McCadams of Paris, Tennessee (https://www.explorekentuckylake.com/lakesarea/fishing/guides/steve-mccadams-guide-service/ – 731-642-0360), a guide on Kentucky/Barkley lakes on the Kentucky/Tennessee border, who has built more than 100-fishing reefs where his clients can catch fish, "I've got spots I can fish no matter which way the wind is blowing. I know of other sites I can fish under either muddy-water or clear-water conditions, deep-water places for when the fish are deep and shallow-water areas for when the crappie are shallow. I don't fish my spots every day, and I do let them rest. Then I can go to these sites and consistently produce fish for my clients. When people hire a crappie guide, they expect to catch fish. My job is to do all in my power I can to ensure they do."
To learn much more about crappie fishing, get John E. Phillips' Kindle eBooks and some print books by going to http://johninthewild.com/books/#crappie or to www.barnesandnoble.com.
To receive and download for free "The Crappie Catchers' Cookbook," by John and Denise Phillips, go to http://johninthewild.com/free-books.
Tomorrow: What Are More Standards for Selecting the Best Crappie Guides
EXPLORE MORE: you'll love these stories from John too