Editor's Note: Jonathan Phillips from Wetumpka, Alabama, primarily crappie fishes the Alabama River and Lake Jordan on the Coosa River. However, he also fishes all over the nation wherever a Crappie Master Tournament (http://www.crappiemasters.net/home/) is held.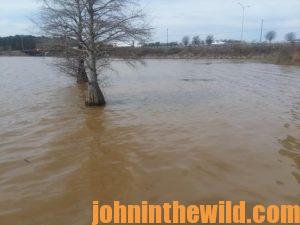 * Current in Lakes and Rivers:
No matter whether you're fishing a river or a lake, the amount of current and muddy water present can make your fishing for crappie challenging. Most river systems have some current running all the time, but on rivers with hydroelectric plants on the upper and lower ends that form lakes, you never know when the current or how much current will run – especially in the summer months with the higher need for hydroelectric power. A lake that's controlled by two hydroelectric plants can come up or drop 2 feet overnight. Then the place you've caught crappie the day before may become high and dry.
I've found that crappie on a river system are much more structure-oriented than lake crappie. If you locate structure on a river and mark it as a waypoint, that structure – perhaps a brush top or a logjam – may move when the water rises. I've even seen sandbars move within a week's time. However, river systems are building new underwater structure constantly.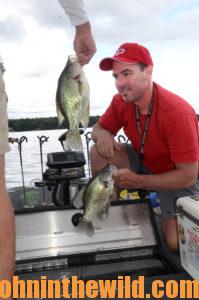 The best advice I have on how to fish current, whether in a river or a lake, is to be aware of underwater structure shifting. The terrain on the bottom and on the shoreline drastically can change in a short time too in a strong current. When a strong current runs for several days or weeks, you may have to spend more time with your electronics, searching for places to catch crappie, and less time actually fishing for crappie. Of course, as a tournament crappie fisherman, I'm not nearly as interested in catching numbers of crappie as I am in catching big crappie.
I've learned that prespawn crappie and postspawn crappie usually will hold in deeper water, on a current break. When crappie are deep, I'll fish a 3/4-ounce weight on the end of my line, particularly in the winter and the summer and in a stiff current, to put the bait in front of the fish's face and keep the bait there. But my rule of thumb is I'll fish the lightest jig possible – a 1/8-ounce – in a place where the current won't affect the vertical fall of my jig or blow my jig away from the structure. However, if I have to use a heavier weight to get down to the crappie in the current, I don't hesitate to do that.
* Muddy Water:
If heavy rain falls for several days or several weeks, the current will be strong, and muddy water will come through the rivers or lakes you're fishing. Although most crappie fishermen don't like to fish muddy water and a strong current, I've learned that crappie aren't as spooky in muddy water. I've discovered that big crappie are often caught in muddy water, so I've learned to love fishing in muddy water.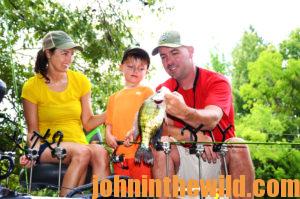 My wife Alicia and I won a tournament on Alabama's Logan Martin Lake when the water was so muddy that you just about could step out of your boat and walk across the mud. The lake was 12-feet higher than one week earlier and was running over the tops of people's boathouses. We caught 2 pound+ crappie all day in a strong current in that muddy water.
We've learned to fish with bulkier-looking baits, bigger tube bodies, brighter-colored tubes and zip tails in strong current when the water's muddy. I tip my jig with a minnow then too. These lure characteristics allow the crappie to find a bait easier.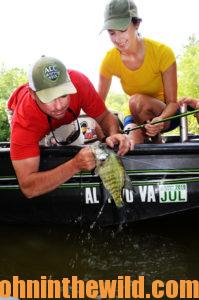 To learn more about Jonathan and Alicia Phillips, go to https://www.facebook.com/groups/1652871384980476/.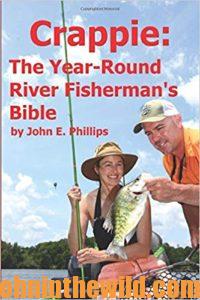 To learn more about crappie fishing, check out John E. Phillips' book, "Crappie: The Year-Round River Fisherman's Bible" at https://amzn.to/2mxWIt4, available in Kindle, print and Audible. You may have to cut and paste this link into your browser. (When you click on this book, notice on the left where Amazon says you can read 10% of this book for free and hear 10% for free).
Tomorrow: How to Fish Floods and Fast Current for Crappie with Jonathan Phillips