John's Note: Productive crappie fishing doesn't end when the spawn is over, but crappie fishing does change. Many nice slab fish still can be caught, if you know where to find them and how to catch them. A few weeks ago I was fishing with Billy Blakely of Bluebank Resort (www.bluebankresort.com, 877-258-3226) on Reelfoot Lake on the border of Tennessee, Kentucky, Missouri and Arkansas.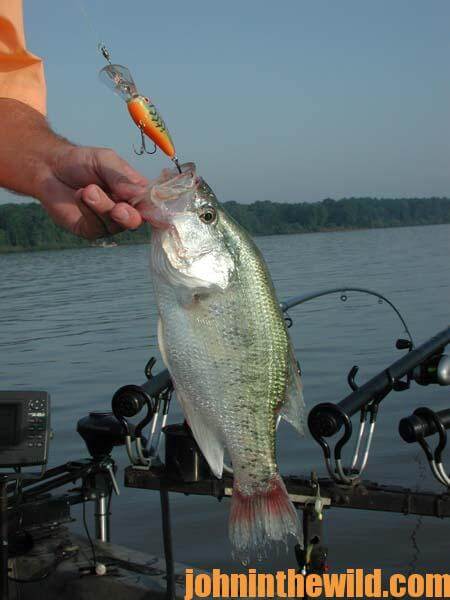 Billy Blakely:
Because the guides at Blue Bank Resort are on the water all day, every day, they stay in touch with where the crappie are holding, when they're biting, and how big the fish are that are running. Blakely reports that, "On a good day during June, we often can get a limit of 90 crappie for three anglers, or 60, which is two limits for two anglers. However, fishing is still fishing. Some days the crappie may get lockjaw, and you may not load the boat. One of the advantages you have at Blue Bank Resort is that if you're having a hard time finding and catching crappie by yourself, one of the guides here will take a break in his day and show you where you can catch crappie and how to fish for those crappie. My job here at Blue Bank is to help everyone I can catch all the crappie they want to catch."
Shane Upchurch on Crankbaits and Minnows for Summertime Crappie:
"Tournament crappie fishermen have been using crankbaits to catch crappie for the last decade," Blue Bank Resort guide Shane Upchurch explains. "However, most of these crankbaits have been small bass crankbaits that they have put about a foot or two up their lines on the poles they've used to troll. On the bottoms of the lines, they've used weights, often as much as an ounce, to get the crankbaits down to the depth they want to troll. In years past, these crankbaits have come in colors designed to catch bass. But, one of the hottest colors for catching crappie in the summertime is a pink crankbait, which more lure manufacturers now are producing for fishermen who troll crankbaits for crappie in the summertime. We troll those crankbaits through the stumps and the logs up here at Reelfoot and catch crappie all summer long. Yes, we'll get a few crankbaits hung. But we catch a lot of crappie. Many people don't know how effective trolling crankbaits for crappie can be, until they try it. That's one of the advantages we have here at Reelfoot is that there is no time of year that we can't catch crappie using some type of tactic."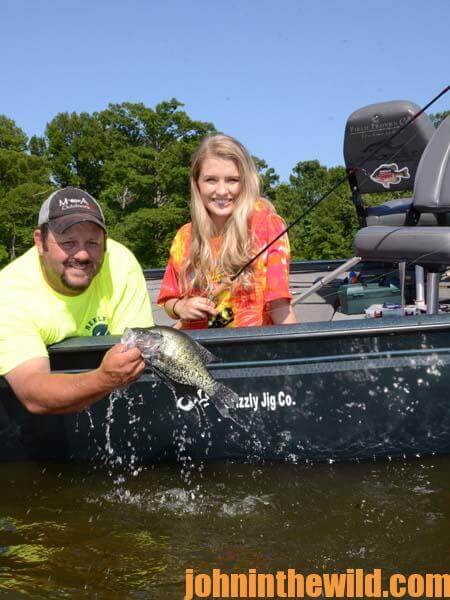 In the hottest part of the summer, the crappie have moved-out to deep water. At Reelfoot, deep water is only 6- to 8-feet deep. Upchurch reports that you can troll minnow rigs about 1-foot off the bottom over the thickest cover you can locate for summertime crappie success. "The cover in this water will be stumps and logs with the crappie holding on that wood. When the fish see live minnows passing over their heads, they'll come-up and eat them. This depth of water is also where the shad are holding. When you pinpoint the shad, you'll locate the crappie.
"In the summer, I fish 10-12 poles on the front of my boat with 10-pound-test lines and B'n'M (www.bnmpoles.com) Capps and Coleman Minnow Rigs tied to the ends of the lines. I use 1/4-ounce weights on the bottoms of those rigs with the bottom hooks about 1-1/2-feet off the bottom, and the top hooks 1-foot above the bottom hooks. I troll this crappie rig as slowly as possible and start fishing about 5:30-6:00 am and fish until about 11:00 am. In August, we generally can catch 40-60 crappie, weighing from 1/2- to 2-pounds each per day. In an average day of crappie fishing, you'll usually catch 80-125 crappie and only keep the biggest ones. Many people don't like to get out in the hot weather, but they're missing out on some of the best crappie fishing of the year in August. If you go early in the morning and come in before the weather gets too hot, you still can have a great day of fishing and catch plenty of fish."
To learn much more about crappie fishing, get John E. Phillips' Kindle eBooks and some print books, "Reelfoot Lake: How to Fish for Crappie, Bass, Bluegills and Catfish & Hunt for Ducks," "Crappie: How to Catch Them Fall & Winter," "Crappie: How to Catch Them Spring and Summer," "Catch Cold Water Crappie Now" and "Catch Crappie All Year: Fishing a Single Pole, Using No Boat and Farming Crappie" by going to johninthewild.com/books.
To receive and download for free "The Crappie Catchers' Cookbook," by John and Denise Phillips that offers free recipes, go to http://johninthewild.com/free-books.
Next: Catching Hidden Summertime Crappie
EXPLORE MORE: you'll love these stories from John too