John's Note: Gifford "Sonny" Sipes of Moody, Alabama, has been crappie fishing for over 50 years. Sipes fishes the Crappie Masters (www.crappiemasters.net) tournament circuit, has won the National Crappie Fishing Championship in 2004, was Angler of the Year in 2008 and won the Alabama Crappie Fishing Championship in 2013. He primarily guides on Logan Martin Lake, Neely Henry Lake and the Alabama River in central Alabama, but as a tournament crappie fisherman, he travels all over the nation finding and catching crappie.
The big advantage of having a professional crappie guide with a sidescanning depth finder (www.humminbird.com/products) to locate deep-water sites to catch crappie is that once you have the GPS coordinates, you can go back to that site and fish for crappie with any water craft, such as a canoe, a jet ski, a ski boat, a pontoon boat, a johnboat or a bass boat.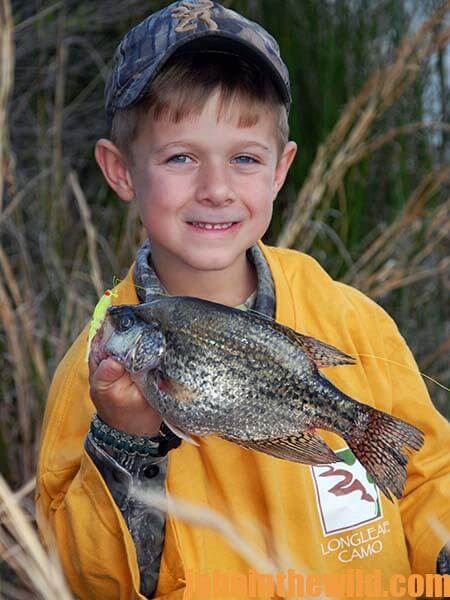 All you really need is some type of water craft that can deliver you to the spot and allow you to stay there until you catch the crappie you want for dinner. "Another advantage is you can use any type of inexpensive rod, reel or pole to fish these locations," Sipes explains. "I suggest 6- to 8-pound-test line for a jig-and-minnow rig, which is a Road Runner jig by Blakemore ( HYPERLINK "http://www.ttiblakemore.com" www.ttiblakemore.com) and a medium-size minnow. I like those jigs because they have a flashing spoon attached, so even if the jigs are sitting still in the water, they still are flashing.
For a double-hook-minnow rig, I prefer the Daiichi Bleeding Bait hooks ( HYPERLINK "http://www.ttiblakemore.com" http://www.ttiblakemore.com), because they're red and are some of the sharpest hooks in the fishing market. I get more hook ups with these hooks than with other hooks. To fish vertically over the spots, I prefer B'n'M poles or rods ( HYPERLINK "http://www.bnmpoles.com/" http://www.bnmpoles.com/), but you can use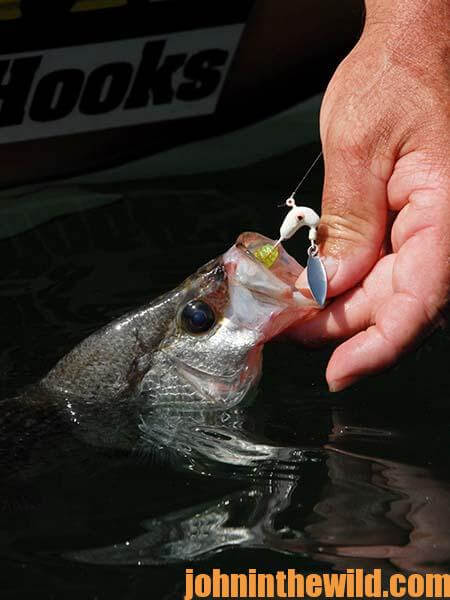 any rod, reel or pole you have. I suggest 6- to 8-pound-test line, since you never know what you'll catch. Deep-water crappie spots also may hold bass, bream, catfish, white bass and saltwater stripers. Crappie move vertically in the water column over these deep-water sites. They may be holding as shallow as 5- or 6-feet deep over a brush top 30-feet deep on the bottom, or they may be concentrating inside that brush top at 27- or 28-feet deep. They hold in the water temperature that's most comfortable for them, and where the baitfish are most abundant. Since the baitfish like to hold there, you'll catch a wide variety of fish on these deep-water crappie places."
To learn more about this unique system of finding and catching crappie, contact Sipes at 205-919-0982, 205-640-5299, or jinson3303@yahoo.com.
To learn more about crappie and how to fish for them from the masters of the sport, click here for "Crappie: How to Catch Them Spring and Summer." Also, you can learn more about crappie fishing from the Reelfoot Lake pros by purchasing the Kindle eBook, "Reelfoot Lake: How to Fish for Crappie, Bass, Bluegills and Catfish & Hunt for Ducks" by John E. Phillips. "Click here to get these books."
About the Author
John Phillips, winner of the 2012 Homer Circle Fishing Award for outstanding fishing writer by the American Sportfishing Association (AMA) and the Professional Outdoor Media Association (POMA), the 2008 Crossbow Communicator of the year and the 2007 Legendary Communicator chosen for induction into the National Fresh Water Hall of Fame, is a freelance writer (over 6,000 magazine articles for about 100 magazines and several thousand newspaper columns published), magazine editor, photographer for print media as well as industry catalogues (over 25,000 photos published), lecturer, outdoor consultant, marketing consultant, book author and daily internet content provider with an overview of the outdoors. Click here for more information and a list of all the books available from John E. Phillips.
Next: Equipment and Tactics for Fishing Your Crappie Hot Spots by John E. Phillips with Gifford "Sonny" Sipes