John's Note: If you want to catch more and bigger bass and have more fun doing it, then a tube boat or a belly boat may very well be your answer. Dr. Robert Sheppard of Tuscaloosa, Alabama, is one of the most-serious bass fishermen I ever have met. Whatever he needs to catch bass, Sheppard will buy it, modify it, invent it or figure out a way to borrow it. Bob is also a loner who doesn't enjoy a day on the lake, flying across water at 50 to 75 miles an hour and watching others do the same thing. He likes the quiet waters away from the crowds where he won't see another angler and generally catches more and bigger bass.
After taking one look at a tube boat, the first thing a fisherman realizes is that there is no room for a giant, double-sided tackle box on it. Fishing tackle must be minimized.
"Usually I take two 6-foot bait-casting reels with me when I'm belly boat fishing," Sheppard explains. "I'll position one rod on my left, pointed behind me with a lure on it, and hold the other rod in my hand to cast. I also use the pockets on either side of the tube boat to hold the lures that I plan to use with each rod, so the right-hand pocket holds my casting lures, and the left-hand pocket holds the lures for the rod on my left side. I place all my lures in Ziploc bags before storing the lures in the tube boat's side pockets. The Ziploc bags are lightweight, waterproof and keep my lures from snagging on the boat's nylon lining. The bags work better than a small tacklebox, because they don't fill up with water."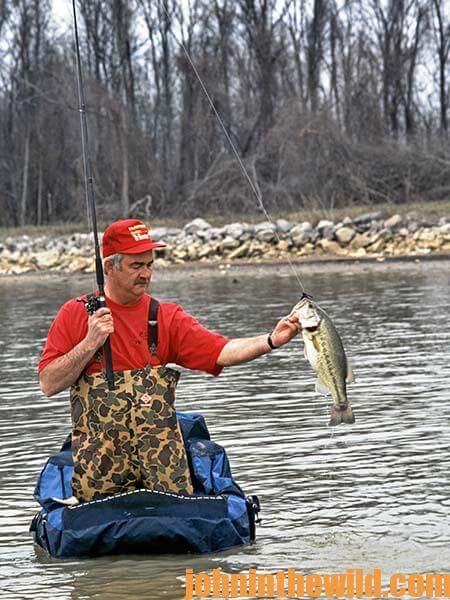 Sheppard fishes for bass most often in heavy cover, so he carries 14-pound-test line on one reel and 17- to 20-pound-test line on the other. "I'll rig 14-pound-test line on the reel I plan to use with my top-water lures and 17- to 20-pound-test line on the rod with which I plan to fish spinner baits or plastic worms. I've found that I need heavier line to get the fish out of heavy cover or to hold the fish until I can get to the cover. In tubing, as you take up line, you'll move toward the fish, unless you kick and resist being pulled to the fish. So, I need a line to hold the bass until I get there."
Besides enabling an angler to fish remote areas and waters other fishermen can't angle, the tube boat presents no storage problem because for many apartment-dwellers and/or families who live in condominiums, there's not always room in a home to keep a fishing boat. But tube boats can be deflated and stored in a closet, under a bed or in some out-of-the-way nook. Belly boats are also easy to carry, easy to inflate and a less-expensive alternative to other types of boats. Even with a pair of high-quality waders, wading shoes, flippers and tackle, most belly boat fishermen can be equipped inexpensively.
Once you buy a belly boat, you can find many uses for it. Belly boats can be utilized on most bodies of water and may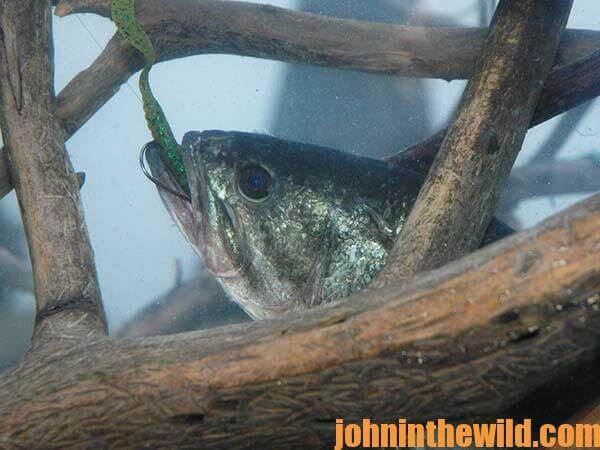 be the only option for reaching remote areas. Though there have been many anglers who think small boats are good only for catching small bass, don't count-out the belly boat. "I've caught numbers of 10-pound-plus bass," Sheppard emphasizes. "More than half of them have been taken from my small tube boat."
For more information about belly and tube boats, go to http://www.basspro.com.
To get John E. Phillips' Kindle eBooks and some print books, "How to Bass Fish Like a Pro," "How to Win a Bass Tournament," "Catch the Most and Biggest Bass in Any Lake: 18 Pro Fishermen's Best Tactics, "How to Become A Tournament Bass Fisherman,"  "Click here to get these books."
Share this page with a friend!
About the Author
John Phillips, winner of the 2012 Homer Circle Fishing Award for outstanding fishing writer by the American Sportfishing Association (ASA) and the Professional Outdoor Media Association (POMA), the 2008 Crossbow Communicator of the year and the 2007 Legendary Communicator chosen for induction into the National Fresh Water Hall of Fame, is a freelance writer (over 6,000 magazine articles for about 100 magazines and several thousand newspaper columns published), magazine editor, photographer for print media as well as industry catalogues (over 25,000 photos published), lecturer, outdoor consultant, marketing consultant, book author and daily internet content provider with an overview of the outdoors. Click here for more information and a list of all the books available from John E. Phillips.