John's Note: You can catch plenty of big slab crappie all year if you know where to fish for them and what baits to use. Then when your taste buds tingle for those tasty, just popped out of the oven or frying pan fillets of crappie, you won't have to wait until the spring spawn to catch them. Let's take a look at the kinds of places where you can find and take crappie throughout the year.
The easiest crappie to catch during the spawn are the ones on the bank. But since everyone fishes for these, to catch the really big crappie when they spawn, you must use different tactics from everyone else.
These three basic methods will catch the very-big spawning crappie.
* Invisible Tactics for the Spawn:
During the spring of the year when the fish bed in shallow water, most anglers will fish for crappie around some type of visible cover like trees, stumps, grass, bushes or logs. I'll drop-fish down the bank with either minnows or jigs in areas where I don't see visible cover in the water and most other crappie fisherman won't fish. The crappie holding on this invisible cover often will bite more aggressively than the crappie holding on the cover where everyone else fishes.
* Gorilla Techniques for the Spawn:
Most crappie fishermen won't drop their lines into areas where they think they'll get hung. They think if they do hook crappie in that cover, they can't pull them out of those spots. However, if you'll use 20-pound test line, a powerful pole and a wire hook, you can drop your minnow or your jig in cover so thick that you only need a hole big enough through which your bait can drop. The 20-pound test line on a stiff pole will allow you to pull even the biggest crappie out of the cover to straighten-out your hook, if it gets hung. Then you can continue to fish.
*Sissy Strategies for the Spawn: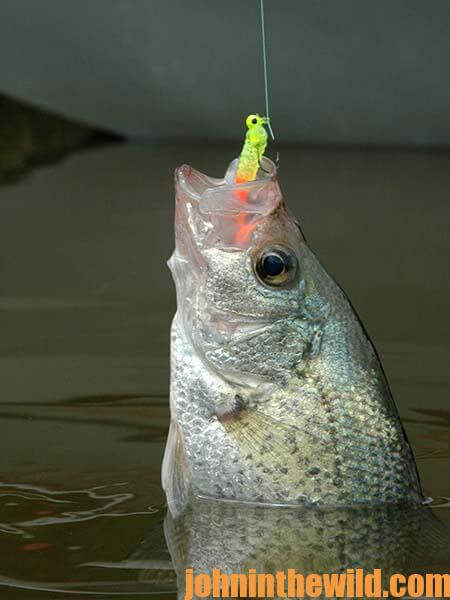 When you encounter finicky-biting crappie, oftentimes you can down-size your line and solicit more strikes. If the gorilla tactics don't work, go back to that same thick cover, and use 4-pound-test line. Or, fish with 2- or 4-pound-test line in cover no one can see or in areas other anglers already have fished heavily.
To learn more about crappie and how to fish for them from the masters of the sport, get "Crappie: How to Catch Them Spring and Summer" and "Reelfoot Lake: How to Fish for Crappie, Bass, Bluegills and Catfish & Hunt for Ducks." Click here to get these books.
About the Author
John Phillips, winner of the 2012 Homer Circle Fishing Award for outstanding fishing writer by the American Sportfishing Association (AMA) and the Professional Outdoor Media Association (POMA), the 2008 Crossbow Communicator of the year and the 2007 Legendary Communicator chosen for induction into the National Fresh Water Hall of Fame, is a freelance writer (over 6,000 magazine articles for about 100 magazines and several thousand newspaper columns published), magazine editor, photographer for print media as well as industry catalogues (over 25,000 photos published), lecturer, outdoor consultant, marketing consultant, book author and daily internet content provider with an overview of the outdoors.