John's Note: When the bass aren't biting, the bluegills have lockjaw, and the trout are smarter than you are, why not catch some of America's ugly fish? They don't win beauty contests, but they're a lot of fun to catch, and they'retasty too.   

Tailraces provide oxygen, draw baitfish and provide places where catfish can hold outside the current – the trick to catching cats in the tailrace. Although a catfish can swim in swift water, it much prefers to hold in a place where there is little current. There are three such places.
First, search for boulders and ledges in midstream that rise from the bottom and break the current. Many times, catfish aren't directly below the boulders; the cats are often 10- to 15-yards downstream, where the current is still slack. They'll hold just outside the current where the water eddies on one or both sides, so they can easily dart out to take baitfish. Another good place is in midstream where two discharges converge. An angler may not be able to spot the calmer water on the surface, but the catfish easily find these spots. The third place is in slack water below abutments and other concrete structures.
One effective way to take these tailrace catfish is to bump the bottom with bait. In some areas, shad guts is the most-productive bait, but in other places the best bait may be night crawlers, catalpa worms, cut shad, chicken livers and/or spoiled shrimp. Because the current in a tailrace carries scent downstream quickly, utilizing a prepared catfish attractant such as Strike King Catfish Dynamite may bring quick results. In some lakes and slow rivers, live baitfish is the best bait.
If you catch a mess of cats, you've only experienced half the pleasure. The other half is the eating. Here's a couple of surefire recipes.
Lemon Catfish in Foil:
Ingredients:
4 catfish fillets
1/4-cup diced celery
1/2-cup diced carrots
1 teaspoon pepper
2 teaspoons salt
1/4-chopped green onions
1/2-cup melted margarine or butter
2 lemons, thinly sliced
2 tablespoons chopped fresh parsley
1/3-cup lemon juice
Preparation:
Place each fillet on a piece of foil about 4-inches longer than the fillet. To melted margarine, add seasonings and vegetables, except parsley. Pour mixture over each fillet. Top with lemon slices. Bring edges of foil together, and fold several times to make a sealed package. Place on cookie sheet, and bake at 350 degrees for 30 minutes or until fish flakes easily, or cook on a grill. Garnish with fresh parsley.
Fried Catfish: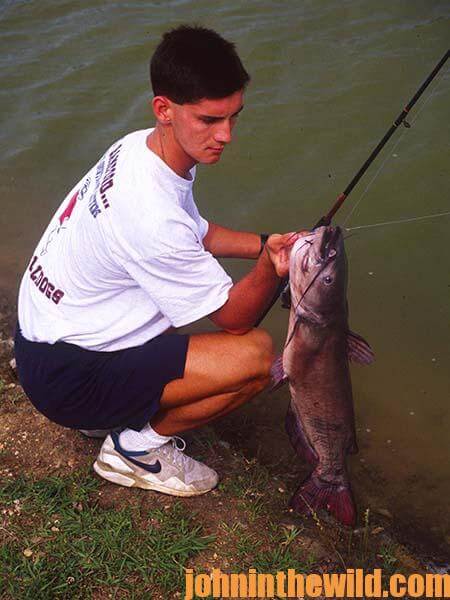 Ingredients:
2 pounds catfish fillets
2 cups cornmeal
1 cup flour
Salt and pepper to taste
Milk
Eggs
oil
Preparation:
Put catfish fillets in ice water – 15 minutes or so. Mix cornmeal, flour, salt and pepper. Mix 1 cup milk with 1 egg. Dip fillet in milk/egg mixture and then in combination of dry ingredients. Fry fillets one at a time in deep, boiling oil. Allow fish to brown first on one side; then turn only once. Fillets should be removed from the pan when they are golden brown and drained on paper towels or brown wrapping paper. A product called Zatarain's Fish-Fri can be substituted for the cornmeal/flour mixture, and it gives catfish a very-good flavor. This corn-flour product is sold in many grocery stores and specialty food shops.
Catfish Chowder:
This recipe is the most-delicious yet easiest fish chowder recipe we've ever made.
Ingredients:
1 pound catfish fillets, fresh or frozen, cut into one-inch cubes
1 cup cut green beans
1 cup shredded zucchini
1 cup thinly sliced onion
1 cup sliced or grated carrots
3 cups skim milk
2 pints chicken both
1/8-teaspoon pepper
8-ounces egg noodles
1 tablespoon salt
1 cup thinly sliced celery
1 cup thinly sliced yellow squash
1 cup grated cheese
Preparation:
In large pot, combine vegetables, fish, milk and chicken broth. Cover, and bring to a boil. Lower heat. Simmer 15 minutes. Stir in cheese and pepper. Meanwhile in separate pot, add noodles and salt gradually to rapidly-boiling water, so that water continues to boil. Cook uncovered, stirring occasionally until noodles are tender. Drain in colander. Add noodles to chowder. Simmer an additional 5 minutes or until everything is thoroughly hot. (We also prepare this dish and put the ingredients in a slow cooker on LOW for 3 hours or on WARM for 6 hours without the noodles or the cheese. Then 30 minutes before you plan to eat, add the cheese and the cooked noodles to the slow cooker.
Click here to get "Catfish Like a Pro," "The Best Wild Game & Seafood Cookbook Ever: 350 Southern Recipes for Deer, Turkey, Fish, Seafood, Small Game and Birds" and "13 Freshwater Fish Recipes You Can't Live Without".
About the Author
John Phillips, winner of the 2012 Homer Circle Fishing Award for outstanding fishing writer by the American Sportfishing Association (AMA) and the Professional Outdoor Media Association (POMA), the 2008 Crossbow Communicator of the year and the 2007 Legendary Communicator chosen for induction into the National Fresh Water Hall of Fame, is a freelance writer (over 6,000 magazine articles for about 100 magazines and several thousand newspaper columns published), magazine editor, photographer for print media as well as industry catalogues (over 25,000 photos published), lecturer, outdoor consultant, marketing consultant, book author and daily internet content provider with an overview of the outdoors. Click here for more information and a list of all the books available from John E. Phillips.