Editor's Note: Eva Shockey, well-known outdoors woman, has traveled all over the world taking big game animals with bows and rifles. But she never had hunted fish until a couple of years ago when she tried bowfishing at Lake Guntersville in north Alabama. Lake Guntersville was selected for a bowfishing tournament due to the large number of carp, gar, drum and catfish living there. During the summer months, when most hunting seasons are closed, bowfishing is a fun way to get outdoors and hunt fish.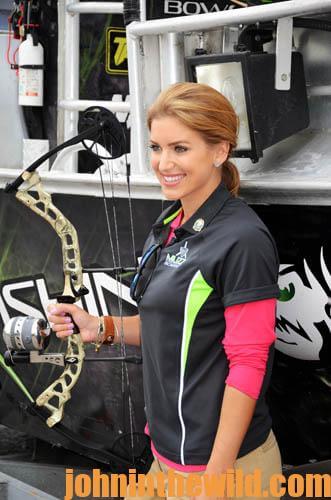 I've shot a compound bow most of my life, and I've learned I still can shoot my compound bow and/or recurve bow to take fish. One of the aspects of bowfishing that's really different is that you have to snap shoot and shoot instinctively. As soon as you see the fish underwater, you have to draw and shoot. So, I had to learn to shoot instinctively. Up until this point, I had used a pin sight to aim and waited for an animal to stop before I took a shot. However, there was no time to aim when a fish was on the move. The good news is that even the best bowhunters in the nation may miss more fish than they shoot.
Another skill I had to learn was to shoot under the fish that I was trying to take. A fish underwater that you see from an angle is deeper than he appears to be. The farther you are from the fish you're trying to take, the greater the angle, and the farther you have to aim below the fish. The deeper the fish is in the water, the more severe the angle, and the more you have to aim below the fish. Once you start bowfishing, shooting instinctively and learning to shoot below the fish, the more automatic your system adapts to this type of shooting, and the faster you can shoot without thinking.
All the men on my boat were telling me, "Eva, don't worry about missing. You'll probably miss 50 or 60 times before you hit a fish. But once you've harvested a fish with your bow, you'll really get excited, and you'll find out just how much fun this sport is."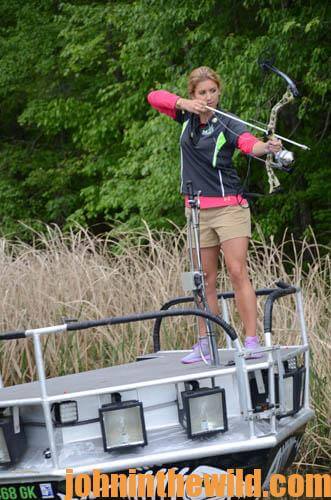 The tournament didn't start until Saturday at 6:00 pm. So, I arrived on Friday afternoon to go out and sample some bowfishing. You can take fish with a bow during daylight hours, but you also can shoot fish after dark, which seems to be the best time to find carp, drum, gar and catfish in shallow water. So, on that first afternoon, we went out on the Muzzy boat. When I saw the first gar, I instantly drew, shot my recurve bow and center punched the gar. I was really, really excited! This fish was the first I'd seen, the first shot I ever had taken at a fish, and I had connected. I thought to myself, "This type of bowhunting isn't very hard." However, when I went out again that night, I understood how lucky I'd been originally. Although I shot a few fish, I missed many more than I took. Evidently my first shot was beginner's luck.
I really enjoyed bowfishing, because I got to shoot so much. Once I reeled my fish arrow back in and quickly nocked the arrow, I was ready to shoot again. Also, I liked bowfishing because when I missed a fish, I didn't feel bad like I did when I missed a deer or other big game animals. Every bowfisherman misses fish, but you may shoot from 100 to more than 500 times per night at the fish. No one wants to wound an animal. But when you're bowfishing, you either hit the fish, or you miss them. Very rarely if ever will you wound a fish, so that made me feel better about sometimes missing the fish at which I shot.
To learn more about bowfishing, go to John E. Phillips' book "The Bowfishing Bible" at http://amzn.to/22zX7Zz.
Tomorrow: Eva Shockey on Forgetting Target Archery and Bowhunting to Reprogram Her Brain to Bowfish
EXPLORE MORE: you'll love these stories from John too