John's Note: Eva Shockey can't remember a time that she wasn't around hunting. Eva's mother, Louise Shockey, was a ballerina. Following her mother's lead, during the early part of her life, Eva leaned heavily toward dance. She was a ballerina, she competed in ballroom dancing, and she taught dance. She went on hunts with her dad, well-known outdoorsman Jim Shockey, but never really wanted to take an animal until she was in her early 20s. Today, she's one of the most recognized lady hunters in the hunting industry. She co-hosts "Jim Shockey's Hunting Adventures" (www.jimshockey.com) TV show and hunts all over the world with and without her dad.
On this hunt, we stayed at one of the nicest camps that we ever had had in the Yukon. But like most of our camps, there was no running water, no inside bathrooms and no electricity.
But I liked staying there, because this camp had a good fireplace. Every morning I'd get up warm and dress in warm clothes. Every night when we came in from a hard day of hunting, I could get warmed-up and sleep in a warm place. My dad has 12,000 square miles of hunting land in the Yukon with about 20 different camps set up for clients to come and hunt with us. This camp is not necessarily the nicest camp we have in the Yukon, but my dad has been hunting out of it for many years. So, when he and I hunt together in this area, this camp is the one we always use.
The first afternoon when we got to camp, we set-up camp and started making preparations for the hunt. We would've liked to go hunting that afternoon, but hunters weren't permitted to start hunting until 6 hours after they arrived at their base camp. The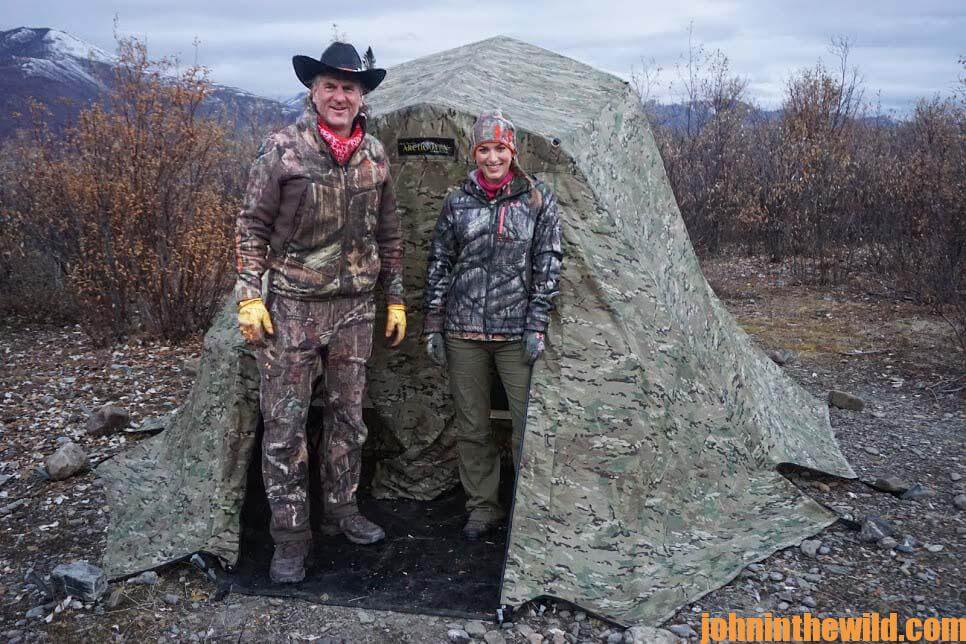 next morning we got up early. We planned to drive the Argo (http://www.argoutv.com/) down the river for 8 hours to reach our next camp, spend the night there and then go to another camp farther down the river. But on the way down the river to get to the first camp, we spotted a nice mountain caribou bull. We moved in and stalked up to the top of a small hill to let me get a shot at the caribou. When I got settled in and ready to make the shot, I squeezed the trigger on my .338 Win Mag Thompson/Center rifle (https://www.tcarms.com/firearms/) with custom Nosler ammunition (http://www.nosler.com/), and the caribou went down. By the time we reached the caribou, got him skinned out and quartered, we decided to drive the Argo back up the river, hang the meat in a shed that's bear-proof, spend the night in that warm cabin, get up the next morning and start downriver to the next spike camp.
We got up the next morning, repacked everything in the Argo and started down the river again. On the way to the spike camp, we saw another really-nice caribou, stopped the Argo and made a stalk. Dad took his caribou. Once more, we skinned out that caribou, and loaded it in the Argo. We returned to base camp again and enjoyed a good dinner and a warm night's sleep. Finally on the third day of the hunt, we made it to our second spike camp where we began the hunt for the moose (see Day 5).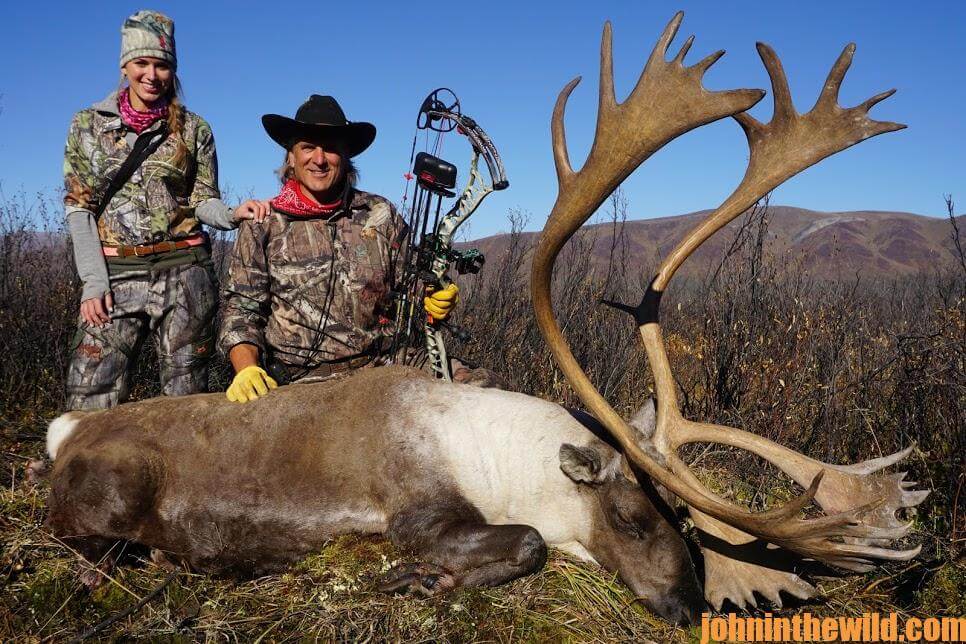 To learn more about deer hunting, you can get John E. Phillips' Kindle eBooks and some print books, "How to Hunt and Take Big Buck Deer on Small Properties," (John's latest book), "How to Hunt Deer Up Close: With Bows, Rifles, Muzzleloaders and Crossbows," "PhD Whitetails: How to Hunt and Take the Smartest Deer on Any Property," "How to Take Monster Bucks," and "How to Hunt Deer Like a Pro," or to prepare venison, get "Deer & Fixings." Click here to get the books.