Editor's Note: Barney Calef of Cedar Rapids, Iowa, who has been hunting ducks for 48 years, is the owner of Calef Calls Inc. (www.calefcalls.net) that produces duck and goose calls.
One year at my hunting camp during December, we'd had stale ducks – ducks that had been in the same area for an extended time without migrating. So, they would be almost unhuntable. They'd have seen and heard every duck call made, every duck decoy built and just about every blind in our region. The good news was that we had a big storm coming at the end of the season that should push hundreds of thousands of new ducks into this section of the Missouri River near Springfield, South Dakota, on the Nebraska/South Dakota border. We normally concentrated on mallards, but we could take wigeons, gadwalls and a few teal. The ducks we'd been hunting had been on the river for at least a month. So, when you'd been hunting the same bunch of ducks for four to six weeks, the ducks will become nocturnal. They only may feed at night and only fly when they must.
I'm often asked, "How do you take ducks that are that stale?" To be quite honest, sometimes you don't. To take these ducks, I keep my calling at a minimum. When hunting late-season ducks, I've learned less is more. On most public areas where you have numbers of hunters, most hunters will blow their duck calls loudly to try and get the ducks' attention. So, my number-one tactic is to get away from other hunters as much as possible. The prime time to call to ducks during the late season is after they're leaving your decoy spread. As the ducks leave the decoy spread, I'll give them a five-note greeting call and then shut up. The greeting call is the same call as the comeback call. Most of the time, the ducks will turn, fly back around and come into the decoys. Many hunters will begin to give feeding calls as soon as the ducks turn to come back to the decoys, but I give very few feeding calls. If I give feeding calls, I'll only give three or four cuts and then shut up, or I may throw in an occasional quack. I want to sound like contented ducks on the water. I blow the greeting call and the leaving call much less now than I once have.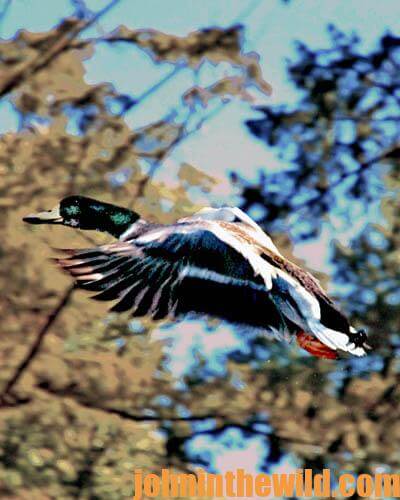 At the end of the season, the ducks probably know so much about duck hunters that they even know the manufacturer of the duck call you're using. They often know the specific name of that duck call, and the smarter ducks often can tell you the retail price of that call (grin). When you're hunting ducks that are so stale that they're really hard to hunt, getting out of the bed before daylight becomes difficult.
To learn more about hunting, go to http://johninthewild.com/books to see John E. Phillips' Kindle, print and Audible books.
Tomorrow: Learning the Best Late Season Decoy Spreads
EXPLORE MORE: you'll love these stories from John too