John's Note: Some years ago I'd met my longtime friend Brad Harris of Neosho, Missouri, the well-known outdoorsman and TV personality, and his friend Scott Bennett, to hunt the big Kansas corn-fed bucks. For several years, Harris had hunted Kansas and had bagged some monster-sized whitetails there.  He'd invited me to come and try my luck on this area's trophy bucks.
I really believed I'd have one more buck to try to take before dark on my deer hunt for monster bucks. In the past when I'd missed deer, I'd gotten discouraged and left the woods. However, I'd learned that through my years of hunting that if I missed a deer in a spot, I knew that . . .
* another deer should show up because at least one buck had frequented that area;
* the report of my rifle might have spooked some of the deer in that region but more than likely didn't spook all the deer;
* the same deer might return to that area at a later time;
* many of the bucks on that section of land might have the same reason to come to that spot that the first buck had; and
* I shouldn't make those same mistakes if I saw another deer, if I knew what caused me to miss the first time and with me, even the second time.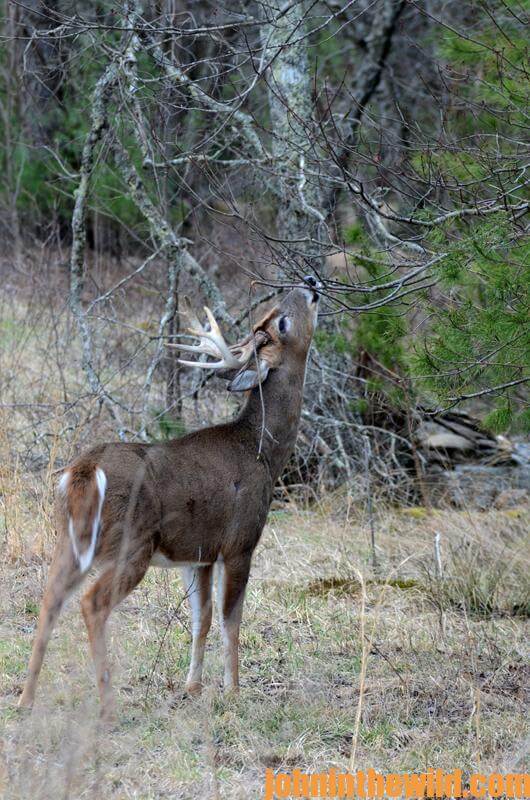 "John, I see two bucks moving from my left to my right," Scott Bennett informed me, as the sun started fading. "They're in the thicket. I don't know whether or not they'll come out while you still have enough light to shoot. But get ready. I wish your tree stand had been set-up on my side of the tree, and my stand set-up on your side of the tree. Then you could have seen all these bucks and had a better opportunity to take a shot." "Hey, don't worry," I told Bennett as I turned to watch the thicket. "We'll play the cards we're dealt."
I watched as one buck came out and realized he didn't have enough size on him to be the big buck. However, he did have 8 points. I hoped he'd present a shot. "Take whichever buck you can see," Bennett suggested. Through my scope, I saw the deer come out of the thicket, move onto a deer trail and stop at a scrape. After pawing the earth, this buck with a narrow-width, spindly rack raked his antlers on the overhanging limbs above the scrape.  I watched my crosshairs settle behind the buck's shoulder and gently started squeezing the trigger.  Next I saw the buck flinch, kick-up and then vanish.
When Bennett eagerly asked if I'd gotten the buck, I told him, "Yep, I'm sure I got this one."     "Well, I saw him run off," Bennett said. "Are you certain you hit him?" "I don't have any doubt that I hit him," I lied.
I knew I'd seen my crosshairs just behind the deer's front shoulder, made this same shot many times before and seen the deer flinch and kick up. Although I felt strongly that I'd shot accurately, I also knew that we hadn't seen the deer fall. By the time we got out of the tree, the day had turned to night. We only had our small Mag Lites (http://maglite.com/) to use to look for a blood trail. After 20 minutes of searching, we'd still not found a drop of blood.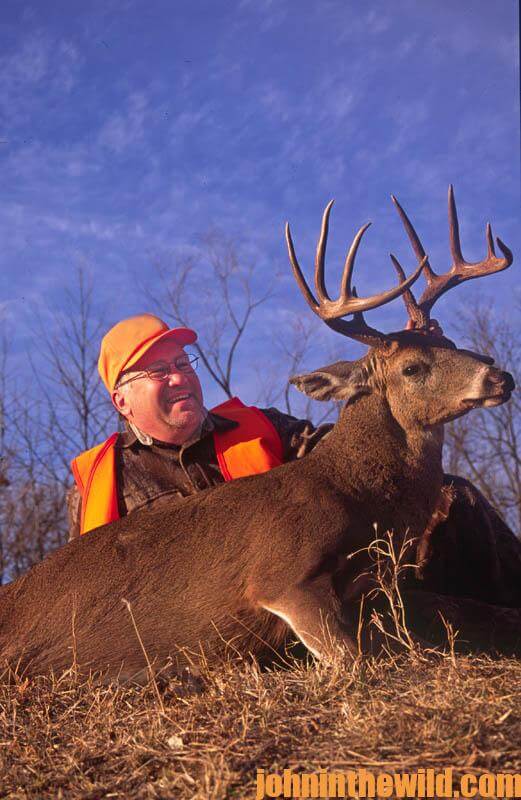 "I hate to say it, John, but I don't think you hit this deer either," Bennett cautiously mentioned.     Of course, I realized what Bennett meant. I already could feel the misery of another miss make the hair on the back of my neck stand up. My stomach knotted up, and I was nauseous.     However, because I really believed I'd made a good hit on the last buck, I returned to the spot where he'd stood when I'd taken the shot. I then walked in the direction in which I thought the buck had gone. When I saw the white of the buck's belly, I yelled out to Bennett, "I found him, Scott.  He's over here."
Looking at the deer, I saw the bullet had in fact entered exactly where I'd aimed. I felt the weight of the world lift from my shoulders. Although I'd not bagged one of the trophy bucks I'd watched earlier, this smaller salvation buck lifted my spirits, brought joy to my heart and would feed my family in days to come.
I'd seen the monster bucks of Kansas, I'd missed two whoppers, and I'd walked into the valley of deep depression and emerged on the other side to the joy of a successful hunt. I remembered then an old saying I'd heard and believed for many years, "The only people who don't miss when hunting are those who don't shoot." On this hunt, I learned the power of believing in things unseen and hoping past hope.