Editor's Note: My late friend, bass-fishing phenom Ken Cook of Meers, Oklahoma, won both a Bassmasters Classic Mega Bucks tournament. But before his bass-fishing fame, Cook was a fisheries biologist and loved to crappie fish. Cook gave me some great tips for catching crappie some years ago that produce summertime crappie today.
Another key to finding crappie in the hot summer months is using the bass fisherman for a birddog. Many times when bass anglers are fishing points, ledges, drop-offs, deep cover and structure, they will have numbers of small pecks on their plastic worms or crankbaits but won't catch the fish. More than likely these strikes are either crappie or bluegills. Crappie must have large egos, because often they'll try to kill and eat baits that are too big for them to swallow. So, a crappie will attack the larger lures being fished by bass anglers. Ask bass fishermen about places where they've had numbers of light bites. Go to that same area with your light line and crappie lures or live minnows, and you may come home with a limit of crappie.
Determine the Best Bait:
Once you've located the crappie in the summer, you next must determine how to catch them.  Using small jigs from 1/16- to 1/32-ounce was Ken Cook's favorite tactic. "I like 4-6 pound line and fish the little jigs on a slow, steady retrieve," Cook reported. "Crappie, unlike bass, don't like a hopping or a jerking type of retrieve but rather prefer a slower, easier-to-catch bait. Of course in hot weather, crappie may be ornery about hitting any bait. If I can see the fish but can't catch them, I'll try a product that puts scent in the water as well as gives off a flash that attracts the crappie's attention. If this doesn't work, the bait of last resort is the live minnow. Even a crappie that doesn't want to feed and isn't hungry just has to hit a live minnow swimming in front of its nose."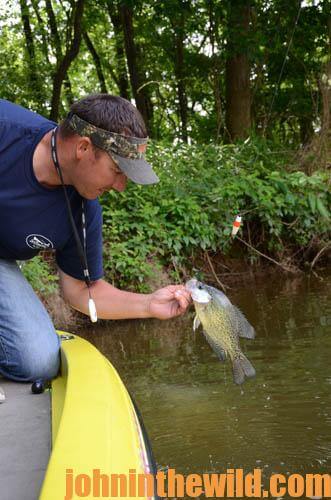 Set the Hook Properly:
"Setting the hook correctly is important, too, in catching crappie," Cook advised. "Crappie are like bass. They inhale the bait. As soon as you feel the slightest twitch on the line, set the hook. However, since crappie have tender mouths, don't set the hook too hard, or you'll lose the fish.  Most of the time when you feel the bite, the crappie already has taken the bait."
To learn much more about crappie fishing, get John E. Phillips' Kindle eBooks, and print and Audible books by going to http://johninthewild.com/books/#crappie or to www.barnesandnoble.com for Nook books. To receive and download for free "The Crappie Catchers' Cookbook," by John and Denise Phillips, go to http://johninthewild.com/free-books.
Tomorrow: Learn Specific Techniques for Catching Sizzling Crappie