Editor's Note: The fastest-growing segment of the outdoors industry is women. In the last 25 years, there have been numerous women who have blazed the trails for careers in the out of doors. Last week and this week, I'm highlighting 14 of these inspiring ladies from my newest book, "Outdoor Women's Hall of Fame – Premier Edition," available at http://amzn.to/2AlVYJE . They are living their dreams as outdoor professionals. 
Taylor Drury is no stranger to the outdoor industry and has become a part of Drury Outdoors (https://www.druryoutdoors.com/) for the past decade with her passion for the outdoors and love of hunting. Taylor has watched her father, Mark, and Uncle Terry build the family business from a dream to an award-winning television company over the past 20 years. Taylor is finishing college in Missouri and majoring in business marketing and administration. As Social Media Manager at Drury Outdoors, she plays a major role in the company's success and presence online, by running all their social-media accounts. Through promoting ethical harvests and respectful hunting tactics, Taylor has helped the Drury Outdoors social-media accounts become one of the most-viewed outdoor pages online. After success as a bow and a gun hunter, Taylor has been made a cast member on the TV shows, "Bow Madness" and "THIRTEEN."
As Taylor says, "Ï started shooting a bow when I was about 4-years old – one of those plastic bows and arrows with suction cups on their ends. When my dad decided I was old enough and strong enough to pull a bow, he bought me a little Browning Micro Adrenaline (http://totalcompoundbows.com/browning-micro-adrenaline-compound-bow/.  He would blow-up balloons and tape them to a backstop, I'd shoot the balloons, they would pop, and I would get really excited. I shot different colors and sizes of balloons. When Dad thought I was strong enough to pull a bow that I could bowhunt with, he got me a lightweight PSE Chaos (http://pse-archery.com/). I loved it because you could add poundage to the bow as you became stronger. The Chaos also gave me awesome penetration on every deer."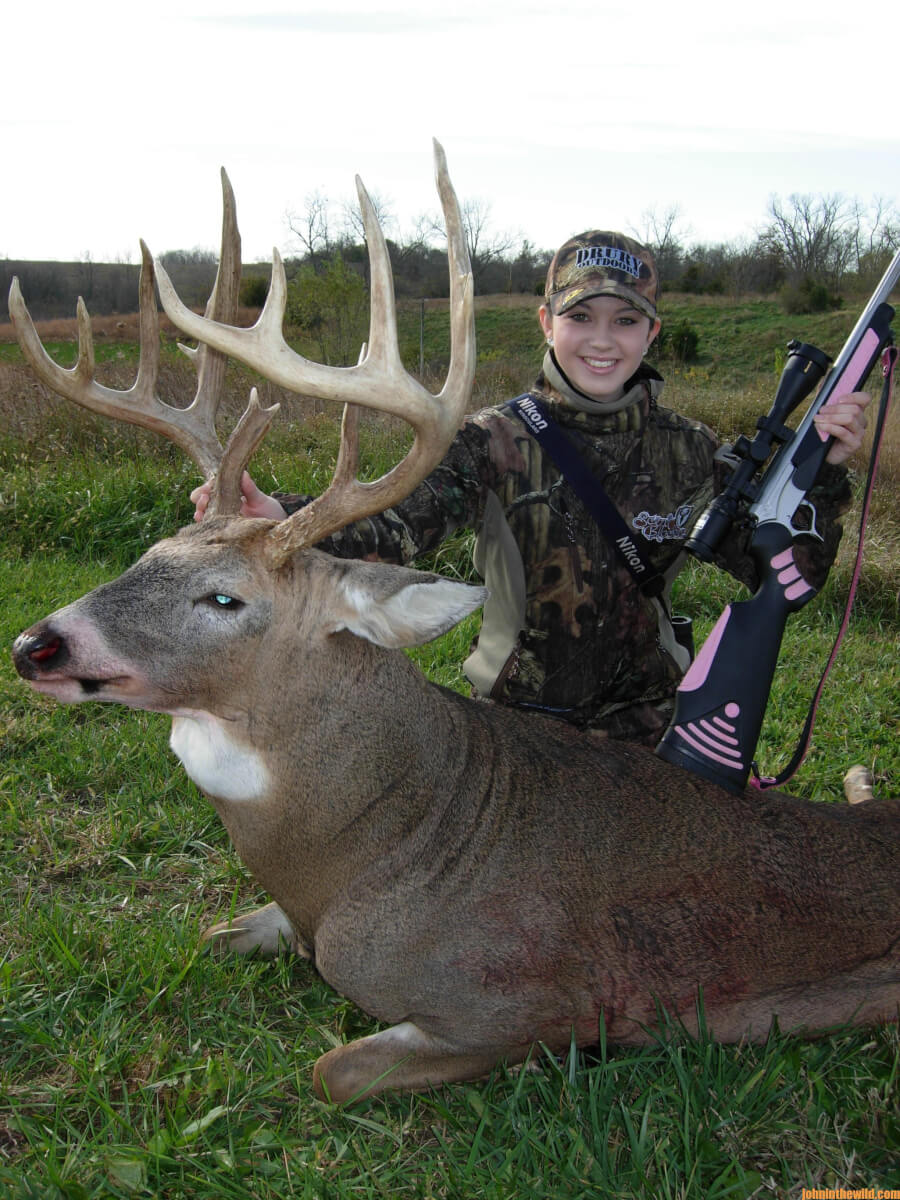 How Taylor Got Started in the Outdoors:
"I grew up seeing my dad, Mark Drury, always shooting his bow," Taylor explains. "Although I started-out hunting with a gun, as I grew older, I wanted more of a challenge. I wanted to hunt with a bow like my dad did. I started going hunting with my dad when I only was 3-4 years old. Back then, my Uncle Terry – the other half of Drury Outdoors – often hunted with us.
"Then when I was in middle school, I finally went hunting with my dad. I actually grew-up in the city, and many of my classmates didn't know I hunted. My close friends knew that I hunted, and that I grew-up in a family of hunters. My friends thought my shooting a bow was really neat. Most of them played softball, soccer or other sports, but they were all interested in seeing what I did, and how I did it. Back then, bowhunting for girls was something you didn't see every day.
"Later when I would meet some of my dad's friends and other hunters, they would mention that they'd seen me on the TV show. But you have to remember. I was young back then. I grew-up around TV cameras and television shows. So, being on TV wasn't a big deal to me. And, bowhunting was just something my family did. Many times, the hunters would tell me how much they enjoyed watching me grow-up in those early years.
"After practicing, when I got older and could pull a compound bow and shoot an arrow fast enough to penetrate a deer, my dad took me bowhunting. I never will forget that first deer I took with a bow. I was 20-feet off the ground in a tree stand wearing my safety harness. And, like my dad says sometimes, 'That buck read the script' and did exactly what he was supposed to do. He walked within 9 yards of the base of my tree. I tried to remember everything my dad had taught me about shooting my bow – how to anchor my shot, how to bend at the waist and how to aim, when a deer was right under you. I made a great shot, and my dad was there to see it. We both were so excited that I had taken a deer with my bow like I always dreamed one day I would.
"When I was just a little girl, my dad bought me my own set of binoculars. He and I would go out in the afternoon, in the truck. We would be singing, playing the radio and looking at the deer off in the distance on our farm. Then we'd stop singing, turn the radio down and watch the deer.
I always had so much fun with my dad, shooting balloons in the basement, riding in the truck, singing songs and watching deer that I wanted to do those things every chance my dad and I got to be together. I didn't realize, by doing all those fun things with my dad, he was actually teaching me how to hunt and teaching me to love hunting."
How Taylor Shares Her Love of the Outdoors:
"When I went to college and wore my camo hat, shirt and boots around campus, I began to have students approach me and ask me about hunting on television," Taylor says. "Now, not that many people have approached me to ask specifically about my bowhunting, because our campus is so big, and so-many people are here. When I was younger and on television, I really didn't know how to talk to people about hunting. I just didn't think it was a big deal. Now that I am older, I can explain to folks who ask why I like to bowhunt, and why I'm on television with my family. Many of my college friends think bowhunting is different, cool and interesting, especially since I have been shooting the bow my entire life. When the 'Hunger Games' movies came out, some of my friends went to see the movies. They would tell me, 'Hey, seeing that girl shooting the bow reminded me of you.'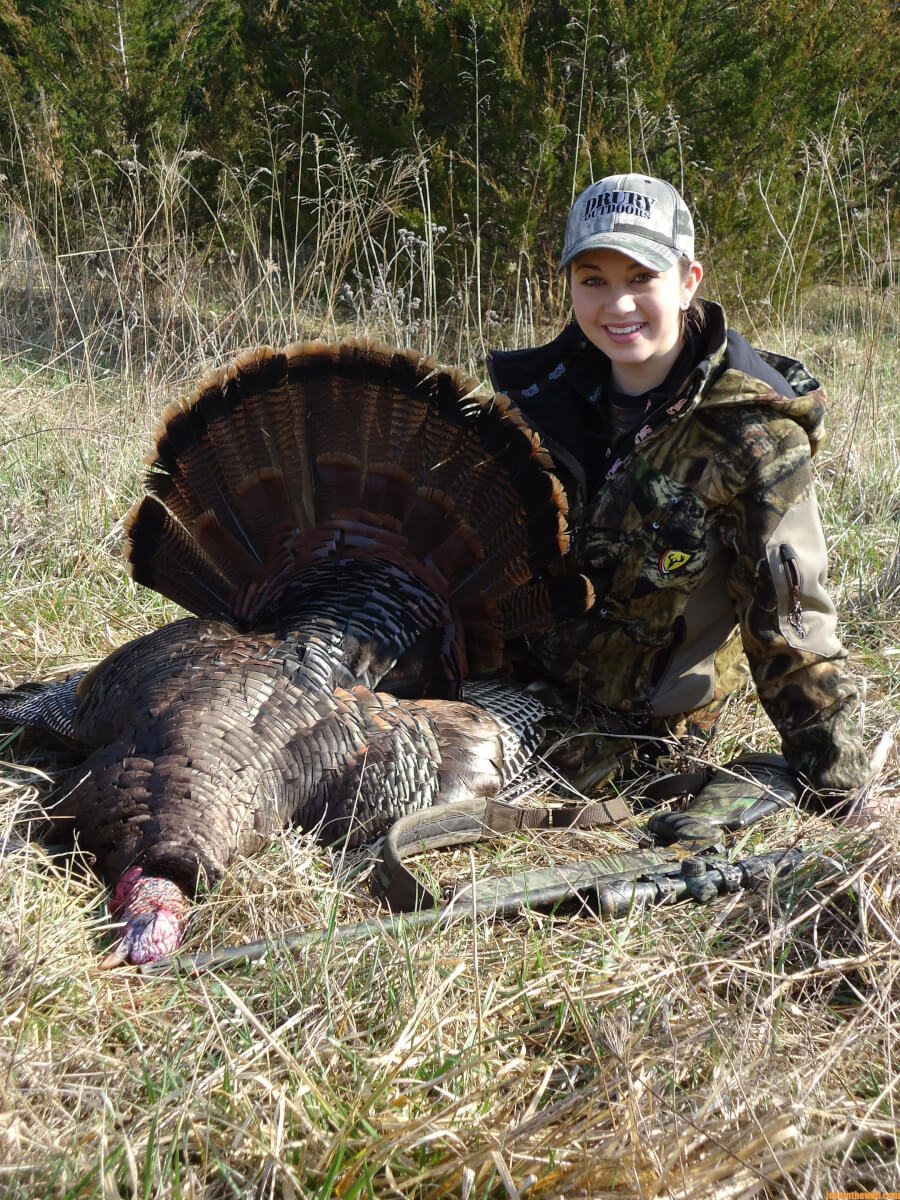 "Many of my guy friends think my being a hunter and a bowhunter is really neat. Most people stereotype hunters as country boys who've grown up in the country and love to hunt. They see me as different, because I am a girl, I grew up in the city, and they think the idea of a city girl who shoots the bow and goes hunting is really neat. Of course shooting bows and hunting isn't the average city girl's hobby. I think they see me as someone who is unique. I also go to a lot of hunting trade shows with my family, where I'm seeing more girls getting involved with target shooting and bowhunting.
"While in college, I'm helping out with Drury Outdoors' social-media programs. My cousin Matt and I read every comment and story that comes in on Facebook and Twitter. I've seen a big increase in the number of girls who are writing in to tell us about their successes in bowhunting, or telling us about how they're starting to shoot archery and want to become bowhunters. I'm convinced we'll see more of this trend. Girls realize that they don't have to be super-strong to shoot the bow accurately. They can go to a sporting-goods store or an archery shop that has an indoor range, get fitted for a bow and probably start hitting a target within 15 or 20 minutes of practice. So, if you never have shot a bow, I strongly recommend that you go to a bow shop or a sporting-goods store and let someone there show you just how much fun archery can be."
How to Get Your Family Interested in the Outdoors and Hunting:
Taylor says she'd asked a lot, "What's the secret to getting a young person to want to go hunting? I think the first key is to make sure that your daughter or son enjoys the time you spend together. Don't have unrealistic expectations of what the child is capable of doing. Most children aren't going to be able to sit quietly for long periods of time in a blind. Remember that the child will want to do things that are fun for them and will hold their attention. If you'll give your child the opportunity to try things they can be successful at, then they'll want to keep trying new things. Many girls want to be with their dads anyway, so if they can be together and have fun, the child will want to go another time as well.
"I think one of the big mistakes that dads often make with their children is they make their children go hunting whether they want to or not. My dad and I haven't just spent time sitting in the blind. We've played games, and he has made hunting fun. I think that's the real secret of starting a young person out hunting. Make it fun for them, have plenty of snacks, and always have such a good time that they'll want to go back out again with you."
How Taylor Feels about the Outdoor Industry:
"I don't really think of myself as a celebrity," Taylor emphasizes. "My family has been involved in hunting, the outdoors and TV and video production, even before I was born. So, this is our lifestyle, and I really appreciate the opportunity that I have had to grow up in the outdoors and be a member of the Drury family. I have a tremendous amount of respect and admiration for my dad, my Uncle Terry, and all the people and the companies that have helped them in the outdoor industry. I feel I'm really blessed by growing up in an outdoor family, and my family being a part of the outdoor industry. I feel that all the people who have been involved with my family and me have helped me to become the person that I am. I've gotten some of the best advice and the best guidance from people in the outdoor industry that any young person ever can get. My family really appreciates the people who have supported us through the years and have helped us to be able to live the outdoor lifestyle that we have today. Our sponsors and our fans are the reason we work so hard to make Drury Outdoors the best it can be. We feel really blessed to have all the people who watch and support Drury Outdoors. I wouldn't change how we live or our lifestyle for anything.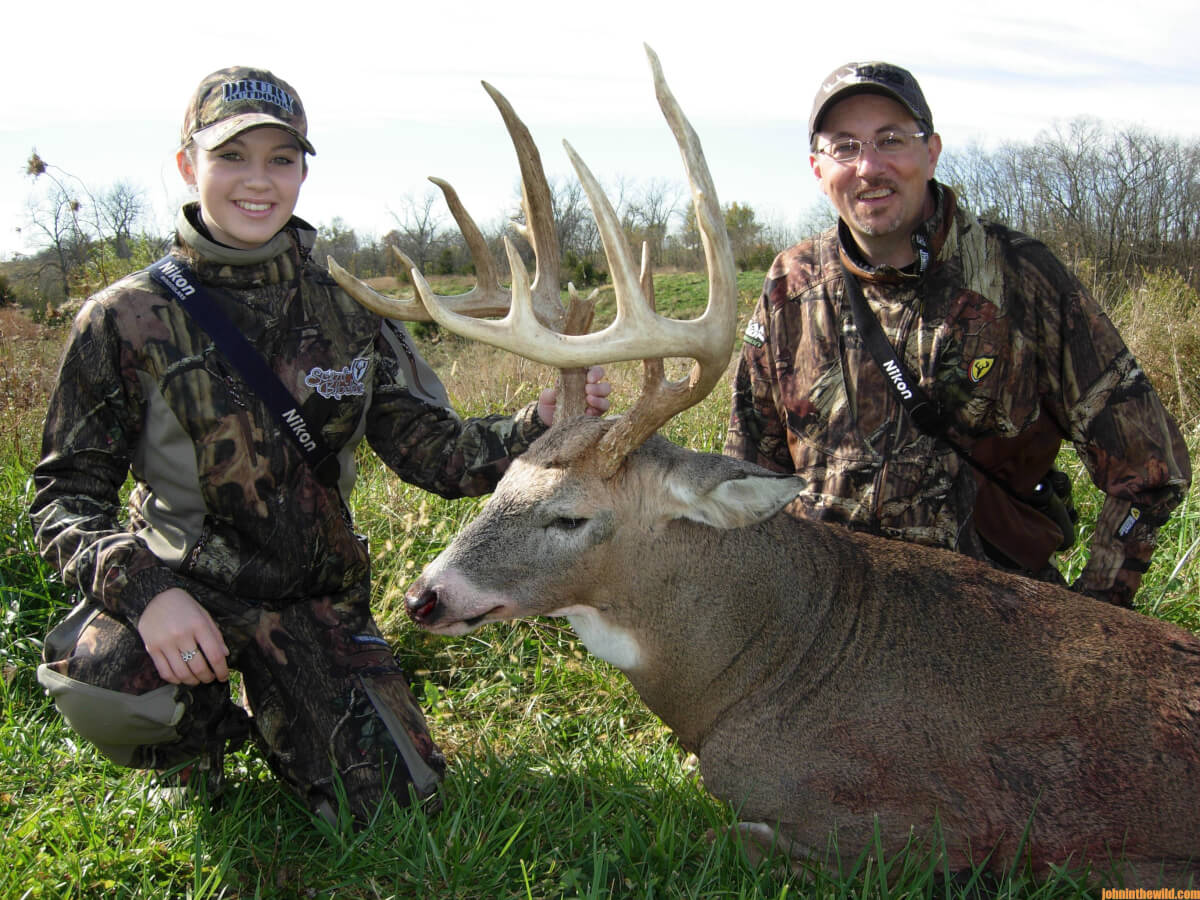 "The main reason I love hunting so much is because I get to spend one-on-one time with my dad. If I'm honest, the time I spend with my dad, talking about hunts we've been on together and the really-important things going on in my life and in his life is the very-best part of the hunt. We're building memories together for both of us. Don't get me wrong, I love to hunt, but much of that love of hunting comes from what my dad has taught me, the time we've spent together, and our looking forward to the next time we'll go hunting together."
Tomorrow: Olivia Opre Defends Hunters and Hunting While Explaining Conservation and Humanitarianism and Beth Alcazar Preaches the Gospel of Concealed Carry