Editor's Note: If hunters will be really honest, sitting 4-5 days in a deer stand when the deer aren't moving is about as much fun as watching paint dry or maple sap coming down a tree and dripping in a bucket to make maple syrup. But these days can happen. I'm including this week the latest information on hunting deer to help you be more successful: why hunt small properties; why hunt your deer from the skinning shed; how to talk to a buck; and what deer tracks can tell you, besides some of my family's favorite venison recipes. Luckily several places I deer hunt have potholes where the water collects during the fall or sloughs coming off the main rivers and running through oak bottoms with plenty of acorns floating on top of the water. So, when I tire of hunting deer, and after I've watched ducks fly into places like this for 3-4 days and not seen any deer, I'll let the deer rest. I'll my shotgun and my waders out of the trunk of my car and wear out those ducks.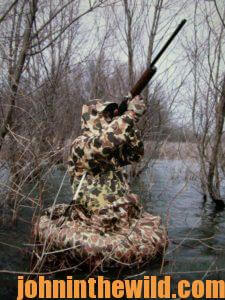 Stalk-hunting ducks in flooded timber is an art form. You see how close you can move to the feeding ducks before you surprise them, and they flush. Before, while wearing chest-high waders, I've stepped in beaver runs, tripped over limbs and fallen into depressions made by rotted stumps. I've attempted to not make any rings or waves on the water's surface then to signal the webfoots of my progress. Often when hunting a feeding site, if you flush the ducks, they'll return, if you stand still and keep quiet. 
A morning of flood-plain duck hunting without a boat can end quickly, if you know where to find the birds and how to bag them. Also on an, icy morning with wind and rain, that same pothole can produce many big water ducks like mallards and teal.
How to Stalk Ducks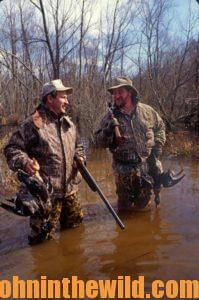 You can use two strategies to stalk ducks successfully in a flood plain. If the ducks you hunt are feeding along a creek or a small river with a high bank, stay behind the bank until you get close enough for a shot. Then sneak over the edge of the bank, and take the ducks as they come off the water. The second technique requires more skill and patience but is great fun. Get into the water, and stalk a group of feeding or resting ducks that have holed-up in flooded timber. A stalk may last 45 minutes to an hour or more, and the slower you go, the more waterfowl you'll have the opportunity to take. Keep standing trees between the ducks and yourself. As long as you know the ducks' location, you don't need to see them as you stalk in more closely. If you can see them, they'll spot you. Wear a head net and gloves or use camo paint on your face when stalking. Ducks will react to spotting a face and/or hands. 
I wear chest-high waders with a drawstring at the top when stalking. Too, I wear a belt around my waist on the outside of the waders, since many beaver ponds and backwater sloughs contain beaver runs and stump holes that I accidently may step into, and my waders may fill with water. Because I like to hunt all day, I usually carry a pair of lightweight waders with me that have a blowup tube at the top. I can roll up these waders, put them in a small daypack with a pair of old tennis shoes and carry them in to hunt ducks. 
How to Jump Shoot Ducks     
You can utilize jump-shooting methods to take ducks at three places and times. 
* Early Morning Feeding Sites – Often before legal shooting hours, ducks will fly into a shallow water feeding site. If you stalk there to approach the ducks by water, begin your stalk at least 100 yards away. Remain out of the ducks' sight. Study the trees standing in the water in front of you. Calculate which direction will provide you with the most cover as you approach the ducks.     
Assume the ducks will be looking at you. Often ducks will remain in a region like this until 9:00 – 10:00 am. But in bad weather with blowing wind and rough big water, the ducks may stay at the feeding site all day. Or, on bad days, ducks will come in and out of a feeding site so frequently that you'll get plenty of pass shooting. 
* Mid Day Loafing Areas – If ducks feel hunting pressure on open water, or if the big water becomes rough in the afternoon, the ducks will pull into a small, flooded timber or a shallow creek place to hang out. They want to dodge the weather and socialize, not feed. These wary ducks are most difficult to stalk because they'll watch everything in an area and spread out much more than when feeding. You'll usually get only one chance at these ducks when you flush them from a loafing site.  More than likely, they won't return to the same spot that day.
* Roosting Places – For an exciting way to stalk ducks, hunt roosts. Look for a small body of water in a beaver pond, a flooded timber place or a calm water section along a small stream where ducks roost. You often can stalk in close to these regions. The ducks generally will continue to fly into a well-established roost site until dark.  
How to Take Ducks in Water Too Deep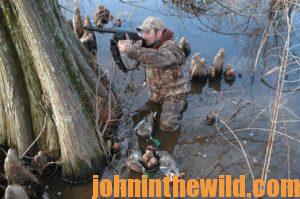 I've enjoyed sneaking up on ducks for most of my life, but sometimes I'll shoot one duck that falls in water deeper than the top of my waders. I always remember my dad saying, "Son, we don't take any game we don't retrieve. If you shoot it, you go get it." I've never respected a man and his principles more than I have my dad's. So, I've added a rolled up belly boat and a small can of compressed air to the equipment in my backpack. I can stalk in close to the ducks without the belly boat and use the belly boat while wearing my waders when I need to retrieve the ducks, or I can glide in the belly boat as I stalk. I consider the belly boat a real advantage when I stalk ducks in water over thigh deep. 
Why Hunt Ducks by Surprise     
I really enjoy classic waterfowling – hunting from a blind, using 50 or more decoys, having a retriever pick up the ducks and sharing the experience with a good hunting buddy. However, classic waterfowling requires so much equipment and doesn't allow me as much mobility as I have when surprising ducks in flooded timber. Open water hunting for waterfowl also requires that you live near or travel to big water.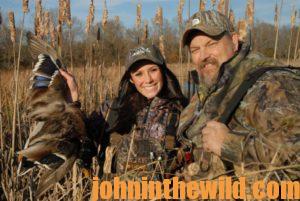 I enjoy hunting ducks. I don't like to just shoot ducks. When I make a long stalk to take birds as they come off the water in a flood plain, I feel more satisfied than I do putting out a decoy spread and blowing a duck call until some feathered phantom gets curious. To enjoy waterfowling without all the hassles, hunt flood plain quacks. 
Recipe: Miz Cenna Belle's Wild Orange Duckling
Miz Cenna Belle was a fabulous cook in our college town, known throughout the county for her delicious duck recipes.
Ingredients:
1 wild duck – prepared for cooking and washed and dried with paper toweling
1 small orange – washed and dried
2 celery sticks – washed and dried
1 small onion, quartered
1 bulb of garlic
8 or so green grapes, washed and dried
1 small apple washed and dried
3 cups orange juice
1 cup orange marmalade
1 box wild rice with seasonings
Flour – as needed
Salt and pepper – as preferred
Preparation:
Soak the wild duck in buttermilk overnight in refrigerator. Rinse thoroughly, and rub the outside and the inside of the duck with a garlic bulb. Stuff duck with 1 orange cut into quarters, two thin-sliced celery sticks, a small, quartered onion, a handful of green grapes and one quartered apple. Bake in a 325 degree oven for 3 hours. Baste with orange juice every 30 minutes. In the last hour, baste with orange marmalade. Check doneness. Serve on a bed of cooked wild rice.
You can make a gravy by pouring most of the fat from the roasting pan and adding 1/2-cup hot water to the pan. Add 2 tablespoons of flour to the hot mixture, stirring until thick and smooth. Blend in 2/3-cup orange juice. Salt and pepper to taste.
To learn more about cooking wild game and waterfowl, check out John E. Phillips' book, "The Best Wild Game & Seafood Cookbook Ever: 350 Southern Recipes for Deer, Turkey, Fish, Seafood, Small Game and Birds," available in Kindle and print and at http://amzn.to/WkbLRg. You may have to copy and paste this click into your browser.