John's Note: Scott Canterbury of Springville, Alabama, won the title of Rookie of the Year in 2008 on the FLW tournament circuit. He also won an EverStart event and a Rayovac tournament on Lake Eufaula in Alabama. He's finished second in the Forrest L. Wood Cup twice, winning $100,000, and he has many more second-place finishes in tournament bass fishing. When he was fishing tournaments in his home state of Alabama, he won three fully-rigged bass boats at different tournaments and cashed quite a few checks in local tournaments. "But on the tour level of tournament bass fishing, I haven't had a win yet, although I'm getting close," Canterbury reports. Although Canterbury's a fulltime bass pro, he also works construction and is a plumber part-time.
I love to see a cold front, a warm front, wind or some type of bad weather come onto the lake when I'm fishing a tournament. My worst days for finding and catching bass are those pretty bluebird days when everybody else wants to go bass fishing. My favorite weather to fish in is a snowy day. If you're out on the lake, and snow moves in, you can catch bass just about any way you want to catch them. I've fished in the snow six different times and caught plenty of bass then.
This year I went out to Lake Mead on the Colorado River to fish the U.S. Open. I never had fished farther west than Oklahoma. I practiced for 3 days on this lake that I never had seen before in my life. Finally, on the third day, I found a place with a little bit of stained water. I felt like this would be a good place to fish, because Lake Mead was as clear as spring water. I also started fishing windy points where wave action would cause those points to muddy up some.
After the first day of the tournament, I was in 16th place. The second day, the wind started blowing really strong. I caught a few more bass, and I moved up to 12th place, fishing windy points. I was power fishing with spinner baits, topwater lures and buzzbaits. I was in 12th place going into the final day of the tournament. The final day was a bluebird day. The water was slick and calm. You could see the bottom at 20-feet deep. At the first of the morning before the sun came up, I caught one bass. On bluebird days, I know that the bass in clear lakes move out to deep water. So, I moved out to the end of the points and started fishing the dropshot rig. I didn't catch bass as well as I did on the windy days, but I only dropped back to 15th place in the tournament, and I still got a check. So for me, on those bluebird days when everybody else wants to bass fish, I prefer to stay at the house and wait for those bad, nasty days when no one in his or her right mind wants to go fishing.
Why to Give Up the Frog:
One of my favorite places to fish is Lake Champlain in New York. I was fishing up the Ticonderoga River and catching a good number of bass on a rubber frog one time. I had to run about 75 miles from the launch site to get to the place I wanted to fish. But on the first day, I caught about 19 pounds of fish in 1-1/2-hours. This spot was unbelievable. The second day I made that long run again. The wind had changed directions and muddied up the grass I was fishing. I couldn't get a bass to bite the rubber frog. I ran around to different grass mats casting the frog and trying to make those bass bite the frog, but they wouldn't.
From fishing tournaments, I know the angler who learns to adapt to changing weather and weather conditions the fastest usually wins the tournament. So finally, instead of trying to get away from the wind, I started fishing with the wind. I changed to a swimbait and a chatterbait, and I quit trying to make those bass bite the frog. I began to fish rocky points that the wind was blowing into, and I was able to catch 18 pounds of bass. Right at the end of the day, I caught my biggest bass on a chatterbait – a 6 pounder. By making that change when I did, I was able to get into the top 10 in the tournament and finished in 5th place.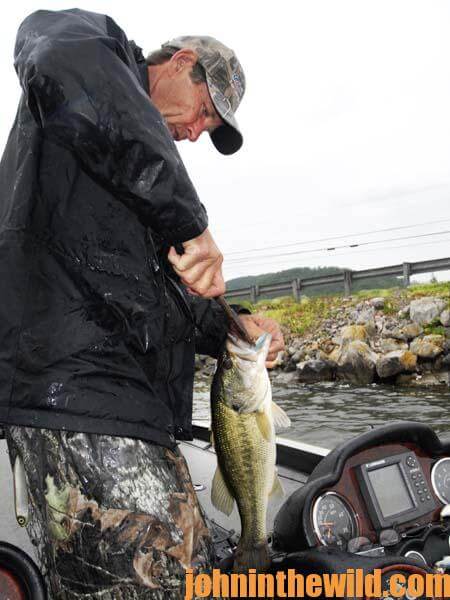 One of the biggest mistakes that make me and everyone else have a bad day is depending on past history to tell us how to fish that day. As I've mentioned earlier, water and weather conditions change, often on a daily basis or even on an hourly basis. When those changes take place, if you don't change your fishing strategy and your lures to adapt to those changing conditions, you will have a bad day. If you listen to the pro fishermen, who consistently win tournaments, you'll see that their strategies are to learn when weather and water conditions seem to change, and the, switch their fishing strategies and lures, regardless of how many bass they've caught the hour before.
Fishing on the FLW tour, we have 3 practice days and one day off, and then the tournament lasts for 4 days. So, even if you find a pattern that's producing a lot of big bass during the 3 practice days, I've learned you definitely can't depend on that pattern to win the tournament. The only time you can bet on the pattern you find on the first day of the tournament is if the weather stays completely stable for all 8 days, and that hardly ever happens.
The other two factors are: when you have stable weather in the hot summer months when the bass are on deep ledges, or when the bass are moving up shallow to spawn in the spring. If you think you're only going to need one pattern or one type bait or just fish one area when you're fishing in a tournament, I've learned that more than likely you won't win. This reason is why anglers who are versatile and can fish a wide variety of lures under a wide range of weather and water conditions usually win tournaments. When we go to a lake, and many anglers in the tournament live near the lake, that's why most of the time the local anglers don't win. They're depending on places they've fished before, lures they've fished in the past and techniques that always have produced for them, at that time of year, on that lake. The changing weather and water conditions are why all tournament anglers are usually on a level playing field. This reason is why some anglers have bad days while other anglers have good days. Anglers who have a good day pick up on those weather and water changes, and they know how to adapt and move to relocate bass and catch them.
Why Fish Close on Bad Days: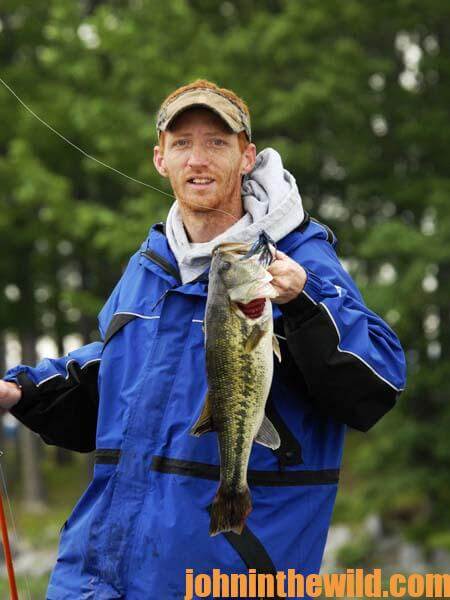 The first time I fished Table Rock Lake in Missouri was 2009, and I finished third in the tournament there. I had been fishing 50 miles up the White River. The next time we fished Table Rock Lake, I ran about 40 miles from the launch site and finished 17th. So, the third time I fished there, I ran to both my two spots where I had caught bass before and couldn't get a bite. I decided to try fishing a little creek only 4 miles from the launch site. I finished in the top 10, because all the other anglers were making long runs like I had done during the first two tournaments. This time by staying close, I had that little creek all to myself. No one else came in it during the entire tournament.
When you're having a bad day or a bad tournament, from that trip, I've learned to identify places where no one else wants to fish and fish those spots. Generally speaking, these places will be the areas closest to the boat ramp where most serious bass fishermen rarely if ever will fish. Stay close to the boat ramp on bad days, and you'll have more time to fish Often, you'll catch more bass than if you run all over the lake.
To learn more about bass fishing, get John E. Phillips' Kindle eBooks and some print books, "How to Bass Fish Like a Pro," "How to Win a Bass Tournament," "Catch the Most and Biggest Bass in Any Lake: 18 Pro Fishermen's Best Tactics, "Hot Weather Bass Tactics" and "How to Become A Tournament Bass Fisherman." Click here to get these books.
EXPLORE MORE: you'll love these stories from John too