Editor's Note: Fifty-year-old Pat Reeve from Minnesota has been hunting elk since he was 5-years old, even when he couldn't carry a gun. He now hunts with his wife Nicole as they host their TV show, "Driven with Pat & Nicole" (https://www.drivenhunter.com/) on the Outdoor Channel (https://www.outdoorchannel.com/hosts/pat-nicole-reeve/30969). For more information, visit his Facebook page at https://www.facebook.com/DrivenTV/.
While hunting elk in Kentucky both years, I learned that:
* Strip-mined land left abandoned and not reclaimed isn't good land to hunt anything. However, when the land is reclaimed, vegetation is planted, and if that property is in mountainous country, elk can thrive.
* You need to learn the land and the elk that live on that land. Even in extremely-hot weather, you can take a very-nice bull.
* Nicole and I take our hats off to the Kentucky Department of Fish and Wildlife Resources (https://fw.ky.gov/Hunt/Pages/Game-Species.aspx), the Rocky Mountain Elk Foundation (https://www.rmef.org/), and the many landowners who are striving to reintroduce elk to some of its historical eastern habitat and create more elk hunting for more hunters in the East.
To learn more about elk hunting, check out John E. Phillips' book, "Secrets for Hunting Elk," available in Kindle at http://amzn.to/WGb9le, or copy and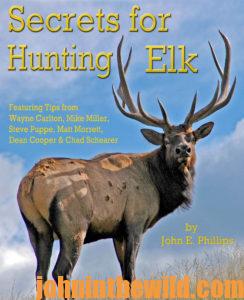 paste this click into your browser.