John's Note: The easiest way to bag a buck, which may eat 5-9 pounds of 300+ foods per day, is through his stomach. Learn which foods are what deer like best and also when and why they eat.
Basically three elements cause deer to move – fear, sex and food. Once the hunter understands and utilizes these three tools, he more effectively can predict deer movement and determine where and when a deer will show up. Fear usually plays a role in deer movement when there is heavy hunter pressure. Sex will influence deer movement during the rut. However, every morning throughout the year when a deer wakes up, the first thing it must decide is what it's going to eat for breakfast. And, deer usually will eat something almost every day. Therefore a food supply as it relates to deer may be the most-dependable ingredient for harvest success.
Dr. Keith Causey, a retired professor of wildlife science at Alabama's Auburn University, explains that, "Deer are so widespread that they have learned to adapt to a broad range of habitat, including the prairie grasses of Texas and Kansas, the coniferous forest of the West and New England, as well as the southern forest. We know that these animals are very tolerant of whatever conditions the environment makes available to them. And, because these animals are so adaptable, they can and will eat virtually all the food sources that are available to them."
Some years ago I learned and understood what effect the acorn of the white oak tree had on deer in my region. I found a big oak tree deep in the swamps. Underneath the tree looked as though a kindergarten class had had a party there – with all the leaves disturbed. There were paths going in several different directions, and the spot was recognizable from 50 or more yards away because of the way the leaves were disturbed. Deer droppings and a bed of half acorn shells lay on the ground under the tree. Even a hunter with very little woods experience would have been able to determine that this was a deer hot spot. The first afternoon that I took a stand 50 yards from the tree, a fat 6 point came in to feed on the acorns and fell victim to my Mannlicher .30/06. I hunted the white oak tree for another 2 weeks and took two more spikes from under its branches before the acorns stopped falling from the tree and the deer quit coming into the area.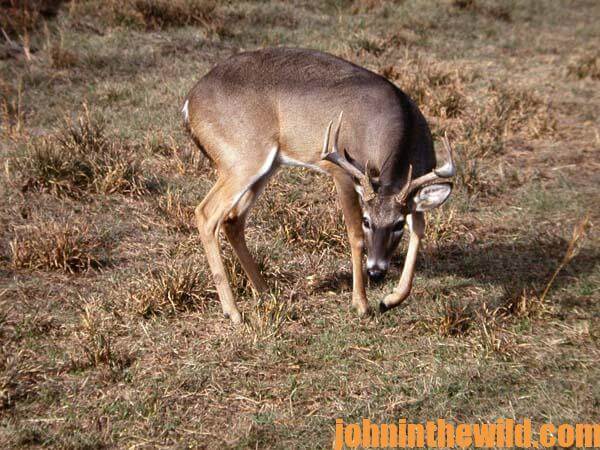 When you hunt in a state like my home state of Alabama, where deer season begins October 15 for bow and arrow and November 20 for guns, runs through the last day of January and in some sections of south Alabama, deer season lasts into February, you can't depend on one food source to hunt over all season long. In many sections of the country, one particular food source may not last a week.
According to Dr. Keith Causey, "Deer seem to change from one preferred food to another within a 10-day to 2-week period. Deer don't like to eat the same food over an extended time. They like variety in their diets. They soon tire of one particular food source. And, deer eat a wide variety of food because no one food source has all the nutrients they need for their bodies. But if you can pinpoint food that the deer are eating regularly, more than likely you'll have an excellent chance of bagging your buck."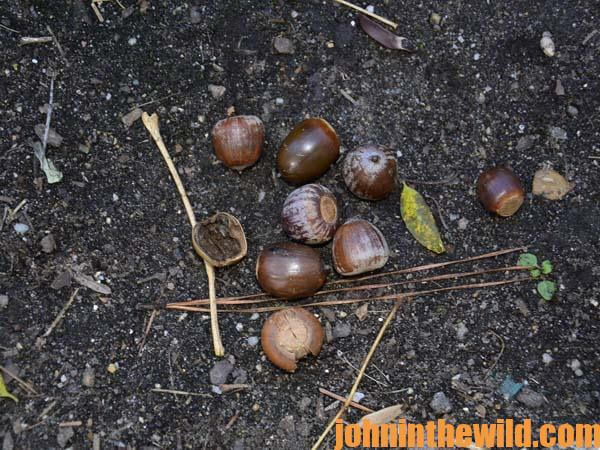 To get John E. Phillips' eBooks and print books on hunting deer, "How to Hunt and Take Big Buck Deer on Small Properties," "How to Hunt Deer Up Close: With Bows, Rifles, Muzzleloaders and Crossbows," "PhD Whitetails: How to Hunt and Take the Smartest Deer on Any Property," "How to Take Monster Bucks," "How to Hunt Deer Like a Pro," and "Bowhunting Deer: Mossy Oak Pros Know Bucks and Bows," or to prepare venison, "Deer & Fixings," click here.
For information on making jerky from your deer to provide a protein-rich snack, you can download a free book from http://johninthewild.com/free-books.
Next: Foods Deer Prefer