John's Note: For more than three decades, my good friend, the late Major "Bubber" Cameron of Panola, Alabama, near Aliceville, trained and handled some of the best field-trial and hunting (gun) dogs in the nation. His sons Rush and John Cameron have carried on Bubber's top-notch quail-hunting tradition at Cameron's Quail Preserve where outdoors families also can enjoy fishing, deer hunting, clay shooting, trail riding and staying in the 9-bedroom, 9-bathroom lodge.
There are three qualities a dog must have that are essential in a good bird dog – desire, nose and brains.
* Desire – With a puppy that is 14 weeks or older, you can spot desire by the way the dog acts when it's turned out of the pen. If the dog runs out quickly into the field, jumps and searches and tries to find something rather than running around playing, then he has desire. Desire is best defined in a bird dog as a dog that goes out hunting every time he is let out of the pen or out of the truck. Without that desire to hunt that must be inborn, the dog never will make a good bird dog.
* Nose – Most young dogs don't know what their noses are for, so that is the reason they will chase field larks, kildees or quail as long as they can see them. They want to chase something, but they don't know how to find that something with their noses. However, a dog that has been around birds for awhile will chase the quail. Then when the dog sees the quail go down, he will begin to use his nose to find the quail. Once you see a puppy that will run quail, watch the birds go down, and then attempt to use his nose to find the birds, you can be assured that the young dog has a good nose. This attribute is much harder to determine than desire but is an important trait that a good bird dog must have.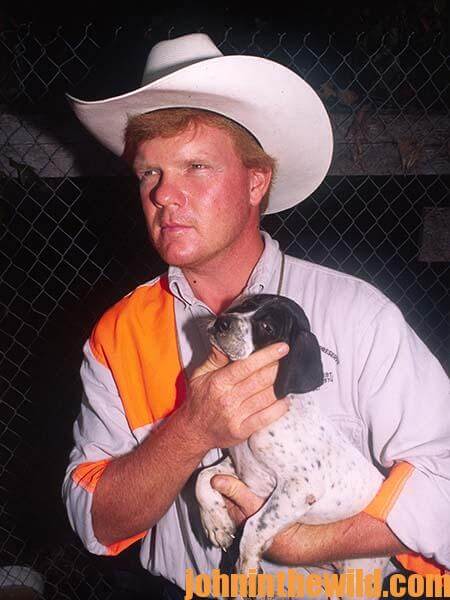 * Brains – A puppy has to be a little older before you can know if he has any brains or not. By brains in a bird dog I mean, does he have sense enough to go to the areas where the birds should be – like fencerows, briar patches or the corners of the fields? Or, does the dog just run all over clean, plowed, fresh ground? Will the dog utilize his brains to get on the right side of the fence line, so that the wind will blow into his nose rather than away from his nose? Very rarely will you be able to determine nose and brains in a young puppy, unless that puppy has been turned loose to run quail at a very-young age.
For more information about Cameron's Quail Preserve or bird dog training, go to (www.cameronquailpreserve.com), email the Cameron's at johncameron9267@gmail.com or call 205-455-2268 or 205-455-2420. Also check out Cameron's Quail Preserve on Facebook.
To learn more about John E. Phillips' Kindle ebooks covering all types of hunting, fishing and cooking, click here.
About the Author
John Phillips, winner of the 2012 Homer Circle Fishing Award for outstanding fishing writer by the American Sportfishing Association (AMA) and the Professional Outdoor Media Association (POMA), the 2008 Crossbow Communicator of the year and the 2007 Legendary Communicator chosen for induction into the National Fresh Water Hall of Fame, is a freelance writer (over 6,000 magazine articles for about 100 magazines and several thousand newspaper columns published), magazine editor, photographer for print media as well as industry catalogues (over 25,000 photos published), lecturer, outdoor consultant, marketing consultant, book author and daily internet content provider with an overview of the outdoors.