After a batter at the plate has three strikes, he's out of the inning as a batter. A big Nevada mule deer buck had three chances to ride home in the back of someone's pickup truck. After these near misses, he finally was taken and rode home in Reno, Nevada's Tony Mudd's pickup truck. A hunter for 40 years, Mudd says this is the biggest buck he's seen in the wild and taken with his bow.
"My friend, Mike Teel, has a spotting scope set up behind his house to locate mule deer on top of a mountain," Mudd explains. "In 2015, he spotted a small group of bachelor bucks, including a non-typical buck with 4 points on one side and 7 points on the other. Mike called and asked if I knew anyone who still had a deer tag left. I contacted a friend of mine, Joe Zweifel, who had a friend with a PIW (Partners in Wildlife) deer tag."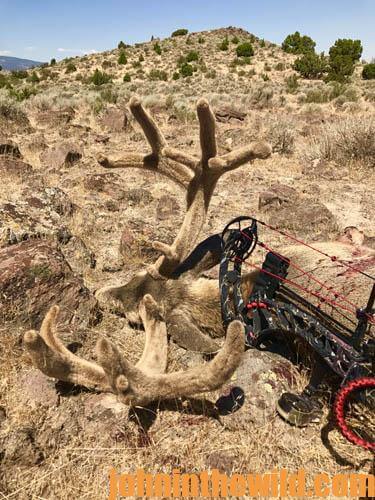 When you apply for a mule deer tag with the Nevada Department of Wildlife, you can pay an extra $10 and enter a drawing for a PIW special tag that's hard to draw but allows you to hunt in any state unit with an open mule deer season. So, Zweifel and his lady friend climbed that mountain the next day and got close enough to take a shot with a rifle. She said, "Yes, that's a nice non-typical buck, but I want to take a big typical buck." That encounter was strike one.
The following spring Zweifel found one side of the buck's shed antlers.
Because Mudd knew that unit homed nice bucks, he applied to hunt there in 2016. Another of Mudd's friends, Rick Snyder from Portland, Oregon, applied for a tag in that unit and drew one, although Mudd didn't. "In 2016, the only water near where the bucks were holding was in a creek near the foot of the mountain," Mudd reports. On the first morning, Mudd, without his bow, went with Snyder. They discovered some mule deer bucks on top of a mountain, but none were shooters. That afternoon they hunted down in the creek, and one of the bucks was the big non-typical that Mudd wanted to take. During two of the 5-day hunts that Snyder made, he had two shots at the big non-typical buck but missed both.
"Because I knew the buck I wanted to take was still on this mountain, I applied for that wildlife unit for any early season bow tag in 2017, and I was drawn," Mudd explains. When Mudd intensively scouted the area he was hunting for 10 days, he couldn't find any of the bucks he'd spotted in the two previous years. In 2015-2016, a couple of lake beds in the region had been dry for several years. But in the spring and summer of 2017, due to snow and rain, these lake beds had an abundance of water and food, which meant the mule deer didn't need to come out of the mountains. "The early bow season for western Nevada opened on August 10, 2017, and I didn't see the big non-typical buck I wanted to take," Mudd recalls. "During the first 4 days of my hunt, I spotted a typical 5×5 buck that would score about 170 on Boone & Crockett."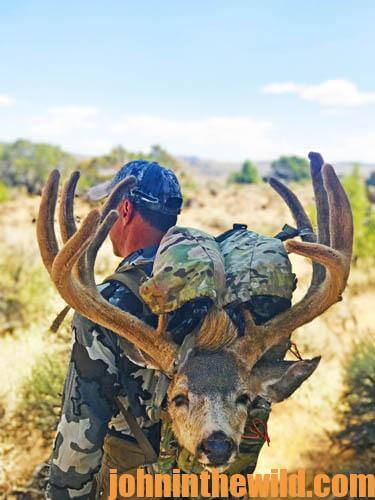 Mudd had to return to work for two days and then came back to the area he'd hunted. But he couldn't locate the 5×5. However, as he looked to the north at 6:00 am, he spotted two bucks he'd seen previously with a third buck. "As the third buck turned his rack from side to side, I realized he was the big non-typical 5×7 we'd been hunting two years earlier," Mudd says. "This was the third year that my friends and I had hunted this buck." Mudd followed the three bucks, until they bedded down about 10:00 am. "I couldn't get to the bucks without their seeing or smelling me, and I didn't want to spook the huge non-typical," Mudd explains. "But I believed I could sneak down to one of those lake beds – within 100 yards of the bucks. Then I'd make the decision whether to go after the big non-typical." After a 30-minute stalk, Mudd arrived at a tree and ranged the buck's distance at 86 yards. "Between me and the bucks, there was a little crown in the hill with a tree on its edge," Mudd reports. "If I could get to that tree without the muley's hearing or seeing me, I'd be 36 yards away."
The mule deer buck faced the southwest. Mudd had to move at a snail's pace from southeast of the buck to the northwest to get in position to take him. Mudd was constantly aware of the wind and watching the buck's antlers and ears. Once Mudd finally arrived at the tree, he knew he could make the shot with his PSE (www.pse-archery.com) Evolve 31 bow and Bloodsport Gravedigger Cut-on-Contact 125-grain broadhead (www.bloodsportarchery.com).
However, fate dealt Mudd a joker. A big lake was about 200 yards to Mudd's left, and a small lake was right behind him. A bigger lake was about 200-300 yards on the northeast side of Mudd where a herd of wild horses were watering, whinnying, frolicking, feeding and moving up toward the bedded down bucks. "The non-typical's head was whipping around, and his ears were turning to catch the different sounds the horses were making," Mudd says.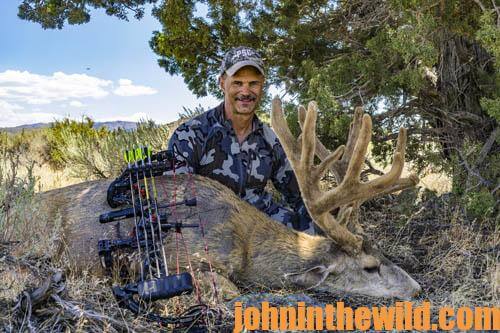 The horses, walking between Mudd and the deer, did a half circle around Mudd to determine what he was. Then the muleys looked in Mudd's direction and took a couple of steps toward the horses. The non-typical rocked forward to stand up. "I came to full draw," Mudd remembers. "The buck was slightly quartering away, and I released the arrow that hit the buck right behind his front shoulder and exited out the opposite shoulder." The big buck ran. The two bucks that were bedded down with the non-typical both jumped up and ran off with him. Mudd's huge buck fell 58 yards from where he'd taken the arrow. "Once I finally got my hands on those velvet antlers, I couldn't believe how big this buck was, and how massive his antlers were."
Tony Mudd, a 40-year veteran of bowhunting, took this 198-inch mule deer – his biggest ever – in August, 2017.
To learn more about hunting deer with John E. Phillips' Amazon Kindle eBooks, print books and Audible books and Nook books, click here at  http://johninthewild.com/books/#deer. You can type in the name of the book and download it to your Kindle, and/or download a Kindle app for your iPad, SmartPhone or computer. For a free download on how to make jerky from venison to provide a protein-rich snack, choose "How to Prepare Venison Jerky: The Ultimate Snack Food" at johninthewild.com/free-books.