John's Note: You may be surprised at the wide variety of lures bass anglers trust to catch bass.
If you only could pick five baits to take with you to fish for bass anywhere in the country, at any time of the year, under any weather and water conditions, what five baits would you choose? To learn the answer to this question, I've talked with some top bass anglers who earn their livings finding and catching bass – no matter what.
Tim Horton:
Tim Horton of Muscle Shoals, Alabama, has fished professionally for almost two decades. He has had numerous tournament wins times and has earned over $1 million. Too, Horton is known throughout the state for his philanthropy.
* "The 1/2-ounce Booyah jig from PRADCO (www.pradcooutdoorbrands.com) with a green-pumpkin YUM trailer is one of my favorite lures, and my favorite color is black-and-blue," Horton says. "This versatile jig can be fished deep, shallow, fast, slowly in clear water and stained water, and during the winter, the summer and everywhere in-between on 15-pound-test line.
* "I fish the #7 Fat-Free Shad crankbait in a citrus color on 10-pound-test line for my second-best lure. This is my confidence bait that I fish from May until November around structure. I use a stop-and-go retrieve.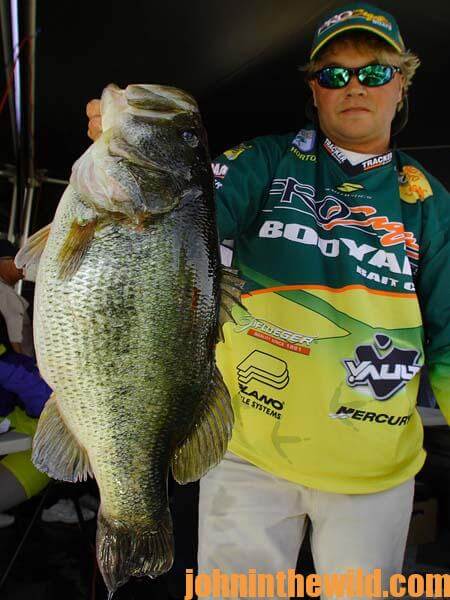 * "The Super Spook, Jr., in the Florida-bass color, is my favorite top-water bait, and I fish it on 15-pound-test line primarily in warm summer months or in the fall around schooling bass.
* "I'll choose the 6A Bomber in the fire-tiger color, a shallow-running crankbait and search bait for my fourth pick and I fish it on 6-pound and 12-pound line. Lighter line takes the bait deeper. The heavier line helps the bass bait float.
* "I like Smithwick's Rattlin' Rogue (www.smithwicklures.com) in the clown pattern, a search bait, as my fifth go-to bait. It's just as effective on smallmouth bass as it is on largemouths."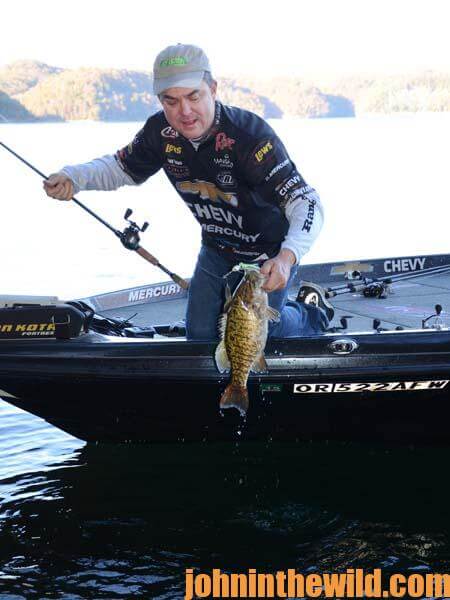 Jay Yelas:
Jay Yelas (www.jayyelas.com) of Corvallis, Oregon, has been a professional fisherman for almost 3 decades. He was the Bassmaster Classic Champion in 2002, won the 2003 BASS Angler-of-the-Year and the FLW 2012 Angler-of-the-Year titles and has earned more than $2 million fishing.
* "The tube jig is my number-one, most-versatile bait to bet on, because I've caught bass on it from Michigan to California and South Louisiana to North Carolina year-round," Yelas explains. "The tube jig catches largemouth, smallmouth and spotted bass. I can flip a tube, cast a tube or fish a tube in open water. I particularly like the green-pumpkin color.
* "I'll choose a 1/2-ounce spinner bait with a perch-colored or chartreuse-and-white skirt as my number-two lure. For blades, I prefer the tandem willow leaf with a 3-1/2-nickel willow leaf up front with a 4-1/2-gold willow-leaf back blade. You can fish this spinner bait with lots of success all year long, anywhere in the country, around any type of cover or structure.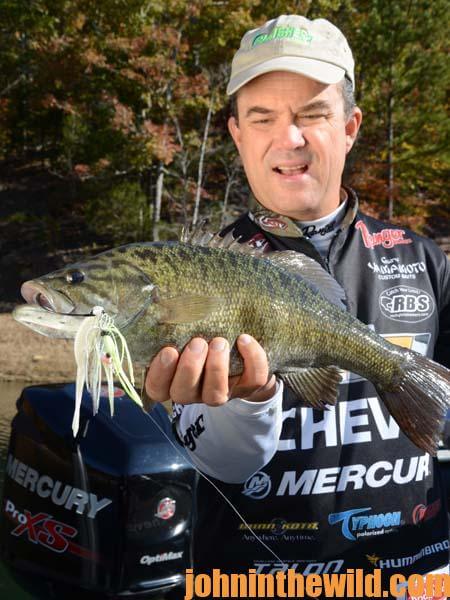 * "A 7-inch Berkley (www.berkley-fishing.com) Power Worm in a red-shad color with a green-metal flake is my third selection, because of the versatility of this bait. My favorite place to fish this worm is around docks, weed beds and other types of vegetation. I can swim it on the bottom, through the middle-story of water or just under the surface.
* "Next I'll pick the Berkley Gripper Jay's Flipping Jig, the lure I won the Bassmaster Classic on in 2002. The Jay Yelas jig isn't known for catching great numbers of bass, but historically catches bigger bass. My favorite color is the Classic Craw, a black neon color with some brown and green. I fish this jig with a green-pumpkin chunk on the back or a 2-inch Kicker Frog.
* "I like the 3/8-ounce firetiger Frenzy Diver that runs about 10-feet deep on 10-pound-test line. This offshore bait is productive fishing points, ledges and underwater cover."
To learn more about bass fishing, get John E. Phillips' Kindle eBooks and some print books, "How to Bass Fish Like a Pro," "How to Win a Bass Tournament," "Catch the Most and Biggest Bass in Any Lake: 18 Pro Fishermen's Best Tactics, "Hot Weather Bass Tactics" and "How to Become A Tournament Bass Fisherman." Click here to get these books.