John's Note: A couple of weeks ago at the Prattville, Alabama, Bass Pro Shops' (www.basspro.com)  Crappie Masters' (www.crappiemasters.net) Alabama Championship, a father-and-son team, Billy and Scott Williams, from Cochran, Georgia, claimed the title. The weather was warm, and the crappie were moving into their summertime pattern. Although many of us may believe that springtime is the best time to catch crappie, these two men showed us how to catch crappie all summer long.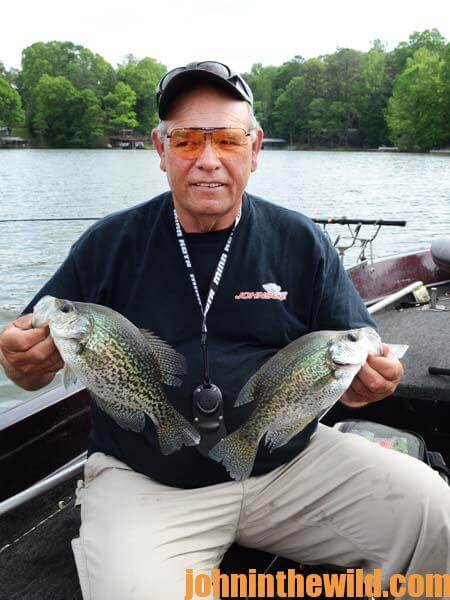 John E. Phillips: Billy, what's your favorite crappie lake to fish?
Billy Williams: I like to fish Lake Grenada in Mississippi, because so-many big crappie live there. I have seven crappie mounted at my home, and six of those crappie came from Lake Grenada. All of those seven crappie weighed more than 3 pounds, with the biggest one weighing  3.48 pounds. You only can keep 15 crappie per person per day at Lake Grenada, and the crappie have to be longer than 12 inches. In Alabama, you can keep 30 crappie, and the crappie you keep have to be longer than 9 inches.
Phillips: Do you have a webpage or a Facebook page?
Billy Williams: Yes, we have Team Williams Fishing https://www.facebook.com/Team-Williams-Fishing-491917507663215/ on Facebook. Scott keeps that updated.
Phillips: Billy, Why do you like 4-pound-test line when you're long-line trolling?
Billy Williams: I like to troll with a small diameter line, because it doesn't restrict the action of your jig. Also, due to the diameter of the line being so small, you can troll it in fairly-deep water. If you fish with line larger than 4-pound test, often you can't get your jigs down as deep as you need to fish to catch crappie. In the spring, I can fish two jigs on 4-pound-test line as shallow as 4 feet or as deep as 12 feet. In the late summer, I'm most often fishing a spider rig with 6-pound-test line and a lead to get the baits down to the depths of water I want to fish.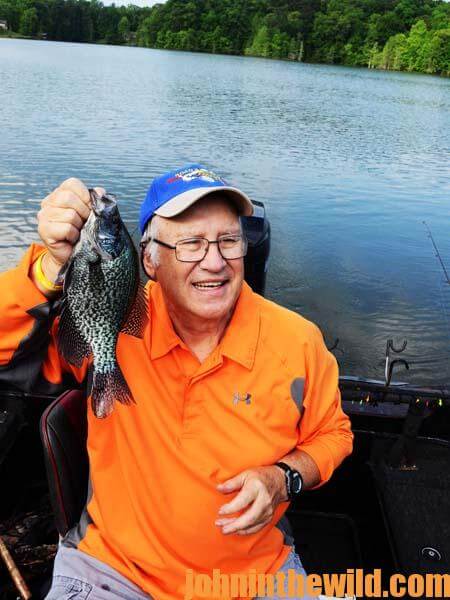 Phillips: How do you know how deep you're trolling?
Billy Williams: Experience is the only way to learn how deep your jigs are running based on trolling motor speed, the pound test line you're using, how far behind the boat your jigs are trolling, and the weight of the jigs. In the Alabama State Championship, Scott and I were long-line trolling – fishing 1/32- and 1/48-ounce jigs at 1 mph. That combination allowed our jigs to run about 8-feet deep.
Phillips: Billy, when you're long-line trolling, why do you keep the tips of your pole about 8-10 inches above the water?
Billy Williams: The closer your pole tips are to the water, the less effect the wind has on your line. If the tips of your poles are higher than that, the wind can blow your line, so your jigs aren't trolling right behind the boat. Also, by keeping the tips of your poles close to the water, your lines don't get tangled up nearly as much as they do when your pole tips are higher above the water. Keeping the pole tips close to the water also prevents your lines from getting tangled when you turn around to troll right back over a spot where you've caught crappie.
Phillips: Billy, what kind of rules have you and Scott set-up for tournament fishing?
Billy Williams: The number-one rule is: when we know we have big crappie in the area, we don't leave those big crappie to go look for bigger crappie.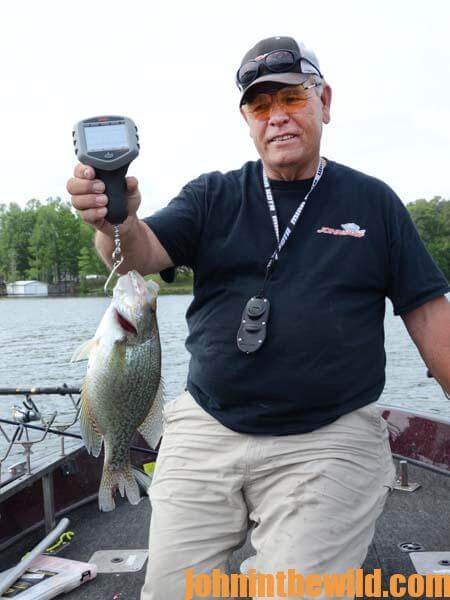 Phillips: What do you consider a big crappie?
Billy Williams:  We call any crappie that weighs 1-1/2-pounds or more a tournament crappie. When we get seven crappie in our live well that weigh 1-1/2-pounds each, and we're not catching any crappie bigger than 1-1/2-pounds, then we'll move and go look for bigger crappie. This past year when we were fishing a tournament in Florida, on the first day, Scott and I were leading the tournament. On the second day, the wind was blowing hard, and we didn't think we could fish the same spot where we had caught the crappie to lead the tournament. So, we started looking for protected waters. Although we caught plenty of small crappie, we didn't catch the size crappie required to win the tournament. About lunchtime of the second day, we decided to go back to the place where we had caught the big crappie the first day. Although we caught a few big crappie at the first place, we didn't win. In hindsight, we realized that we should have battled the wind and continued to fish where we had caught our big crappie. When I pre-fished for the Alabama State Championship on Lake Jordan,  I found one little spot that was producing 1-1/2-pound crappie, and  I caught one crappie that weighed 2.22 pounds off that site. Scott wasn't catching crappie that big or bigger on the Alabama River. So, that's the reason we decided to compete on Lake Jordan rather than the Alabama River for this tournament.
Phillips: What's another rule that you and Scott have?
Billy Williams: We don't scout for crappie during a tournament. Once we decide where we will fish before the first tournament day based on our pre-fishing, that's where we'll fish during the tournament. We don't go to any places during a tournament that we haven't fished prior to the tournament.
Also, if you'd like to fish Cooter's Pond https://www.facebook.com/pages/Cooters-Pond-Park/146063642088959 near Prattville, Alabama, be sure to stay at the Hampton Inn and Suites, http://hamptoninn3.hilton.com/en/hotels/alabama/hampton-inn-and-suites-prattville-MGMCFHX/index.html, phone: 1-334-285-6167.
To learn much more about crappie fishing, get John E. Phillips' Kindle eBooks and print books, "Crappie: How to Catch Them Fall & Winter," "Crappie: How to Catch Them Spring and Summer," "Catch Cold Water Crappie Now" and "Catch Crappie All Year: Fishing a Single Pole, Using No Boat and Farming Crappie" by clicking on each, and you also can go to www.barnesandnoble.com.
To receive and download for free "The Crappie Catchers' Cookbook" by John and Denise Phillips that offers free recipes, go to http://johninthewild.com/free-books.
Next: Scott Williams on Why and How He Shoots Docks for Crappie
EXPLORE MORE: you'll love these stories from John too