John's Note: To prepare fish properly, soak the fish. Sometimes the fish we catch are caught in dingy water. To insure a good flavor for bass, crappie, bream, catfish, walleye, pickerel or saltwater fish taken from this kind of water, use one of the following methods. Soak the fish by covering with 7-Up in a pan and refrigerating overnight. Or, combine 1 quart water, 1/4-cup vinegar and 3 tablespoons salt in a large bowl, and mix well. Refrigerate, and soak the fish for 4 to 6 hours or overnight. Remove the fish, and prepare as desired.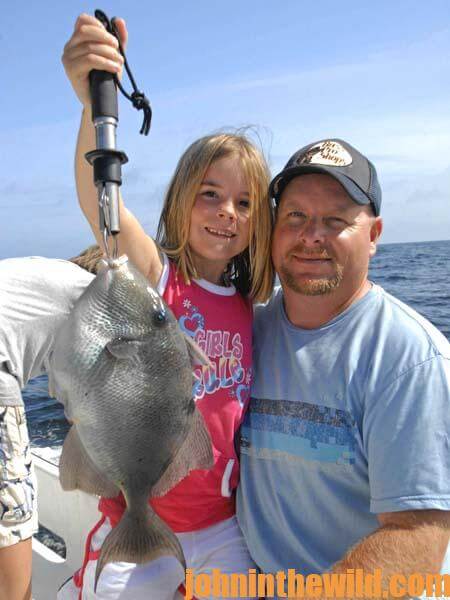 Baking Methods:
Too much heat will cause fish to become dry, shrink and fall apart. To avoid overcooking, follow the basic "10 Minutes Rule" for a whole or dressed fish, fillet, steaks and fingers. Measure the fish at the thickest part. If fresh or thawed, cook 10 to 12 minutes per inch of thickness. If frozen, cook 20 to 24 minutes per inch of thickness. If covered or cooking in a sauce, add an additional 5 minutes cooking time per inch of thickness Bake at 450 degrees testing for doneness after 2/3 of the cooking time has elapsed. Fish is done when the flesh becomes opaque and flakes easily when tested with a fork or a skewer.
Microwaving:
This method cuts cooking time by about 75 percent. Rather than the "10 Minutes Rule" use "3 Minutes Rule" per pound of fresh or thawed seafood (triple time for frozen) with a HIGH setting. Always test for doneness after 2/3 of the time has elapsed. Rotate frequently.
Sautéing or Pan-Frying:
This method of frying is ideal for small fish, fillets, steaks or croquettes, etc. and it requires a small amount of oil over moderate to high heat. Keeping the food moving to cook all surfaces evenly is important for this type of cooking to be successful. Larger pieces may be turned once during cooking.
Deep Frying:
For best results, fill a pot or a deep fryer half full with oil. Heat the deep fat to 375 degrees. Don't heat the oil to boiling, because then you may burn the fish. Dip, and dredge, or batter, and then fry until golden brown. Drain on absorbent paper. Avoid crowding and excessive handling when frying fish, and keep the temperature constant. If you are breading fish, allow the coating to dry about 15 minutes before frying. Always discard dark, burned oil, skim fried crusty particles during frying, and strain oil before storing. Never add cool oil to heated oil which will check cooking, and spoil the taste.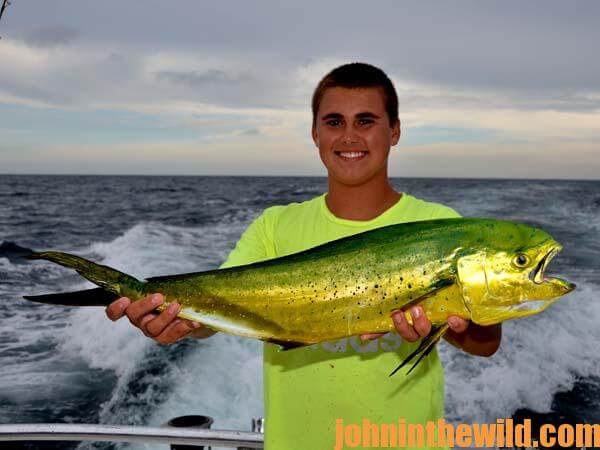 Broiling:
Place fish or shellfish on preheated, lightly-oiled broiler rack. Broil 4 inches from heat source, according to "10 Minutes Rule," turning once during cooking and basting frequently. Research indicates that broiled fish retains more protein and other nutrients than baked, pan-fried or poached fish.
Grilling:
A variation on oven-broiling, this method requires a well-oiled hot grill rack and a little more distance from the hot coals. Cook with the "10 Minutes Rule," basting frequently unless fish has been packaged in foil to prevent drying. To build a cooking fire, start with a good bed of charcoal, 2 to 3 inches deep, so that it will last the entire cooking period. After starting the fire, wait for the coals to burn a gray color with a ruddy glow underneath usually takes about 30 minutes.
Honey-Pecan Crappie
Your family from the youngest to the oldest will enjoy catching, cooking and eating crappie.
Ingredients:
1 cup extra-virgin olive oil
1/2-cup honey
2 tablespoons hazelnut liqueur, such as Frangelico
2 tablespoons apple cider vinegar
1/2-cup chopped pecans
1 clove garlic, chopped
1 teaspoon crushed red pepper
1 teaspoon ground cinnamon
1 teaspoon ground allspice
1 teaspoon ground anise
1/2-teaspoon ground cloves
1/2-teaspoon ground mace
Salt and ground black pepper to taste
2-1/2-pounds crappie fillets
Preparation:
In a large bowl, whisk together olive oil, honey, liqueur, vinegar, pecans, garlic, red pepper, cinnamon, allspice, anise, cloves and mace. Season this mixture to taste with salt and black pepper. Add fish, turning to coat well. Cover with plastic wrap, and refrigerate overnight. Preheat oven to 425 degrees. Spray a rimmed baking sheet with nonstick cooking spray. Place fish on prepared pan and spoon several teaspoons of marinade over fish, if desired. Discard remaining marinade. Bake until fish flakes in center, 25 – 30 minutes. Cover with aluminum foil during the last 15 minutes of baking to prevent excess browning. Serve immediately. Yield: 4 servings.
Crappie Etouffee
Our family loves to eat all things Cajun.
Ingredients:
2 pounds crappie fillets
1 cup butter
2 cups onion, chopped
2 cups celery, chopped
1 cup bell pepper, chopped
1 tablespoon flour
1 cup green onion tops, chopped
Salt to taste
Red pepper to taste
Black pepper to taste
Garlic powder to taste
Dash of soy sauce
Preparation:
Melt butter in skillet. Add onion, celery and bell pepper; simmer until tender. Add flour, and stir. Add green onion tops and soy sauce, and stir. Lay fillets in pan. Cover with sauce. Simmer until fish flakes when pricked with a fork – about 10 minutes. Serve over fluffy cooked rice.
Yield: 4-6 servings.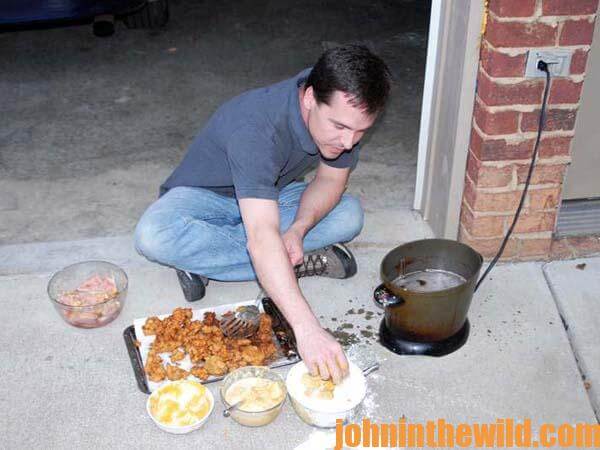 Crappie Italian Style
Ingredients:
Oil
Crappie fillets or catfish
Salt and pepper
Italian bread crumbs
1 lemon
Worcestershire Sauce
Preparation:
Coat the crappie fillets well with salt, pepper and Worcestershire Sauce, and then squeeze a lemon over them. Roll the fillets in Italian bread crumbs.  Heat the oil (about 2-3 inches deep) in a heavy-duty skillet, and once the oil reaches 375 degrees, fry the fillets a couple at a time. Keep the fillets on paper toweling in a pan to drain, and place aluminum foil over the top of the pan with the fillets in it to keep them warm, while finishing frying the other fillets. Yield: number of servings depends on how many fillets you prepare.
Herbed Mahi-Mahi-Prepared Three Ways
We hope you get to fish in salt water this spring and catch dolphin. (Be sure to check fishing regulations for dolphin).
Ingredients:
1-1/2-pounds mahi-mahi fillets (3/4-inch thick)
1/4-teaspoon salt
1/8-teaspoon pepper
2 tablespoons unsalted butter, softened
1 teaspoon Italian herb paste
Olive oil (for grilling or broiling)
Seafood seasoning (for broiling)
Cooking spray (for broiling)
Preparation for Baking:
Preheat oven to 400 degrees. Season fillets with salt and pepper; place on baking sheet. Bake 8 to 10 minutes or until opaque and separates easily. Combine butter and herb paste; top fish with mixture after cooking.
Preparation for Grilling:
Preheat heat to medium. Brush fish with oil, and season with salt and pepper. Grill fish 3 to 4 minutes on each side or until opaque and separates easily. Prepare butter and herb paste to top fish with mixture.
Preparation for Broiling:
Preheat oven to broil. Brush fish lightly with oil and season with 1 tablespoon seafood seasoning. Coat baking sheet with cooking spray. Place fish on sheet; broil 5 to 6 minutes or until opaque and separates easily. Serve with butter/herb paste.
Carolina Red Rice with Shrimp and Bacon
As our granddaughter Cameron, who loves shrimp, says, this dish is yummylicious.
Ingredients:
6 slices bacon
1/2-cup chopped yellow onion
1/2-cup chopped green bell pepper
1/2-cup chopped celery
2 cloves garlic, minced
2 cups tomato sauce
1-1/2-cups basmati rice
1-1/4-cups chicken broth, divided
1 tablespoon chopped fresh thyme
2 teaspoons hot sauce
3/4-teaspoon salt
1/4-teaspoon ground black pepper
2 bay leaves
1 pound medium wild Alabama fresh shrimp, peeled and deveined
1 cup chopped seeded tomato
Garnish: fresh thyme, chopped fresh parsley, lemon wedges, to serve
Preparation:
In a medium cast-iron Dutch oven, cook bacon over medium heat until crisp. Using a slotted spoon, remove bacon from Dutch oven; let drain on paper towels. Increase heat to medium-high; add onion, bell pepper and celery. Stir occasionally, cooking until lightly browned, about 4 minutes. Add garlic; cook 1 minute. Add 2 cups tomato sauce, rice, 1 cup broth, thyme, hot sauce, salt, pepper and bay leaves to the Dutch oven; bring to a boil. Cover, and reduce heat to medium-low. Simmer until rice is almost tender, approximately 20 minutes. Gently stir in shrimp, tomato and remaining 1/4-cup broth, if needed. Cover, and cook until shrimp are pink, approximately 3 – 5 minutes. (Watch carefully how long you cook the shrimp as it can become tough if overcooked). Remove bay leaves, and discard. Crumble bacon, and sprinkle over shrimp mixture. Garnish with thyme and parsley, if desired. Serve with lemon wedges. Yield: 6 servings.
Oriental Crappie with Sesame Seeds
Although you never may have considered cooking crappie with sesame seeds, this dish is delicious and is one our family has used for a long time.
Ingredients:
Rind of 1 lemon, cut into small strips
2 tablespoons sesame seeds
1 tablespoon peeled and minced ginger root
1 stick (1/2-cup) unsalted butter
3 tablespoons fresh lemon juice
1 teaspoon oriental sesame oil (available at some grocery stores, oriental markets and specialty foods shops)
1 teaspoon Dijon style mustard
1/2-teaspoon soy sauce
1/4-teaspoon cayenne pepper
1 pound crappie fillets
4 scallions, sliced thin on the diagonal
Preparation:
Preheat oven to 425 degrees. In a saucepan of boiling water, blanch the lemon rind for 5 minutes. Drain it in a sieve, and refresh it under running cold water. Pat the rind dry. In a dry, heavy skillet, toast the sesame seeds over moderately-high heat, stirring until seeds are golden brown. In another skillet, cook the ginger root in 2 tablespoons of butter over moderately-high heat, stirring until golden. Add the remaining 6 tablespoons butter, cut into bits, and the lemon juice, and cook the mixture over low heat, stirring until the butter is melted. Stir in the sesame oil, mustard, soy sauce, cayenne and salt and pepper to taste. Then remove the skillet from the heat. Pat the fillets dry, and arrange them in a buttered baking dish just large enough to hold them in one layer. Pour the sauce over the fillets. Sprinkle the fillets with the lemon rind and the scallions, and bake them, covered with foil at 425 degrees for 6 minutes or so, or until they just flake when tested with a fork. Sprinkle the fillets with the sesame seeds. Yield: 4 servings.
Triggerfish Dijon
John came home from fishing in the Gulf of Mexico one day, and we wanted to prepare the fish. I had all the ingredients on-hand for this recipe and had wanted to try it. The flavor was amazing. (Be sure to check fishing regulations for triggerfish).
Ingredients:
1 cup fat-free sour cream
2 teaspoons dried dill
3 tablespoons scallions (green onions), rinsed and finely chopped
2 tablespoons Dijon mustard
2 tablespoons lemon juice
1-1/2-pounds triggerfish fillet, cut into 6 portions (about 4 ounces each)
1/2-teaspoon garlic powder
1/2-teaspoon ground black pepper
Cooking spray
Preparation:
Preheat oven to 400 degrees. Whisk sour cream, dill, scallions, mustard and lemon juice in a small bowl to blend. Lightly coat baking sheet with cooking spray. Place fish on the prepared baking sheet. Sprinkle with garlic powder and pepper; then spread with sauce. Bake fillets until each is opaque in the center and flakes easily with a fork in the thickest part, about 20 minutes (to a minimum internal temperature of 145 degrees F). Serve immediately. Yield: 6 servings.
Blackened Grouper
We never met a blackened grouper dish we didn't like, and this one is delicious (Be sure to check fishing regulations for grouper).
Ingredients:
1/4-cup smoked paprika
2 tablespoons dried thyme
2 teaspoons onion powder
1-1/2-teaspoons kosher salt
1-1/2-teaspoons garlic powder
1 teaspoon ground black pepper
1/2-teaspoon dry mustard
1/2-teaspoon ground red pepper
1/2-cup butter, melted
2 pounds grouper fillets
1 tablespoon olive oil
3 lemons, halved
Preparation:
Preheat grill to high heat (400 – 450 degrees). Preheat a 12-inch cast iron skillet on grill for 15 minutes. In a small bowl, stir together paprika, thyme, onion powder, salt garlic powder, black pepper, mustard and red pepper. Pour melted butter in a shallow dish. Dip each fillet in butter, turning to coat. Sprinkle both sides of fillets with spice mixture; pat gently to coat. Add olive oil to skillet (oil should smoke); place fish in skillet. Grill covered 3 – 4 minutes until browned. Turn, and grill covered 3 – 4 minutes more until the fish flakes easily with a fork. Carefully remove skillet from grill. Place lemons, cut side down, on grill. Grill lemons 3 – 4 minutes covered, until charred. Serve with fish. Yield: 4 servings.
These recipes are new and are not included in our book, "The Best Wild Game & Seafood Cookbook Ever: 350 Southern Recipes for Deer, Turkey, Fish, Seafood, Small Game and Birds," available at http://amzn.to/WkbLRg in Kindle eBook and in print.
EXPLORE MORE: you'll love these stories from John too