Editor's Note: "I can't wait for you to get here to Lake Eufaula," Mayor Jack Tibbs of Eufaula, Alabama (http://eufaulaalabama.com/, told me on the phone. "Tony Adams, who will be your guide, assures me he's found a spot where you and him should be able to limit out on crappie in 2 hours, and at the same time, Tony will have jugs put-out for catfish. He thinks you should be able to catch 100-200 pounds of catfish too in that 2-hour-time period."  I wanted to leave immediately for Eufaula, right after talking to Mayor Tibbs. But I remained at my home outside Birmingham, Ala., went to Eufaula the next day and enjoyed the fishing trip of a lifetime. Pam Swanner with the Alabama Black Belt Adventures Association (ALBBA), a non-profit group promoting the 23 Black Belt counties' hunting and fishing, (www.alabamablackbeltadventures.org) helped me set-up my trip and had put me in touch with Mayor Tibbs.
I've fished for crappie all my life, and I've probably used every technique known to man to catch them. Any time I've been fishing with a bobber, we'll use small bobbers and put the line through the bobber, insert the bobber stopper to hold the bait where we want to fish. So, I really couldn't understand why Adams didn't put a bobber stopper in the bobbers we were using to fish. "If I used a bobber stopper and was fishing 8-10 feet deep, when I tried to reel up the crappie, the bobber stopper would hit the top guide on my rod, and I'd have to pull the crappie in by hand," Adams explains. "By not using the bobber stopper, I can reel up the crappie all the way to the surface and then swing it into the boat. Another advantage to not using a bobber stopper is that it would allow you to see a strike that you might not be able to see, if you were just watching 4-6-pound-test line. When a crappie takes a bait, even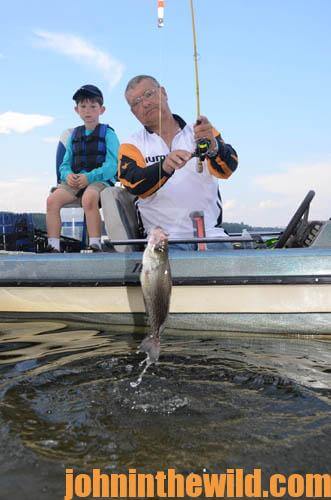 if you get a light strike, that bobber will move. If the crappie pushed the bait to the left, the right, forward or backwards, you could see the bobber move. The line will move slightly in one of those four directions and will move the bobber in the direction in which the crappie is swimming. Even if the crappie doesn't push the minnow, if that fish just comes up and sucks in the bait, you'll be able to see that light strike when the bobber moves or twitches. On a very bright day, oftentimes seeing 4-6-pound-test line and knowing when you're getting a crappie strike is hard. But with the bobber, I can spot every time the crappie even breathes on the minnows, and be able to set the hook."
As Adams and I fished that day at Lake Eufaula, I saw the value of allowing the line to go through the bobber, without a bobber stopper. I caught crappie I wouldn't have caught if I was concentrating all my attention on the line. While I was still trying to catch minnows out of the minnow buckets and put the minnows on my three rods, Adams already had caught and landed four crappie and said, "John, the crappie are holding at 8 feet, so let all your rods down to 8- feet deep." I thought to myself, "Tony's already caught four crappie before I've even gotten a minnow on my hooks. He'll probably have a dozen crappie caught before I can get my rods baited and down to 8 feet." As I put the first bait down to 8 feet and started trying  to bait a second rod, the first rod bent, and I reeled in a 1-1/2-pound crappie. I let that crappie lay in the boat while I baited a second rod. Once that minnow reached the 8-foot depth, that rod bowed-up with a crappie. So, I brought that crappie up, put the fish and the rod down in the boat and baited up a third rod, catching another crappie. Then I had to take time out, put my three crappie in the livewell and go through the three-rod baiting, catching and rebaiting I'd used before. I finally decided that I could not fish three rods at the same time. As soon as I got my bait down to 8 feet, a crappie would hit it. I never fished as fast and as furious as I did at the end of September at Lake Eufaula.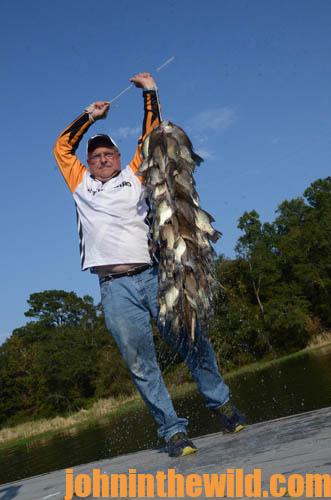 You can contact my guide, Tony Adams at 334-688-7505 or tony.adams@marvins.com and see photos of his fish on his Facebook page (https://www.facebook.com/tony.adams.5477). While in Eufaula, I stayed at Lakepoint Resort in the Alabama State Park (http://www.alapark.com/lakepoint-state-park), where the rooms have views of the lake, and the food is delicious. Contact the sales director, Sone Kornegay, at 334-687-8011 to learn more.
If you want to hold a crappie-fishing or a bass-fishing tournament at Lake Eufaula, you can contact Mayor Jack Tibbs at mayortibbs@eufaulaalabama.com or call 334-695-3765. You also can call 334-343-6173 or email pam@alabamablackbeltadventures.org to learn more about Alabama Black Belt Adventures.
"What Depth for Crappie on Eufaula All Year Long" – https://youtu.be/g-Cey1YPeuw
To learn much more about crappie fishing, get John E. Phillips' Kindle eBooks, and print and Audible books by going to http://johninthewild.com/books/#crappie or to www.barnesandnoble.com for Nook books. To receive and download for free "The Crappie Catchers' Cookbook," by John and Denise Phillips, go to http://johninthewild.com/free-books.
http://amzn.to/16AzIZi
Next Week: While at Lake Eufaula, I also enjoyed as great day of catfishing and learned some new ways to rig, fish, store jugs and bait for catfish and bass fished with Mayor Tibbs.
Tomorrow: Why Tony Adams Enjoys Catching Crappie on Jigs and Spoons
EXPLORE MORE: you'll love these stories from John too