Editor's Note: Tony Adams moved to Eufaula (http://eufaulaalabama.com/), Alabama, in 1989 and began fishing the Chattahoochee River that had been impounded to create in 1962 Lake Eufaula, also known as the Walter F. George Reservoir, that were on the Alabama/Georgia border. When Tony Adams arrived in Eufaula, he decided he would learn where and how to catch catfish and crappie there. Last week on John in the Wild (http://johninthewild.com/how-we-fish-for-crappie/) we told you how Adams finds and catches crappie. This week we'll tell you how he locates catfish, and how he rigs and catches catfish.
"I like to jug fish for catfish often at the same time I'm crappie fishing," Tony Adams reports.  "I've learned that if you concentrate your fishing just on your jugs for about 4 hours in the morning, you usually can catch from about 100-400 pounds of cats, with the average morning catch being about 200-300 pounds. But if you don't watch your jugs, go crappie fishing instead and then pick-up your catfish and your jugs after you've crappie fished, you'll catch fewer catfish.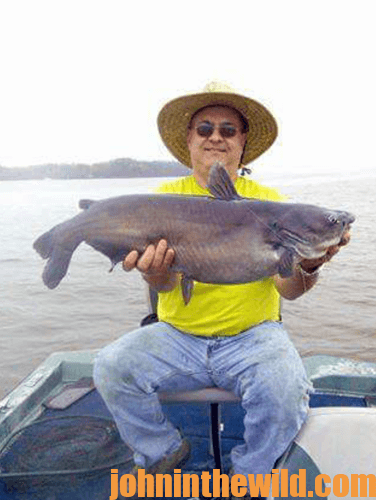 "During the hot summer months, I'll run the lines coming from my jugs down to 40-60 feet deep. But John, since you and I are fishing during the fall of the year, I'll have my lines from 18-60 feet deep. Because the weather is cooler, many of the catfish have moved up into shallower water." Since I'd never heard of anyone running lines from their jugs down to 60-feet deep, I asked Adams, "Why do you fish so deep?" "In the summer months and sometimes in the fall, the bigger catfish at Lake Eufaula and other lakes will hold in that deeper water. I've caught cats that weigh from 20-60 pounds each on 60-foot deep lines."
Adams baits his hooks with cut skipjack (a hickory shad) and with cut mullet (a saltwater fish that has a lot of oil in it and puts-off a strong smell). "Primarily, we'll be fishing for blue cats and channel cats today," Adams told me.
Generally when Adams goes jugging for cats, he puts out about 72, 20-ounce plastic jugs. "During the summer months, we'll catch about 300 pounds of cats by putting out those 72 jugs and fishing for 4 hours," Adams says. "But during the fall, I'll usually catch 150-200 pounds of catfish in a 4-hour period.
"When I'm crappie fishing and jug fishing at the same time, we won't produce as many cats as when we're only jug fishing. At Lake Eufaula, we can take a limit of 30 crappie per person in about 2-3 hours. (See John in the Wild for week of October 3, 2017) (http://johninthewild.com/how-we-fish-for-crappie/). If a catfish takes one of our jugs down, most of the time the fish can get off the hook in that period of time. But still we generally catch 100-150 pounds of cats while crappie fishing. So, 60 crappie and 100 pounds of catfish in a half day of fishing means two people have caught enough fish for a fine fish fry."
Adams can produce that many fish in that short time, partly because he uses a Humminbird Helix 12 depth finder (www.humminbird.com) that features down imagining as well as side imaging. Adams says, "When I'm fishing for crappie, I look for feeder creeks running into the main river channel. I search for brush and the crappie hiding in the brush or around the brush. To catch the catfish, I put my jugs out on the edge of the main river channel."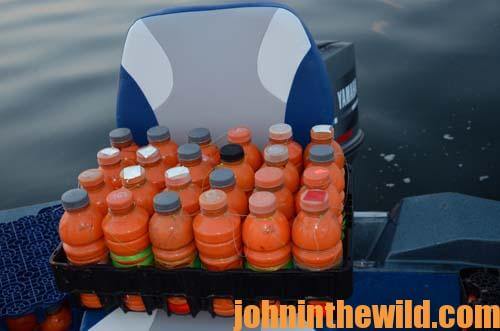 Adams paints all his 20-ounce Gatorade and Pepsi plastic bottles orange. The jugs then fit neatly into the racks that the drink salesmen use to carry Gatorade and Pepsi into the stores, and they're stackable. So, Adams' jugs don't take up very much room in his boat, and he says, "My jugs are easier to see on the water when they're painted orange than any other color. I use 50-60 pound test line coming off my jugs and either No. 5/0 or No. 6/0 stainless-steel circle hooks."
Adams fills the insides of some of the jugs with foam, especially when he's fishing catfish tournaments or fishing for very-big catfish. "A big catfish can pull s jug down so deep that the sides of the jugs will collapse. So, by spraying foam in the jugs when I'm fishing for big cats, I solve that problem. The foam creates more flotation, and even if the jugs are pulled down deep in the water, the sides of the jugs won't collapse."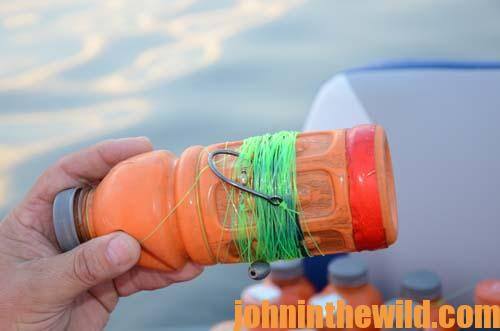 Jugging for Cats' Equipment with Tony Adams: https://youtu.be/NfXPZp3mj0Q
Why I Put Styrofoam in My Catfish Jugs with Tony Adams: https://youtu.be/hQ-HsDQc2JE
You can contact my guide, Tony Adams at 334-688-7505 or tony.adams@marvins.com and see photos of his fish on his Facebook page (https://www.facebook.com/tony.adams.5477). While in Eufaula, I stayed at Lakepoint Resort in the Alabama State Parks (http://www.alapark.com/lakepoint-state-park), where the rooms have views of the lake, and the food is delicious. Contact the sales director, Sone Kornegay, at 334-687-8011 to learn more.
If you want to hold a crappie-fishing, a catfishing or a bass-fishing tournament at Lake Eufaula, you can contact Mayor Jack Tibbs at mayortibbs@eufaulaalabama.com or call 334-695-3765. You also can call 334-343-6173, go to www.alabamablackbeltadventures.org or email pam@alabamablackbeltadventures.org to learn more about Alabama Black Belt Adventures, of which Eufaula is a part.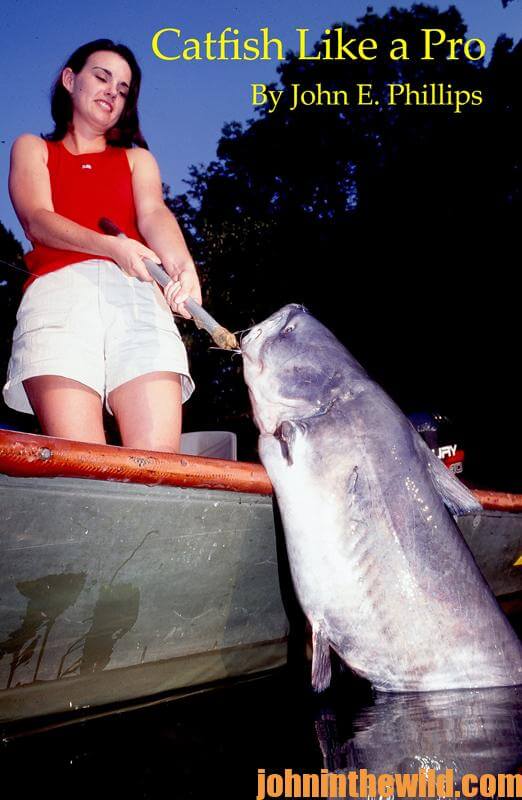 To learn more about catfishing, go to http://amzn.to/W900eu to get John E. Phillips' "Catfish Like a Pro" and others. Type in the name of the book, and download it to your Kindle or you can download a Kindle app for your iPad, SmartPhone or computer. You can also get "The Catfish Catcher's Cookbook" for free at http://johninthewild.com/free-books.
Tomorrow: Why Tony Adams Puts His Jugs in a Straight Line to Catch Catfish