Editor's Note: Tony Adams moved to Eufaula (http://eufaulaalabama.com/), Alabama, in 1989 and began fishing the Chattahoochee River that had been impounded to create in 1962 Lake Eufaula, also known as the Walter F. George Reservoir, that were on the Alabama/Georgia border. When Tony Adams arrived in Eufaula, he decided he would learn where and how to catch catfish and crappie there. Last week on John in the Wild (http://johninthewild.com/how-we-fish-for-crappie/) we told you how Adams finds and catches crappie. This week we'll tell you how he locates catfish, and how he rigs and catches catfish.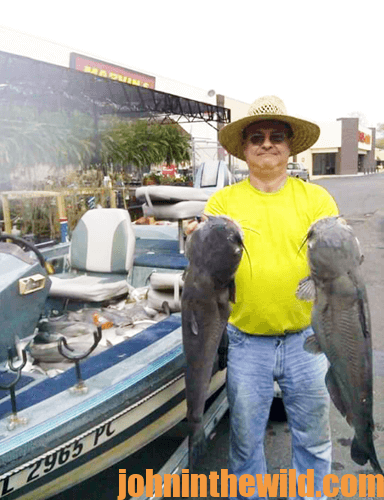 I asked Adams, "How often do you lose a jug when you put jugs out to catch catfish?" "If there's little or no wind, I may not lose any jugs," Adams says. "But on a windy day, I may lose three or four jugs, even if I'm working them (taking fish off the jugs and rebaiting) for the full 4 hours. There have been days when I've jug fished just ahead of a storm, and the big catfish were biting actively. When that happens, I easily can lose as many as 12 jugs out of the 72. When those big catfish feel the pressure of the jug, they will run to structure and hang my jug up underwater.
I also asked Adams, "How often do you change out your hooks?" "I usually change my hooks about once per year," Adams emphasizes. "But when I break a line off from a jug that's gotten into structure, I'll change out the line, the weight and the swivel and put a new hook on that jug. I fish with stainless-steel hooks, because they don't rust, and they're really strong.
"The lines on my jugs will get my hook and bait down to from 18 to 60 feet deep. Most jug fishermen don't fish with lines that long. I use lines that long from the springtime until the weather starts to cool down in early winter. Once winter arrives the cats will move into the creeks. So, I'll put my jugs out in the creeks and shorten my lines. I'll have lines 8-16 feet deep. I can catch catfish all winter long at Lake Eufaula by jug fishing. Even in the winter months, I'll usually catch from 150-200 pounds of catfish in 4 hours.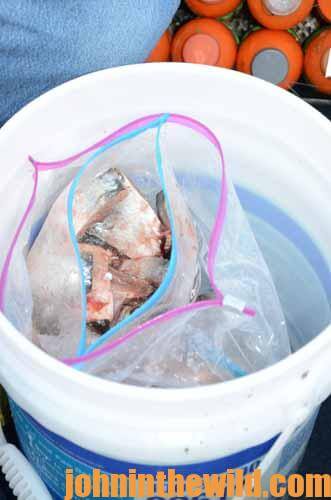 "In the summer months, my uncle will come over from Georgia and catch enough cats to put in his freezer to last him through the winter months. He and I generally jug fish together during June and July. We may only fish for about 2 hours, and we'll come in with all our live wells full of catfish and catfish all over the bottoms of the boats. We'll easily have 400 pounds or more of catfish. That many cats will produce about 20, one-gallon Ziploc bags of catfish fillets. My uncle will say, 'I can't believe it. I drove for 2 hours to come and go fishing with you. We only fished for 2 hours, and I'm going back home with a cooler full of catfish."
One of Adams' favorite baits for big catfish is the head of a skipjack. "The skipjack's head is a big bait. I don't catch a big catfish on every skipjack head I bait with, but if a big catfish does find my bait, it really will enjoy the head of a skipjack for breakfast or lunch. Most of the anglers who fish with me had rather catch big cats than little cats. The real secret to eating a delicious big catfish is after you fillet the big fish, cut strips across the fillet to make catfish fingers. If you cut those catfish steaks into small fingers, they'll be just as tasty as a small catfish fillet."
Having 72 Jugs Out Equals 200 to 400 Cats in 4 Hours: https://youtu.be/2axfCZ4xj88
You can contact my guide, Tony Adams at 334-688-7505 or tony.adams@marvins.com and see photos of his fish on his Facebook page (https://www.facebook.com/tony.adams.5477). While in Eufaula, I stayed at Lakepoint Resort in the Alabama State Parks (http://www.alapark.com/lakepoint-state-park), where the rooms have views of the lake, and the food is delicious. Contact the sales director, Sone Kornegay, at 334-687-8011 to learn more.
If you want to hold a crappie-fishing, a catfishing or a bass-fishing tournament at Lake Eufaula, you can contact Mayor Jack Tibbs at mayortibbs@eufaulaalabama.com or call 334-695-3765. You also can call 334-343-6173, go to www.alabamablackbeltadventures.org or email pam@alabamablackbeltadventures.org to learn more about Alabama Black Belt Adventures, of which Eufaula is a part.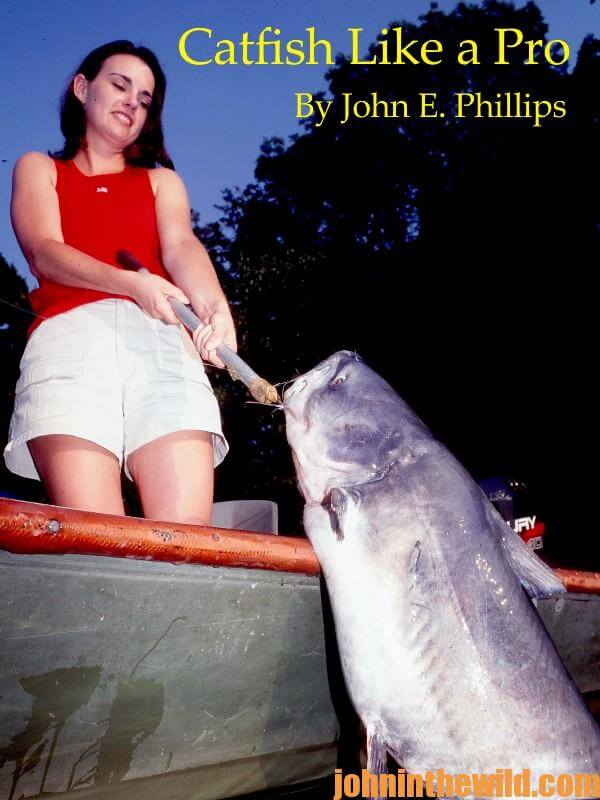 To learn more about catfishing, go to http://amzn.to/W900eu to get John E. Phillips' "Catfish Like a Pro" and others. Type in the name of the book, and download it to your Kindle or you can download a Kindle app for your iPad, SmartPhone or computer. You can also get "The Catfish Catcher's Cookbook" for free at http://johninthewild.com/free-books.
Tomorrow: How to Double Your Pleasure and Your Fun Jug Fishing for Catfish