Editor's Note: You can harvest PhD gobblers without using the latest, state-of-the art equipment. However, you don't have to be miserable to hunt the wild turkey. Using better equipment means you will hunt more comfortably and often more successfully. You'll also derive more satisfaction from the sport of gobbler chasing. Let's dress the turkey hunter.
* GPS: The hand-held GPS is the easiest navigational tool that enables a hunter to go anywhere in unknown woods where a gobbler may take him or her and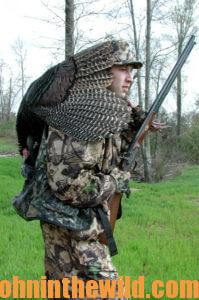 help him return to his vehicle by the shortest route. But you also can use a GPS for many more functions to help you take a smart tom. You can mark: the tom's roost tree as a waypoint and return to it any time of the day or night; and strut zones, fields the gobbler frequents, the places you hear him gobble, and the spots where you've called to him. By storing these locations in the memory of your GPS, you can build a game plan for taking a gobbler and also develop a map of everywhere he goes and where he's been. Therefore, even when a tom turkey isn't talking, you can find him.
* Range Finder: A range finder is a teaching aid that enables you to more-accurately determine distances. By guessing the distance and then checking that distance with a range finder, a hunter can teach himself to be a more-accurate judge of distance. When you sit down to call a turkey, use the range finder to measure the distance you are from different trees and bushes. As the turkey comes in and passes by those objects, you will know the distance to the gobbler. From patterning your shotgun, you'll know your effective range.
* Compass: Turkey hunters are notorious for getting lost in the woods. When turkey hunters hear a turkey gobble, the first reaction is to get to him as quickly as possible, set-up and be ready to take the bird when he flies off the roost. But if you move several times during the hunt, you may not know where you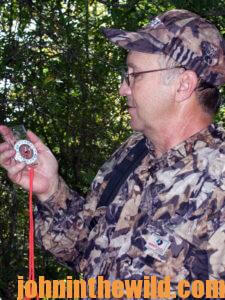 are when the time comes to leave the woods. Even a hunter who depends on his GPS receiver always carries a compass, since some GPS receivers will have difficulty updating in the rain or on overcast days. Also GPS batteries can expire. Dropping or losing your GPS receiver means you'll need a compass.
* Flashlight: Turkey hunters often go into the woods before daylight and come out of the woods after dark. A small flashlight and extra batteries definitely will help the hunter's navigation.
* Fanny Pack: With all the gear a turkey hunter carries into the woods, he easily cam load-up his pockets. The answer is to wear a fanny pack to store turkey calls, flashlights, compass and other gear. When you need any of the gear in the fanny pack, simply turn the pack to the front, take out the gear, and slide the pack back. Lightweight packs can store a large amount of gear.
* Turkey Toter: Most of us have seen pictures of the proud hu   nter walking out of the weeks with a tom over one shoulder and his gun over the other. Although this makes a beautiful picture, and one that we all hope to pose for at some time, this method of bringing the tom out of the woods works best when you only have a few hundred yards to go. Having those bony legs across your shoulder and holding that weight in one hand quickly becomes tiring. Use a turkey toter, a game bag made of durable, bloodproof and washable blaze-orange nylon with straps, a turkey vest or the strings that ordinarily hold your blind together to carry the bird.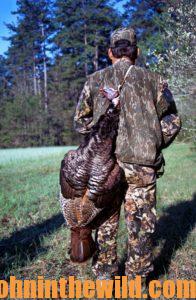 * Blind: You'll need a waterproof blind to provide concealment for hunting gobblers. A blind eliminates the need to have a perfect place to set-up because a blind can be put-up anywhere. A blind is also extremely effective if you're using a friction call, like a box or a slate. By hiding in a blind, you can call and watch the tom, but the bird won't be unable to see your hands move. A blind is also useful when hunting with novice hunters and children, since sitting still for a long time for someone unaccustomed to sitting still can be miserable.
* Calls: The most-effective turkey hunters are those who master a variety of calls. Some carry a box call, a slate call, a pushbutton call, a diaphragm call, a crow call, a hawk call and an owl hooter. Some turkeys will respond best to one particular type of call.
* Binoculars: A quality pair of binoculars is as essential to a turkey hunter as a comfortable pair of boots. A hunter can use binoculars to spot a turkey at a distance and determine whether that bird is a gobbler or a hen. Lightweight, camouflaged binoculars with good resolution are required.
* Snacks: A turkey hunter chasing a gobbler may not return to camp at mealtime. Because turkey hunting can involve considerable physical exertion, bring food along like granola bars or candy bars that won't melt.
* Matches: A hunter never should be caught without matches in a waterproof container. Again, no one believes they'll have to spend the night in the woods, but a warm campfire is an added comfort to a bad situation.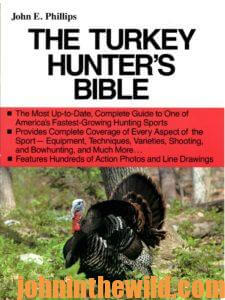 To learn more about turkey hunting, check out John E. Phillips's book, "The Turkey Hunting Guides' Bible," at https://amzn.to/2ZlSXEP, and available in Kindle, print and Audible versions.