Editor's Note: Ott DeFoe, 35 years old of Blaine, Tennessee, near Knoxville, won the 2019 Bassmaster Classic, has total earnings of $2.2 million and is ranked the No. 2 bass fisherman in the world by BassFan.com (http://www.bassfan.com/). Ott is known by other bass anglers as a river fisherman. To learn more about DeFoe, visit his Facebook page at https://www.facebook.com/pg/ottdefoe/about/?ref=page_internal.
When the weather gets hot, I fish a lot of river ledges for bass and fish them all the same way. I position my boat on the deep side of the ledge, cast my bait to the ledge's shallow side and retrieve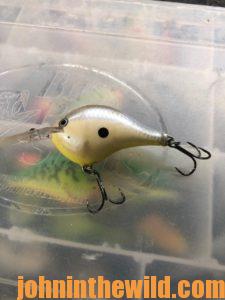 the bait over the lip of the break. When I'm looking for a ledge to fish, I want to make sure current is coming over that ledge. I want to have the largest amount of current possible coming over the top of that ledge.
My number-one choice to fish a ledge is a crankbait like a Rapala (https://www.rapala.com/)
DT16 or a Rapala DT20. I want a crankbait that runs deep enough to stay in contact with the bottom. When the bass stop biting the crankbait, I'll fish that same area with a drop-shot rig and use a Bass Pro Shops (https://www.basspro.com/) Drop Shot Worm. I'll cast the drop shot to the shallow side of the ledge and pull it over the lip of the break, once I locate bass holding on that ledge with my depth finder.
I've learned that 95 percent of the bass on a river ledge will be holding on only 5 percent of that ledge, especially during warm and hot weather. I don't want to just fish a ledge; I want to fish the part of the ledge where I know the bass are holding. I use a Humminbird (https://www.humminbird.com/) Helix-12 side-scanning, down-scanning GPS depth finder. I like this unit because I can pinpoint the ledge and the bass holding on that ledge quicker than I can with other depth finders. With side-imaging, I can scan 200 feet of a ledge at 5 miles an hour and see if there's bass holding on that ledge. If there are, I can mark the spot where the bass are holding with the GPS receiver built into the unit.
When I'm surveying a ledge, I'll usually run the entire length of the ledge, marking where the bass are holding. I'm generally not going to find a school of bass every 15 to 20 minutes when I'm idling along a ledge. I may spend 2 hours checking out a ledge before I locate a school of bass. Most often I'll mark that school of bass, move away from it, make a big circle in my boat and then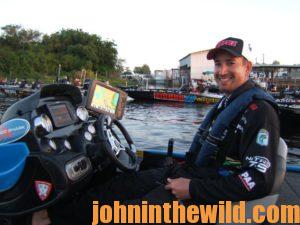 return to the place where I've graphed the bass. I'll stay well away from the school and then begin fishing that group of bass. I think locating bass before I start fishing is important rather than fishing for bass and not knowing where the bass may be holding.
Most competitive anglers know that their #1 objective when they go fishing is to identify the bass they want to catch. When you find bass holding on an underwater river ledge, you can fish with much more confidence, and you know the odds are in your favor to catch those bass. All you really have to do then is present a bait to the bass that you think they will eat, set the hook and reel them in, if the bass are in the mood to bite and are feeding actively. If not, you have to present a bait that will make them want to bite whether they're feeding or not. Often that drop shot worm's like a small hors d'oeuvres passing right in front of their noses. You can get a reaction strike, even if you can't get a feeding strike.
One of the big advantages that better electronics has brought to the fishing industry is that we no longer have to fish in places where we think a bass may be holding. With the ability of side-scanning, we can find the underwater ledges and only fish where we see the bass, which allows us to fish much more efficiently.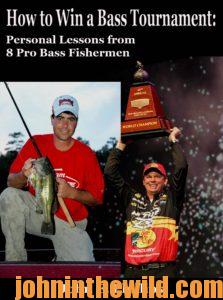 To learn more about catching bass, check out John E. Phillips' book, "How to Win a Bass Tournament: Personal Lessons from 8 Pro Bass Fishermen at http://amzn.to/Wkbyxk, and available in Kindle and print versions.
Tomorrow: Ott Defoe Fishes River Boat Docks for Summertime Bass