John's Note: Nathan Brooks from Alma, Arkansas, has won the IBO (International Bowhunting Organization) Triple Crown team championships, numerous individual tournaments on ASA's (Archery Shooters Association) Pro Am tours and the NFAA's (National Field Archery Association) national championships back to back, is an avid bowhunter and is on PSE's Pro Staff (http://pse-archery.com). Today, Brooks coaches tournament archers and believes that any bowhunter who wants to become better should shoot tournament archery.
One of the most important things I've learned from tournament archery that I've incorporated into my bowhunting is being able to make quick choices and decisions when you're bowhunting.
Often those quick decisions are the difference in taking animals and not taking animals with your bow. Many times when you're shooting tournament archery, especially 3D tournament archery, some venues give you a time limit on how long you can look at the target before you take the shot and a time limit to get the shot off.
So, you have to be able to determine the distance quickly and get the arrow off quickly. When you're bowhunting, often the buck of a lifetime will appear and disappear in a very short time. You have to decide where you're going to take the shot after determining the distance you are from the animal. You have to go through your shot sequence quickly and efficiently and decide when to draw, where to aim to get an effective shot when the pin settles and when to release the arrow. There's a lot of problem solving and decision making in 3D archery too. The faster you can make those decisions and execute the shot, the better your chances are to be successful – in 3D and when bowhunting.
One of the most-important decisions you have to make, and this has to happen quickly, is whether to take the shot or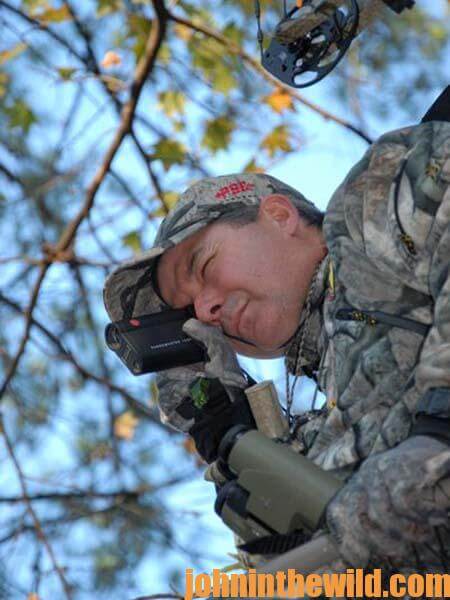 pass on the animal. We've all stressed the importance of ranging the distance you are from the animal, before you take the shot. However, many times, when an animal appears in a clear spot, there's not enough time to grab your range finder, range the distance you are from the animal, decide which pin you need to shoot or dial in the distance, draw, aim and shoot. So even though we all rely heavily on the accuracy of the range finder, many times, you'll have to judge the distance without the benefit of a range finder to get off the shot. This ability is extremely critical, if you're hunting out West using the spot-and-stalk method. You may be out hunting, and all of a sudden an animal just appears without any warning, or any knowledge that an animal is even near you.
In 3D archery, you learn to automatically know depth perception, and what an animal looks like at certain distances in your vision perception. If you're a baseball player, playing in left field, and the batter hits a long ball past you almost into the back bleachers, when you pick that ball up, you don't know the distance you are from any of the bases. You have to look at the player on the base you want to throw to and throw accurately. When you're bowhunting, you learn how to judge the distance from you to an animal by repeatedly judging distance without the benefit of a range finder. That's one of the many skills that 3D archery can teach you – how to make quicker judgments and quicker decisions.
To get John E. Phillips' Kindle eBooks, "Bowhunting Deer: The Secrets of the PSE Pros," "How to Hunt Deer Up Close: With Bows, Rifles, Muzzleloaders and Crossbows," "PhD Whitetails: How to Hunt and Take the Smartest Deer on Any Property," and How to Hunt Deer Like a Pro," or to prepare venison, get "Deer & Fixings." Click here to get these books.
About the Author
John Phillips, winner of the 2012 Homer Circle Fishing Award for outstanding fishing writer by the American Sportfishing Association (ASA) and the Professional Outdoor Media Association (POMA), the 2008 Crossbow Communicator of the year and the 2007 Legendary Communicator chosen for induction into the National Fresh Water Hall of Fame, is a freelance writer (over 6,000 magazine articles for about 100 magazines and several thousand newspaper columns published), magazine editor, photographer for print media as well as industry catalogues (over 25,000 photos published), lecturer, outdoor consultant, marketing consultant, book author and daily internet content provider with an overview of the outdoors.