John's Note: Within the first two hours of crappie fishing with David Spain and James Davis, we had put about 25 crappie in our livewell, and we threw back about the same number of smaller crappie. I've learned that one of the most-difficult aspects of my job as an outdoor writer and photographer is to put my rod down and start shooting pictures when the fish are biting. I know that the more pictures I take, the better my odds are to get good pictures, but I not only enjoy catching crappie, I really love to eat crappie. So most of the day, I was frustrated between shooting pictures for my work and catching crappie for the fun of catching crappie. Here's more of my interview with David Spain.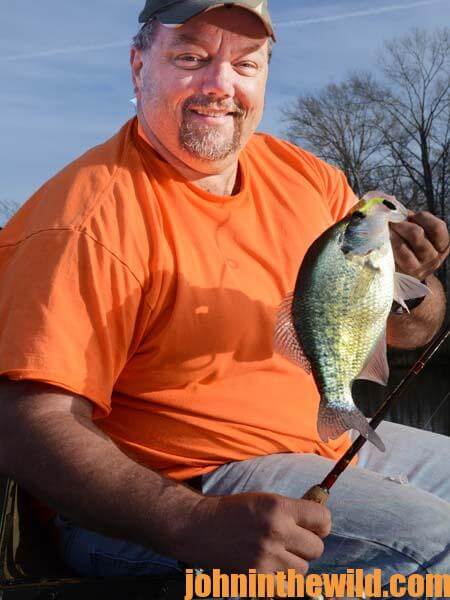 I'm often asked, "Which river do you prefer to fish – the Warrior or the Tombigbee?" I've learned that the Warrior River seems to produce more and bigger crappie in February and the first of March than the Tombigbee does. Too, the crappie on the Warrior River tend to spawn somewhat earlier than the crappie on the Tombigbee River. So, when the crappie quit spawning on the Warrior River, I still have a week or two that I can catch spawning crappie on the Tombigbee River. I believe the crappie in this section of our state tend to start spawning at the end of February and spawn all the way through the month of March. So, by starting fishing at the first of February, we're catching the prespawn crappie that have moved up into the shallow weeds to prepare for the spawn. Then crappie move in and out of the spawning area from the end of February until about mid-April.
From the first of February until almost the end of March, we're primarily catching white crappie. But at the end of March, the black crappie tend to move in, and we tend to catch more of the black crappie at the end of March. However, we're still catching good numbers of white crappie then. If two of us are fishing, we'll usually catch 40-50 crappie per day. Sometimes, we'll limit out with 60 crappie. With three people in the boat, we'll usually catch 50-90 crappie. For three people, 90 is the limit.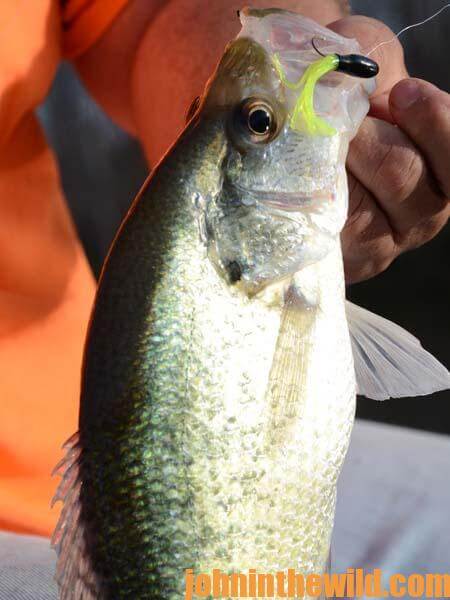 I'm often asked, "Why do you fish with a black-and-green tube jig all year long, because I know crappie are color sensitive." That may be true. But over the years, we've experimented with a lot of different-colored crappie jigs. We started having a lot of success with a black-head green-tailed crappie jig, and we've gained so much confidence in this color that we fish it all year long. Overall, the black-and-green jig has proven to be the best jig we can use.
I use a 1/16-ounce jighead, because we can get longer casts with a 1/16-ounce jighead than we can with smaller jigheads. Because we're fishing in February, March and April, a light wind to a heavy wind always seems to be present. By using a 1/16-ounce jighead, we've learned that we can cast our jigs better in a wind than we can using a 1/32-ounce jighead. Another reason my friends and I like the 1/16-ounce jighead is that it doesn't cause the tube to fall very fast, and it falls much slower than a 1/8-ounce jighead. Many times the crappie will take the jigs on the fall. Even though no one has the option when he fishes of having a windy day or a calm day, I prefer to fish on a windy day. On a windy day, there will be a ripple on the water that causes the cork to bounce up and down – giving the jig the same action as the wind. So, we enjoy fishing a windy day more, even with a heavy wind.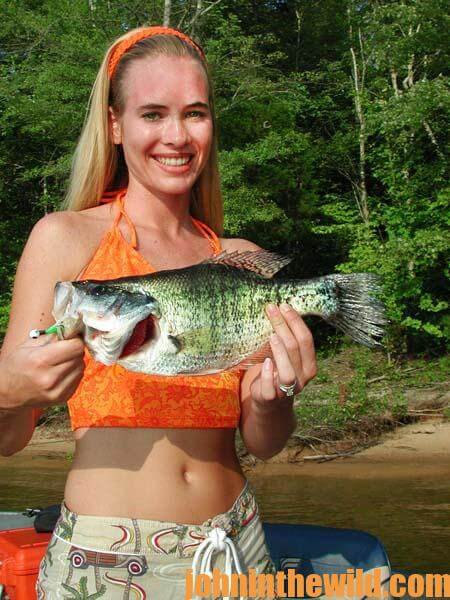 To learn much more about crappie fishing, get John E. Phillips' Kindle eBooks and some print books, "Crappie: How to Catch Them Fall & Winter," "Crappie: How to Catch Them Spring and Summer," "Catch Cold Water Crappie Now" and "Catch Crappie All Year: Fishing a Single Pole, Using No Boat and Farming Crappie." Click here to get these books.
To receive and download for free "The Crappie Catchers' Cookbook," by John and Denise Phillips that offers free recipes, go to http://johninthewild.com/free-books.
Next: Fishing Rising and Falling Water for Crappie with David Spain