Editor's Note: Roger Gant of Corinth, Mississippi, has fished Pickwick Lake on the Tennessee River for more than 40 years. Some fishermen haven't recognized Pickwick Lake, located on the Alabama/Tennessee/Mississippi border, as a crappie lake. However, Gant guides on Pickwick Lake more than 200 days a year and consistently catches good limits of slab crappie.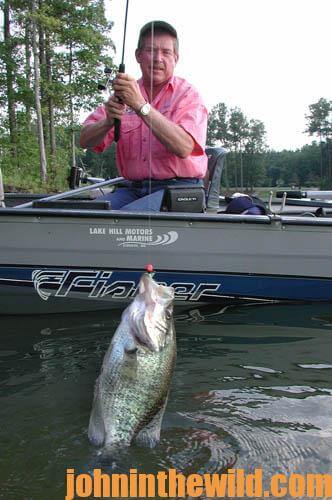 Most crappie fishermen don't catch large numbers of fish during the "Dog Days" of summer. When the weather turns hot, crappie move to the heaviest structure they can find – such as brush piles, underwater trees and stumps. I take more crappie on Pickwick Lake during the summer months than at any other time of the year. When the weather's really hot, I fish for crappie around an area with the largest amount of submerged wood I can locate. Pickwick Lake, where the barge traffic and the current help oxygenate the water, doesn't have a well-defined thermocline. For this reason, crappie will hold between 15-25 feet deep in warm temperatures, especially during July, August and the first half of September. To reel in Dog-Day crappie, I prefer to fish with 8-pound-test line and a 1/4-ounce hair jig. A 1/4-ounce jig is more effective in hot weather than a 1/16-ounce jig because the weight of the 1/4-ounce jig will put it in deep water, and it will stay there when you troll with it. At the depths that I fish, the water is dark, and the crappie can't decide the actual size of the jigs. They just attack the baits because they easily can detect the movements of those heavier jigs. Four-pound-test line probably will get more bites than 8-pound line will. But, I like to fish with 8-pound-test line because I often catch crappie that weigh more than 2 pounds, and the 8-pound line holds the bigger crappie better than the smaller line does.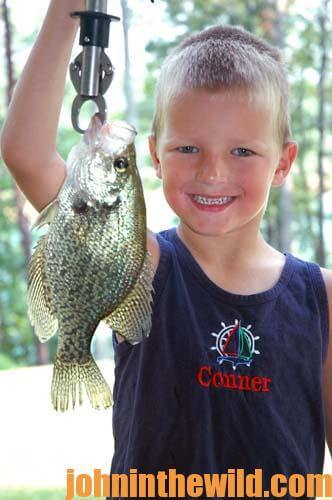 If the temperature climbs above 70 degrees, I tip my jigs with minnows. I'll hook a live minnow from the top of its head just behind its brain to the jig. By hooking the bait in this manner, the minnow stays on the hook longer than if I lip-hook it. Also, the crappie can hit the minnow several times without knocking the bait off the hook. Hooking crappie without tipping your jig may be easier. But, if I don't use a minnow in the summertime, I won't get many bites. Also, I'll catch two to three times more crappie fishing a jig with a minnow than I will fishing a jig without one. I also like a fish attractant like Baitmate http://baitmate.com/) on jigs to entice hot-weather crappie. I know from experience that I can catch more crappie on scented jigs than I can on unscented jigs. Fish attractant not only attracts crappie, it kills the human odor on the jigs. I once put fish attractant on a piece of cloth, hooked that cloth to a bream hook and caught several bluegills. The scent alone attracted the fish to that cloth.
To learn more about crappie fishing with Roger Gant, call him at 731-689-5666 or 662-287-2017, or go to http://visitmississippi.org/events-and-points-of-interest/super-pro-guide-service-26669.
To learn much more about crappie fishing, get John E. Phillips' Kindle eBooks, and print and Audible books by going to http://johninthewild.com/books/#crappie or to www.barnesandnoble.com for Nook Books. To receive and download for free "The Crappie Catchers' Cookbook," by John and Denise Phillips, go to http://johninthewild.com/free-books.