Editor's Note: When we think about great places to fish for crappie and to hunt, we often think of state lands, U.S. National Forest lands (https://www.fs.fed.us/) and the Bureau of Land Management (https://www.blm.gov/) properties. But there are thousands of acres of land you can hunt and remote places to fish in most states that the U.S. Army Corps of Engineers (https://www.usace.army.mil/) owns. Contact the Department of Fish and Wildlife in your state, the U.S. Forest Service, the Bureau of Land Management and the U.S. Army Corps of Engineers to learn of remote places you can hunt and fish for free or nearly free near where you live. Central/west Alabama and most of Alabama near the Mississippi border are probably the least-fished waterways in Alabama. Few people know about them, they're not near any population centers, and there's plenty of other waters you can fish closer to home. Many states home waters like these. However, that's the reason that Gainesville and Aliceville lakes are two of the best crappie lakes in Alabama. Another interesting fact about these two lakes is they have a large volume of backwaters, and from October through February each year, the crappie generally will hold in 4-8 feet of water, since the backwaters stay warmer all year long than the main river does. To get the best information on how, where and when to catch crappie on Aliceville Lake this month, I went to the source that should have and does have some of the best fishing information on this reservoir – Chris McKee (205-339-5716, chris.mckee@dcnr.alabama.gov), the district fisheries biologist for District III, which includes the Tombigbee and the Warrior rivers down to Demopolis.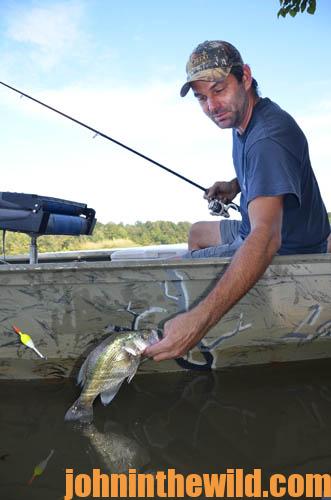 Live minnows always will be your best bet for catching crappie in the fall and winter. However, you can lose a good bit of fishing time when you bait with live minnows, because each time you catch or miss a crappie, you have to open the minnow bucket, select a minnow, attach it to your hook and then swing it out to the place where you want to fish. But on slow days, minnows usually will produce better than jigs. However, you also can't cover as much water with minnows or locate as many crappie with minnows as you can with jigs. The two methods of jig fishing that seem to be the most productive on Aliceville and Gainesville lakes in the fall and winter are casting and retrieving jigs over structure, trolling (spider rigging) over structure, or jig pole fishing, if the crappie are holding tight to the structure.
"Some of the best structure to fish around are blowdowns that you find in the backwaters," Chris McKee explains. "As a general rule, the bigger the blowdowns are, the more crappie they'll hold."
With a jig on a crappie pole, you can lower that jig down to the depth where you think the crappie are holding. You find that depth by noting the depth where you catch your first crappie, since probably other crappie will be holding on that blowdown. Fishing a jig pole also allows you to fish all the way through all the branches of the tree where crappie may be concentrating. Many times there will be one spot on a big underwater tree where all the crappie are ganged-up. You can fish around the tree and not get a bite, but when you fish the best spot, you may catch 15-20 good-sized crappie.
Another tactic that pays crappie dividends at any time, but especially when the crappie are really finicky, is to hook a live minnow on the back of your jig. I don't know why this tactic produces crappie when they really don't want to bite. But if you're fishing a jig pole, and you're not catching many crappie, hook a live minnow through the lips, so that it stays alive and lively on your jig.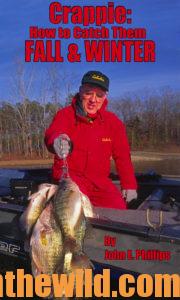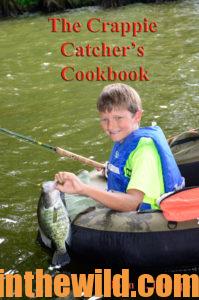 To learn more about crappie fishing, check out John E. Phillips' book, "Crappie: How to Catch Them Fall and Winter," available in Kindle and paperback, at http://amzn.to/16AzIZi. For a free eBook, "The Crappie Catcher's Cookbook," go to https://www.emailmeform.com/builder/form/eb81136oQJ1g2fe9q6RNd73jh.
Tomorrow: Identify Some of the Best Areas on Aliceville Lake to Crappie Fish