John's Note: Successful bass fishermen study bass and learn their patterns. Once you learn to identify and read buck sign, you can match your tactics to what the deer are actually doing – instead of what you hope they're doing.
To be in the very-best place to take a deer, you must first decide what types of habitat you have to hunt, what the deer will be doing in each type of habitat, and when you are most likely to see those deer in that habitat. For instance where I hunted (see Days 1 – 3), there was a large green field where the bucks and the does normally fed during the winter. There also was an acorn flat, which during most winters would have no acorns in it after the first of the season. However, because of the unusually-large mast crop, the woods were still full of acorns. The cutover area provided plenty of protection and cover for the deer and the creek where the deer watered and crossed.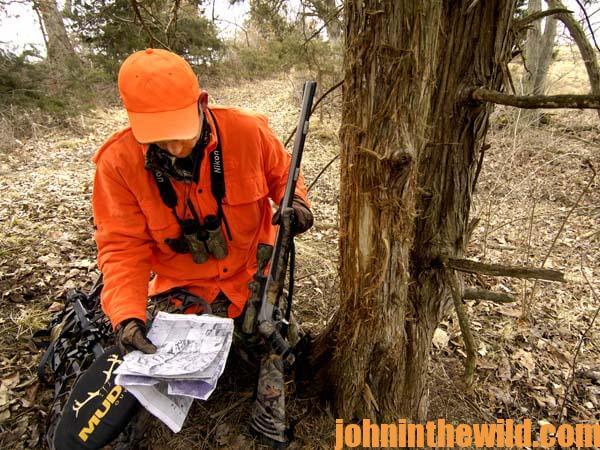 To narrow-down your hunt plan, you must have all the factors that relate to your hunting in your initial game plan. By defining the different types of habitat, their locations to each other and the deer's use of those habitats during the times you will be hunting, you can begin to craft a game plan from all this information. The second step after defining the habitat types in your hunting region is to try to determine the deer's movement patterns in this habitat. Most of the time deer will concentrate through natural funnels like a small slip of woods between the green field and the cut-over land. Any time you find a natural funnel between two different types of habitats, the chances are extremely good that you can concentrate deer into a very narrow place – a productive place to take a stand.
By scouting, I found old scrapes, which indicated that there had been a buck in that area but not recently. I also discovered the funnels under the leaves in the hardwood bottom that showed exactly where the deer had been feeding within the last 24 hours. The other bit of information that I received from my scouting, which included listening to other outdoorsmen who hunted the same area, was that a big buck had been sighted on the creek.
To get John E. Phillips' Kindle eBooks and print books on hunting deer, "How to Hunt and Take Big Buck Deer on Small Properties," "How to Hunt Deer Up Close: With Bows, Rifles, Muzzleloaders and Crossbows," "PhD Whitetails: How to Hunt and Take the Smartest Deer on Any Property," "How to Take Monster Bucks," "How to Hunt Deer Like a Pro," and "Bowhunting Deer: Mossy Oak Pros Know Bucks and Bows," or to prepare venison, "Deer & Fixings," click here.
For information on making jerky from your deer to provide a protein-rich snack, you can download a free book from http://johninthewild.com/free-books.
Next: Pinpoint Your Best Hunting Area for Taking Deer
EXPLORE MORE: you'll love these stories from John too