Editor's Note: Prior to the European settlement of the U.S., more than 10-million elk lived in most of the U.S. and parts of Canada. Today about 1-million elk live in the western U.S., Wisconsin, Michigan, Minnesota, Missouri, Pennsylvania, Arkansas, Kentucky, Tennessee, Virginia and North Carolina as well as sections of Canada. Elk live in a variety of habitats, from rain forests to alpine meadows and dry desert valleys to hardwood forests. Since elk season starts in some of these states in August, John in the Wild wanted to give you the latest information on preparing to hunt elk. Fifty-seven-year-old Kelly Hicks from Mountain Green, Utah, just outside of Morgan, has been hunting elk since he was 17. Hicks never has hunted private lands for elk and has taken nine bulls on public lands.
Steps to Scouting Elk from Home:
I'm planning to hunt Wyoming elk, and it will be a backpack do-it-yourself type hunt. I've learned that the more you know about elk, the more likely you are to find them in new territory. The first thing that my friend, John Spears, and I will look for is a unit that's easy to drive to but doesn't have many access roads. We like to backpack about 4 miles from any access road to get to a place we want to hunt, which will put us out of the range of most hunters. Next we'll search for a place that meets all the habitat requirements for an elk – providing food, shelter and water. Since elk like grass, we'll look for high-mountain meadows with grass in them. Then, we'll search for water that's close to the surface and close to the grass, in a place with dark timber where the elk can hang-out and bed-down during the day. We'll also get on Google Earth (https://www.google.com/earth/) to look for areas with water.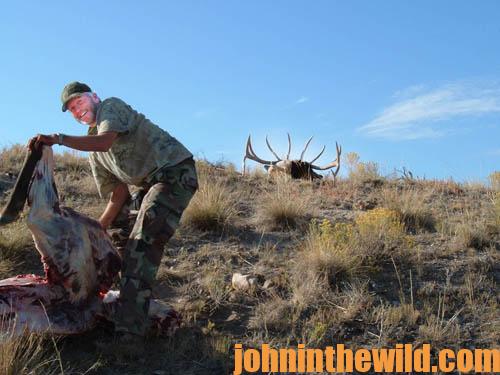 In the West, water is pretty easy to find, because of the deep canyons there. We'll search for a ridge that's 8,000- to 10,000-feet high, find a canyon coming off that ridge and scroll down that canyon until we start seeing a lot of green. If you see an almost-fluorescent green in the bottom of a canyon, you'll almost always find water there. The water may not be standing, but the water will be seeping out of the ground. Elk love that type of seepage, because that water coming out of the ground creates a muddy bog. The elk can go to those bogs and wallow, which are effective places to find elk during the rut. When the elk are traveling a lot and chasing cows, they often will take breaks to roll in those wallows.
After we find the water, we'll zoom out from Google Earth to see a satellite view of all the region around the wallows and the meadows that are often close to the water. You also can change the look of Google Earth to see how the sun hits those meadows at different times of the day and identify where the dark timber is after 10:00 am. Too, you can pinpoint the north-facing slopes where you want to hunt, since the south-facing slopes will be hotter. So, I do my scouting long before I leave home to find one or two places where elk have to be in the unit I'm hunting.
Kelly Packs for a 7 Day Do-It-Yourself Elk Hunt: 
If I start hunting a mile from the trailhead, I've learned that then I'll be farther in the woods than 80 percent of the other elk hunters. If I go 2 miles more, I'll eliminate another 10 percent of the elk hunters or 90 percent of the other elk hunters. When I go 3 miles, I'll lose another 5 percent and at 4 miles distance, I'll rarely, if ever, see any other hunters. My friend John Spears and I have as our goal to stay in that back country until we harvest an elk. We usually plan for a 7-day hunt, and we carry all of our camping gear in our backpacks.
What I like about the way Wyoming conducts its elk hunts is that if you go into a unit to elk hunt, and you don't get your elk, you can return to that same unit during the general rifle season and hunt with your rifle. A few years ago I had a major accident that prevented me from hunting with a compound bow, so today I hunt with a Bowtech Stryker Crossbow (http://bowtecharchery.com/).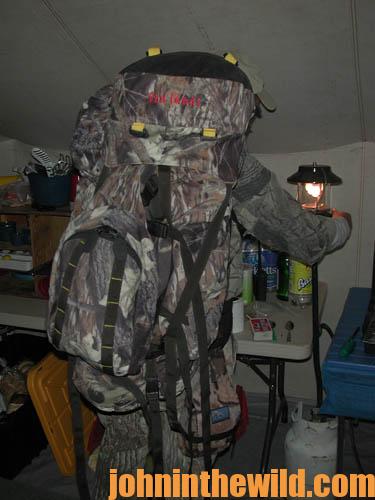 In my backpack, I'll put my crossbow, a ground pad, a 20-degree sleeping bag, my one-man tent, game bags, parachute cord, head lamps (small but powerful lights that you can attach to your hat or your head, so you can work hands-free), extra batteries and a small flashlight that I can use to change the batteries in my headlamp when needed. I also carry trekking poles (walking sticks). If I'm not using my poles, I can break them down and put them in my pack, but I use them all the time. When I'm climbing up mountains, they help to balance me and take weight off my legs. Fully loaded my pack will weigh at least 60 pounds. I like a Mystery Ranch Metcalf Pack (http://www.mysteryranch.com).
I'll take two pair of Mossy Oak Brush pants (https://store.mossyoak.com/camo-patterns/brush), two shirts and carry my lightweight base layer underwear in case the weather's cold. I'll wear Meindl Men's "Perfekt™ hunter boots made by Cabela's (https://www.cabelas.com/product/Cabelas-Meindl-Mens-Perfekt-Hunter-Boots/748348.uts), but I also put a pair of Crocs in my pack to wear when I'm in camp. I always carry a first-aid kit with ibuprofen, antiseptic, bandages, Band-Aids and something to clot blood in case of an accident. I'll take my cell phone, because part of the way up the mountain, we'll generally have cell service. I also have a good quantity of dehydrated food, trail mix and protein bars, since I'll probably be hunting 1-2 miles away from where I'm camping.
I take a LifeStraw Personal Water Filter (http://eartheasy.com/lifestraw) with me to always have a way to filter water. The straw allows me to drink water straight out of a stream. These water filters claim to filter out 99.9 percent of all the bad stuff that can be and often is in the water you find when you're out hunting. I carry waterproof matches, a small flashlight and a headlight as well as multiple elk calls too. I also carry iodine pills as a backup to purify the water.
My partner, John Spears, and I each carry a Garmin 120 GPS (https://buy.garmin.com). Then, we both can download maps of the area where we're hunting. We like this particular brand of GPS, because it not only shows my location but also my hunting partner's location. I also will have a Havalon knife (https://www.knifecenter.com/brand/47/Havalon-Knives) that has interchangeable blades. Then when my blade gets dull, I take the old blade out, put in a new sharp blade and don't waste time sharpening my knife when I'm field dressing, skinning and/or butchering my elk. I also carry a Gerber knife (http://www.gerbergear.com), because they're ultra-sharp and very lightweight; a lightweight all black rain suit in my pack made by Frogg Toggs (http://www.froggtoggs.com/); gloves; a face mask; a hat; a Polar fleece pullover sweater for the cold weather we may have in these mountains; and a lightweight base layer of wicking material next to my skin. The mornings can be real cool. But by 10:00 am, I'll be taking clothes off. As I head back to camp, often after dark, the temperature will have cooled down, and I'll have to put on my Polar fleece pullover sweater.
My crossbow can shoot farther than I like to shoot it, but I feel comfortable taking a shot out to 60 yards with it. My scope doesn't give me any kind of reference points or mil-dots past 60 yards. I don't just like to fling arrows without knowing where I'm shooting and knowing I'll have enough knock-down power to put a bull elk down effectively. If I don't know what the yardage is, I won't guess at the yardage.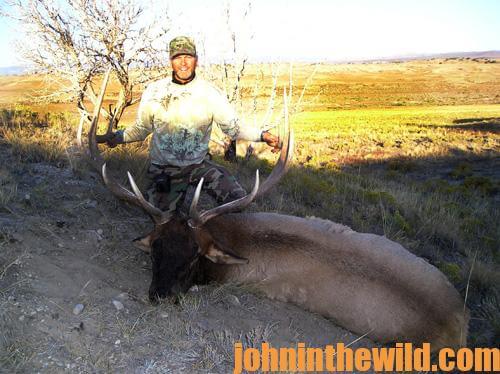 I use my 10×50 Vortex binoculars (http://www.vortexoptics.com/product/vortex-razor-hd-10×50-binocular) to study the area around the place where I see the herd bull. I'm looking for the satellite bulls and the cows that may have strayed away from the herd that can give away my position, if I get upwind of them. I don't carry a spotting scope. For me, that's added weight that I don't feel like I really need. Any time you can find a bull by himself – not with cows and not with other bulls – this bull is the easiest to hunt. Too, those bulls usually will come in to calling fairly easy.
When I'm hunting, I leave most of my gear in camp. However, I do carry some water, my LifeStraw Water Filter, game bags, parachute cord, knives and snacks with me in a backpack. If the temperatures in the mountains are cool enough, you don't have to bone out your meat. You can just pull those elk quarters up in a tree in a game bag. We'll take a portion of the backstrap to camp to cook for dinner that night and have a protein dinner.
To learn more about hunting elk by getting John E. Phillips' Kindle, print and Audible books, go to http://amzn.to/17ENNqK. To get John and Denise Phillips' free cookbook, "Miz Denise's Outdoor Cooking: More than 35 Recipes for Elk and Mule Deer," go to http://johninthewild.com/free-books.
Tomorrow: Learn from Your Elk Hunts with Brian Mosley