John's Note: At this writing, Mark Rose of Marion, Arkansas, is preparing to fish the FLW Tournament www.flwoutdoors.com on the Red River the last half of July, 2013. The weather will be extremely hot, and the fishing pressure, during the tournament, will be extremely high. Under these conditions, catching any bass can be very difficult, but Rose is a veteran tournament bass fisherman with secret tactics he believes will give him the best chance to win the $125,000 prize. Let's look into the mind of Rose, as he prepares to try and earn in 3 days what most of us won't earn in 2 years.
I use a two-boat system, when I am preparing to fish a major tournament, a river system or a lake with a lot of backwater, stumps and grass.
I have been fishing with a War Eagle www.wareagleboats.com aluminum boat for about 20 years. The War Eagle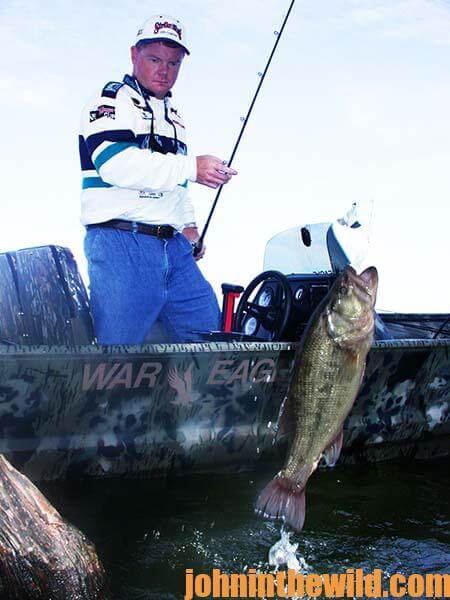 boats are tough, and made of a high-grade aluminum that can take a beating without being damaged. When you are fishing in the backwater, you never know when you may want to jump a sandbar or a beaver dam to get into an area where other fishermen can't fish. An aluminum boat performs these two tasks without getting dented or usually even scratched. When you fish backwater in many areas, especially in the South, you'll going to have collisions with stumps, logs and often cypress knees. All of these can damage a fiberglass boat. So, when I go to a tournament, I take my Ranger Boat www.rangerboats.com, which is my tournament boat. Also, I take my aluminum War Eagle boat, that I use like a mine sweeper.
I grew up fishing out of an aluminum boat, in the backwaters of the Mississippi River. I've learned there are certain areas where you can't get a fiberglass boat. If you do get a fiberglass boat in that backwater region, you must have a good GPS receiver with the route you need to travel well marked. Then, you can stay in an old creek channel, dodge logs, avoid stumps and stay-off cypress knees. To get me into those backwater areas and enable me to scout, find bass and learn to navigate through oxbow lakes, old sloughs and cut-off portions of the old river bed, I depend on an aluminum boat.
Right now, I am at the Red River, since I've qualified for the Forrest L. Wood Cup on the FLW Circuit, which is the championship for the FLW pro tournament circuit. I am practicing in my aluminum boat. I know I can save time and prevent tearing-up my equipment by practicing with it. I have learned I can obtain more information about the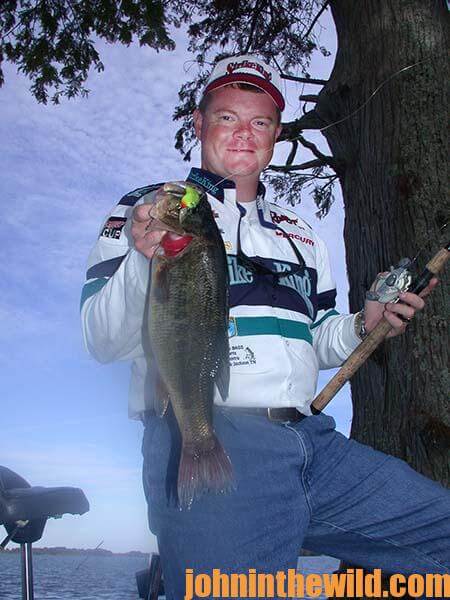 backwaters on the Red River by running my aluminum boat instead of my fiberglass boat. My aluminum boat is like a tank. It clears the terrain and pushes-through thick structure and cover through which even the infantry can't pass. This way, if I find a good school of bass or a productive place that is holding bass, I have a route I can travel during the tournament with my fiberglass boat, because the aluminum boat has cleared the way in practice. With the aluminum boat I can learn where the little ditches are in the backwater. If I get hung on a stump, I can push the aluminum boat off the stump or power it off the stump with my motor. In a heavier fiberglass boat, I probably will be stuck on that same stump. Before I could get the boat off, I would look like a popsicle floating on a calm sea. If I hit that stump with my aluminum boat, then I've learned how to miss that stump with my Ranger. The bottom line is this. I don't have to be as careful with my aluminum boat as I do with my fiberglass boat, because the aluminum boat can take a beating.
I have been blessed to have my dad, who has a lot of free time, and also a couple of friends at my church I can call on to pull my aluminum boat to a tournament site where I know I'll be fishing backwater. I use the aluminum boat on rivers and on lakes that have rivers feeding water into the lakes for practice before the tournament begins. My aluminum boat is my mine sweeper. It finds any obstacle that I want to avoid during the tournament days. I have learned that this two-boat system makes me far-more efficient when fishing tournaments than only having a fiberglass boat. When I am at home and fun fishing, I really enjoy running my aluminum boat in a lot of places that I fish.
To learn more about Mark Rose's bass fishing, get John E. Phillips' Kindle ebooks, "How to Bass Fish Like a Pro" and "How to Win a Bass Tournament." "Click here to get these books."
About the Author:
John Phillips, winner of the 2012 Homer Circle Fishing Award for outstanding fishing writer by the American Sportfishing Association (AMA) and the Professional Outdoor Media Association (POMA), the 2008 Crossbow Communicator of the year and the 2007 Legendary Communicator chosen for induction into the National Fresh Water Hall of Fame, is a freelance writer (over 6,000 magazine articles for about 100 magazines and several thousand newspaper columns published), magazine editor, photographer for print media as well as industry catalogues (over 25,000 photos published), lecturer, outdoor consultant, marketing consultant, book author and daily internet content provider with an overview of the outdoors.