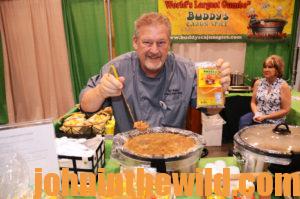 Editor's Note: This past week I went to a Deer Expo and met some interesting people, scouting out what outdoorsmen needed to know about hunting, new hunting products and hunting places to go. This week I'll share with you some of the people I've met, and what I've learned that may help you and your hunting buddies have a more fun and successful deer-hunting season this fall.
One of the most-enjoyable and fun times I always have at hunting camp is around the supper table after the hunt has ended, and the fellowship begins. I really like hunting camp food and want to try new and creative recipes I've never made before. So, when I met Chef Buddy Callahan from Louisiana, tasted his delicious cooking and realized how quick meals could be prepared with his products, I decided there on the spot to share his recipes with our readers.
Down Da Bayou Gumbo-Laya Mix:
According to Chef Buddy, "To make Gumbo-Laya, you can use 2 pounds of rotisserie chicken, deboned and chopped. Or, you can use 2 pounds of shrimp or game meat, if you prefer. To the meat, add a package of chopped smoked sausage, cook the mixture for 5 minutes on HIGH in a crockpot, allow it to sit for 10 minutes, and 'fluff' it up by lifting all sides of the mixture with a large spoon and turning the meat over. Then add the Gumbo-Laya seasoning and 8 cups of water. The rice in the Gumbo-Laya Mix will cook at the same time. Let it cook on LOW heat."
Cajun Chili:
"You can use 2-1/2-pounds of ground chuck or ground venison and/or venison sausage to make this chili, since all the seasonings are in the mix package," Chef Buddy explains. "Add 2 cans of diced tomatoes and any cans of beans, if you like beans in your chili, and simmer."
Chili Fritos Dressed:
Most Cajun Country dishes are poured over rice or have rice in the recipe. However, Chef Buddy suggests, "Put corn chips in your bowl, pour the chili over the corn chips, and you may be surprised at how delicious that is. Although some people call this dish Chili Pie, I call it Chili Fritos Dressed. Sometimes before pouring the chili over the corn ships, I'll add some mayonnaise, a small amount of mustard and Pico de Gallo to the chili for a different flavor."
O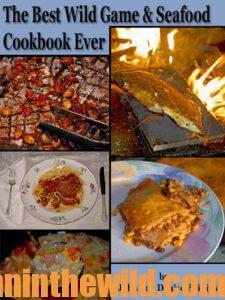 ne of the problems associated with crockpot cooking is cleaning up after the meal. But I noticed in Chef Buddy's three crockpots that he had plastic bags in their bottoms. Chef Buddy informed me that he used crockpot liners that he found at Walmart and other stores that were BPA free and fit crockpots from 3-8 quarts. When dinner's over, to clean up, you simply pull the liner out of the crockpot and discard it.
To see more recipes and learn more about Buddy's Cajun Spice, go to www.buddyscajunspice.com, or to the Facebook page, or https://bit.ly/2Og2ahf.
For other hunting-camp recipes that probably require more time than Chef Buddy's recipes, check out John E. Phillips' "The Best Wild Game and Seafood Cookbook Ever" with its top hunting-camp recipes in Kindle and print versions at http://amzn.to/WkbLRg. Here's one of our favorite recipes from the cookbook.
Nana's Brunswick Stew:
Our friends, the Sullivans, serve this traditional and tasty stew on Christmas Eve each year that reminds us so much of Denise's Grandmother Murdock's recipe. One recipe of it provides about 10-15 bowls of stew, which is the tastiest – yet easiest – Brunswick Stew ever and a great way to share the bounty from your hunting.
Ingredients:
1 large onion, chopped
2 celery ribs, chopped
1 large green bell pepper, chopped
Bring vegetables to boil with:
2 cups chicken stock
1 cup frozen sliced okra
4 cups frozen cubed hash browns, thawed
3/4-pound barbecued wild pork, chopped or shredded. (When you cook a wild pig, you'll probably barbeque part of it, so after cooking, set aside 3/4- to 1-pound and freeze for later use in this recipe).
1 cup chopped cooked wild turkey or chicken
1 can (14 ounces) diced tomatoes
15 ounces tomato sauce
15 ounces whole kernel corn
15 ounces lima beans
1 teaspoon salt
1 teaspoon pepper
1 tablespoon Worcestershire sauce
Preparation:
Put all in a 6-quart crockpot, cook for 5-7 hours on HIGH, and stir occasionally. May turn on LOW for last 2 hours.
Tomorrow: Portland Outdoors' Top Secret Deer Scents, Scent Defense Products, Bio Shield and Fog Zero