Editor's Note: Randy Ulmer grew up in Arizona with hunting as his passion. He graduated from Oregon State University summa cum laude and received his doctorate from Washington State University, but probably is best known for his competitive archery achievements, winning world and national titles in different areas. An avid bowhunter for many years, Ulmer is known for his outdoor writing and the monster elk and mule deer he bags regularly on public lands, including eight bull elk in the Boone and Crockett record book (https://www.boone-crockett.org/).
I've been hunting elk with my dad since I was a youngster. I'm currently 62 in 2020, and it's been 50 years since I went on my first hunt. I've taken a lot of bulls since then, but the best- scoring bull elk that I've ever taken was my Nevada State Record bull that scored 410 inches net.
A friend and I were hunting the season before I took this bull. While looking through our spotting scopes, we got some video of a big bull that was a long way from us. But then we never could find him again after that day. We hunted that bull for 18 days out of the 21-day season. When the rut kicked in toward the end of the season, I even returned to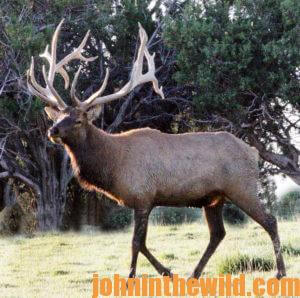 that area where we had first seen this monstrous bull.
* How a Dominant Bull Elk Behaves:
One of the things I've learned from hunting big bulls for most of my life is that the dominant bull in an area doesn't spend a lot of time maintaining a herd of cows. Instead, he'll come into what I call a cluster (a herd of cows, young bulls, satellite bulls and a herd bull), and even then, he still won't spend much of time there. At night, the dominant bull will go into a group of elk, trying to find one cow in estrus. If he's successful, he'll take her out of the herd and into the woods by himself, similar to what a big whitetail does when he finds a doe in estrus and takes her off to a secluded place for 2-3 days to breed her. Once this cow goes out of heat, she'll return to the herd, and he'll repeat the process.
I've also learned that the herd bull may not be the most-dominant bull in the cluster. Now the herd bull may fight this bigger and older bull from time to time, but most of the time he won't. He'll just stay with the rest of the cows and let this bigger bull take the cow he picks out of the herd. Remember that the herd bull may take his cow somewhere else at daylight. For this reason, I listen to the bull's bugle when I'm trying to get close to a cluster before first light. Knowing that the oldest bulls usually have the deepest bugles, I listen carefully as the herd moves in one direction, and the bigger bull moves in the other.
*Why Not to Call a Dominant Bull:
Realizing that the big bull bugled less often than the rest of the bulls, I followed that one bugle during the last few days of the rut on this hunt, assuming that it was the big bull that my friend and I had gotten video of when we were hunting together. When the sun first s   tarted coming up, I noticed that he bugled less than he was bugling before. I followed that bull for about a mile, never calling to him along the way. This is one of the biggest mistakes that elk hunters make because if you bugle to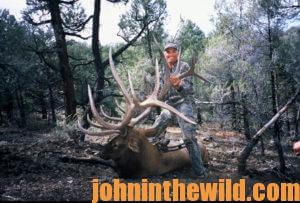 an elk as you follow him, then he knows there's something behind him and always will look back over his shoulder. I don't even want the elk to know that I'm in the woods. I just sneak through the trees, going in the direction that I believe the bull is moving.
After about 20 minutes, I heard a growl and realized I had walked past the bull. So, I slipped through the trees and went back in the direction where I'd heard this big bull bugle. Since the pinion and juniper trees that I walked through didn't have many low branches, I looked under them to see the elk that I was hunting. As I moved silently through the trees, I spotted the bull's legs about 40 yards from me and belly crawled over to where I thought I could get a shot at him. About an hour and a half after daylight when he was within 30 yards of me, I shot him with my Hoyt Bow (https://hoyt.com/) and my Rocky Mountain broadhead (https://www.feradyne.com/rocky-mountain/). This Nevada record bull elk not only had big antlers but also a huge body.
To learn more about elk hunting, check out John E. Phillips' book, "How to Find Your Elk and Get Him in Close," available in Kindle, print and Audible versions at http://amzn.to/17ENNqK by copying and pasting the click into your web browser.
Tomorrow: The Rest of Randy Ulmer's Story about His Nevada #1 Bow Bull Elk