Editor's Note: Randy Ulmer grew up in Arizona with hunting as his passion. He graduated from Oregon State University summa cum laude and received his doctorate from Washington State University, but probably is best known for his competitive archery achievements, winning world and national titles in different areas. An avid bowhunter for many years, Ulmer is known for his outdoor writing and the monster elk and mule deer he bags regularly on public lands, including eight bull elk in the Boone and Crockett record book (https://www.boone-crockett.org/).
Since I've grown up hunting elk in Arizona all my life, I've had the opportunity to take some really-nice bulls. A bull that scores 350 inches is a very-nice trophy bull, and I've taken quite a number of bulls this size. So, when I'm hunting, I usually let that size bull pass. One thing I've learned is that for every bull that scores 380 inches, there are 10 bulls that will score 350 inches. If you want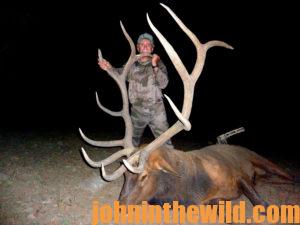 to take a bull that will score 380 or above, you really have to keep your finger off your mechanical release or rifle trigger.
I'm not ashamed to say that many times, I go home with an elk tag in my pocket. Don't get me wrong, I like to take a bull home to my family. However, I've taken enough very-big bulls that I don't feel the need to take a bull that scores less than 380. Currently, I have eight bulls in the Boone and Crockett Record Book. The real key to taking really-big bull elk is persistence and letting the small bulls walk.
* When Ulmer Does Call to Bulls:
Earlier, I've mentioned that I never call to the bulls I'm hunting, but that's not true all the time. When I start elk hunting, I'm in the woods long before daylight and may give a high-pitched young bull bugle. Although I keep a reed elk call in my mouth at all times when I'm hunting, I'll only blow that cow call when I'm trying to stop a bull, so I can shoot him. If I have a bull that's coming in and doesn't stop in one of my shooting lanes, when he reaches the next shooting lane, I'll scream loudly on my diaphragm cow call, and he'll stop, and I'll release the arrow.
* Why and How Ulmer Prefers to Hunt Individual Bulls:
I personally like to hunt individual elk. At the beginning of the season, I go out and listen to bulls bugle, trying to find a bull that has a different bugle than the other bulls in that region. Once I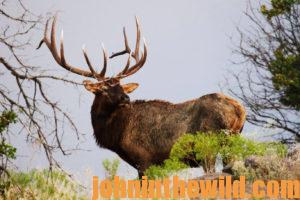 pinpoint that bull, I'll follow him around before daylight to try and memorize the sound of his bugle, so that I always can identify him. When I start hunting, I've already got the bull that I'm trying to take picked out. I'll move to where he's bugled before, and once he bugles, I'll go after him. The next thing I'll do is get downwind of the bull 200-300 yards to not spook him. I don't want to get too close because at times, elk will move through areas where there are a lot of cows. I also don't start chasing the bull until the day is light enough for me to see the bull before he can spot me.
* What Footwear Ulmer Wears:   
While hunting, I usually wear tennis shoes to reach the spot where I'm going to try and hear the bull that I've found when scouting. I'll wear boots if there's snow on the ground, but I usually prefer tennis shoes instead. Once I start chasing that bull or trying to get in front of him, I take my tennis shoes off, put them in my pack and hunt in my socks. Now the socks I stalk elk in are nothing special. These are the same mismatched socks that are found at the bottom of everybody's washer or dryer. I never wear socks that match, and it doesn't really matter what color or style they are. Socks make a quieter stalk, and honestly, the elk don't seem to care what type of socks I have on when I'm hunting them.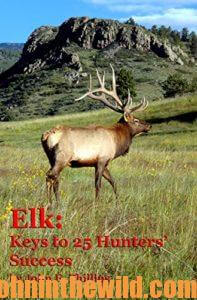 To learn more about hunting elk successfully, check out John E. Phillips' book, "Elk: Keys to 25 Hunters' Success," available in Kindle, print and Audible versions at https://amzn.to/2IDszQk. by copying and pasting the click into your browser.
Tomorrow: Randy Ulmer's Philosophy on Finding and Taking Mature Bull Elk