John's Note: With deer season ended, hopefully you've got venison in your freezer. Venison has 1/2 as many grams of fat as chicken, 1/10 as many as lean ground chuck and 1/12 as many as lean cured ham. Venison is comparable to chicken in cholesterol content. Today we've included five of our favorite venison recipes.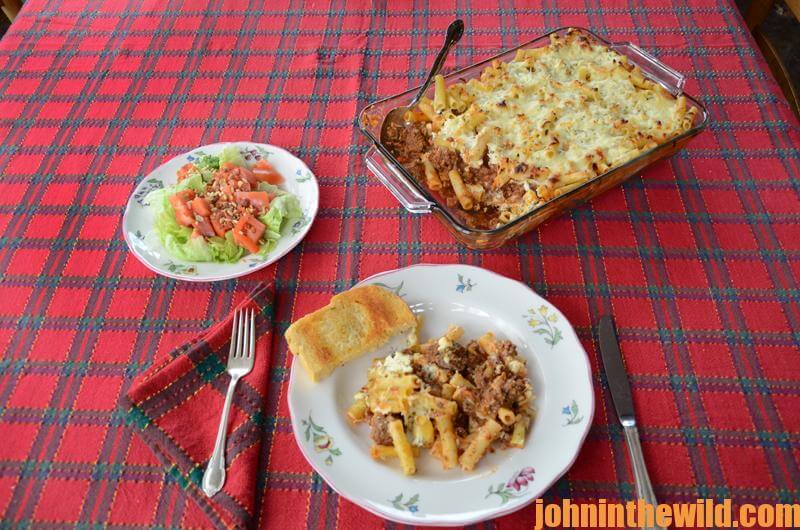 Greek Baked Venison Ziti
The feta cheese plus the two other types of cheese, the cinnamon and the tomato sauce give this ziti recipe a Greek flavor. Kids particularly love this dish.
Ingredients:
8 ounces ziti pasta
1 pound ground venison
1 large onion, chopped (about 1-1/4-cups)
1 jar (24 ounces) chunky tomato pasta sauce
1/2-teaspoon ground cinnamon 5 ounces
1 cup part-skim ricotta cheese
1 egg
2 tablespoons chopped fresh parsley
1 teaspoon dried oregano
1-1/2-cups shredded mozzarella cheese, about 6 ounces
Preparation:
Preheat oven to 375 degrees. Cook pasta according to package directions, until it's almost al dente, slightly undercooked – enough to be firm but not soft; drain. Heat large nonstick skillet over medium-high heat. Crumble in the venison; stir in onion; cook, stirring occasionally, until venison is no longer pink; drain, discarding drippings. Return venison mixture to skillet. Stir in tomato sauce and cinnamon. Reduce heat to medium; simmer for 10 minutes. In medium bowl, combine feta, ricotta, egg, parsley and oregano. Spread 1 cup venison mixture over bottom of shallow 1-1/2-quart baking dish; top with half of pasta. Drop 1 cup of ricotta mixture by heaping tablespoonfuls over pasta; sprinkle with 3/4-cup mozzarella. Spread 2 cups venison mixture over cheese. Top with remaining pasta, then ricotta mixture and venison mixture; sprinkle with remaining 3/4-cup mozzarella. Bake 20 – 25 minutes or until hot and bubbly. Let stand 5 minutes before serving. Yield: 6 servings.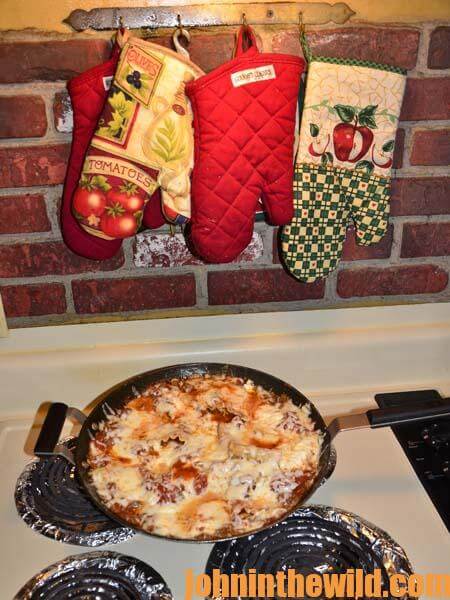 Venison Pizza Pasta Skillet
In the spring, outdoors families are generally busy not only with hunting, fishing, camping, hiking, and canoeing but also with soccer, track and field, softball and baseball besides enjoying the outdoors. This quick recipe with flavors kids enjoy is sure to please.
Ingredients:
8 ounces Campanelle pasta (or mini shells)
1 jar (5 ounces) pizza sauce
3 cups water
1/8-teaspoon red pepper flakes
1 teaspoon Italian seasoning
12 ounces cooked venison sausage
2 ounces (1/2-cup) chopped pepperoni
1 – 2 ounces chopped mushrooms
8 ounces fresh mozzarella cheese, sliced
Preparation:
In oven-safe skillet, combine pasta, sauce and water. Bring to boil. Cover and reduce heat. Simmer for 15 to 18 minutes, until pasta is tender. Stir in red paper flakes, Italian seasoning, venison sausage, pepperoni and mushrooms. Cook over low heat about 5 minutes. Top pasta with mozzarella cheese. Heat under broiler until cheese is melted. Yield: 6 servings.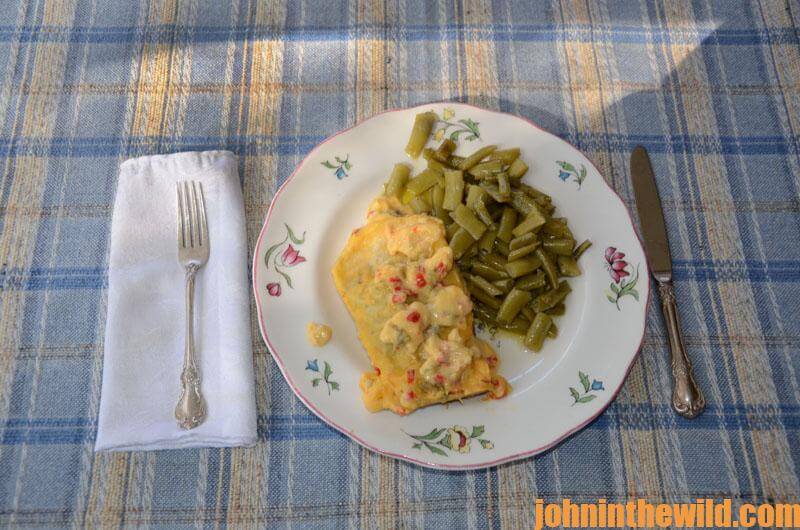 Cheese Enchiladas with Venison
This longtime favorite with our family is something I've prepared for 30+ years – often not telling our children's friends it was a venison dish. No one ever guessed! It's my favorite Mexican comfort food.
Ingredients:
1 can cream of chicken soup
1 small can evaporated milk
1 cup chopped onions
1/2-pound Velveeta cheese
1 pound ground venison
1 4-ounce can green chilies
1 package (1 dozen flour tortillas)
1 small jar pimientos
1/2-pound Longhorn Colby cheese, grated
Preparation:
Preheat oven to 350 degrees. Heat soup, evaporated milk and Velveeta cheese in top of a double boiler, until cheese is melted. Add green chilies and pimientos to the sauce, and set aside. In a skillet, brown the ground venison and onions. Combine grated Colby cheese with the onions and ground venison – but be sure you've sprayed the skillet with Pam to keep the cheese from sticking. Lightly fry flour tortillas according to package directions, and then fill each tortilla with meat mixture. Place in a 9×13-inch baking dish that's been sprayed with Pam, securing each with a toothpick. Pour cheese sauce over the top. Cover with foil, and bake at 350 degrees for 30 minutes. Yield: 6 – 12 servings. (Denise's notes: If you don't mind a slightly doughy flavor, I don't fry my tortillas – one less step in preparation, and I try not to fry much).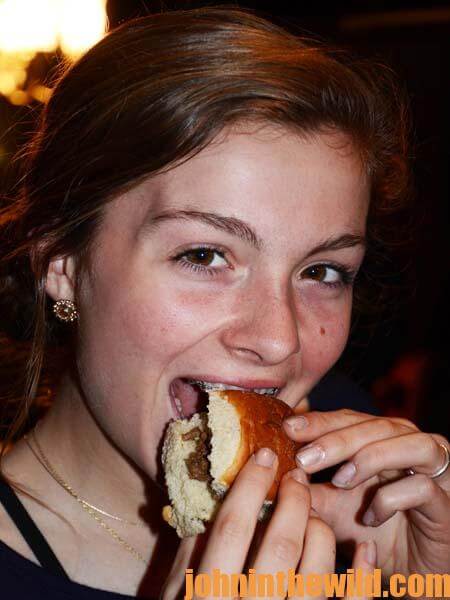 White Castle Venison Burgers
My brother and his family lived in the Chicago area for 25 years, and we always enjoyed White Castle burgers when visiting. This version is for their loose meat burgers and is delicious prepared with venison.
Ingredients:
3 pounds ground venison
2 tablespoons cider vinegar
2 tablespoons brown sugar
2 tablespoons Worcestershire sauce
2 tablespoons soy sauce
1 whole onion, finely chopped
1-1/2-teaspoons seasoned salt
1/2-teaspoon pepper
2 teaspoons garlic powder
3 to 4 cups water
2 beef bouillon cubes
2 chicken bouillon cubes
Hawaiian rolls
Preparation:
Put venison and onion in a large skillet along with water. Chop the venison really fine while bringing it to a low boil over medium-high heat. Cook, stirring and chopping often, until the venison is no longer pink. Add all other ingredients, and continue lightly boiling, stirring often, until water is cooked down and mixture gets thick – about 1 hour. (I just put my big skillet on a back eye of my stove top and let it cook while doing other things in the kitchen). Strain venison out, and press small mounds of the meat onto Hawaiian sweet rolls. Top with your choice of condiments (mustard, barbecue sauce, hot sauce). Makes enough for 24 little sandwiches, which is one pack of Hawaiian rolls. Leftovers freeze well. (Or, once boiled – about 1 hour – pour any water off, and put meat in a crockpot on warm. Serve from the crockpot). Yield: 24 Small sandwiches.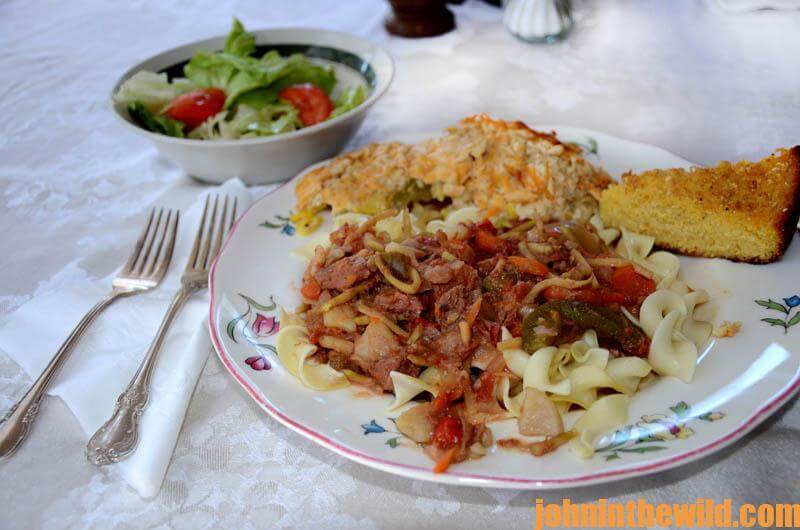 Everything But the Kitchen Sink Venison Stew
This hearty venison stew is jam-packed with nutrients and vegetables and literally has "everything but the kitchen sink" in it.
Ingredients:
1 small package broccoli slaw (available in fresh produce section)
1 onion, chopped
1 bell pepper – red or green – sliced
2 cans Rotel mild tomatoes
2 cans sliced carrots
2 cans sliced potatoes
2 frozen seasoning packs – chopped onions, bell peppers and celery
Salt to taste
Pepper to taste
2 pounds venison (with all white membranes removed), cut into 1-inch pieces and soaked in heavily-salted water, covered, refrigerated overnight and then rinsed thoroughly.
1-4 ounce package instant vanilla pudding
1 – 16 ounce package noodles
Preparation:
Place all ingredients in a 6-quart crockpot on HIGH for 2 hours; then turn to LOW for 6-8 hours. You may have to adjust cooking times, since crockpots often cook differently. You also can leave this on WARM for several hours if needed. Fifteen minutes before serving, boil noodles in salty water with oil, and serve stew over the noodles. Yield: 15 – 18 servings.
To see other tasty venison recipes besides these, you can get John E. and Denise Phillips' cookbooks available in print and on Kindle: Deer and Fixings and The Best Wild Game and Seafood Cookbook Ever.
Tomorrow: You Can Prepare Delicious, Protein Packed Venison from the Deer You Hunt
EXPLORE MORE: you'll love these stories from John too