Editor's Note: Dustin Hayes of Orange Beach, Alabama, is a master inshore fisherman. He guides families and individuals surf fishing and night fishing under dock lights in the back bays. During the daytime, he takes them fishing on the grass flats and artificial reefs. Hayes knows how to catch inshore fish near and on beaches, and his tactics will work for you.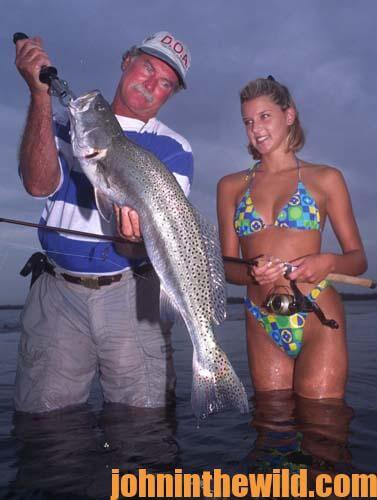 The best time to catch big speckled trout and redfish on the beach is just when that gray light appears before the sun comes up. The beach then will be as wave-free as it will be all day long. Most days, during the summer and early fall, big speckled trout and redfish often will hold just off the beach in the cuts between the sandbar and the beach.
One of the main lures that Hayes uses to catch big speckled trout from the beach is the Unfair lure (www.unfairlures.com) Rip-N-Slash – a jerkbait that you fish quickly like you do a jerkbait in the late spring when fishing for bass. The redheaded white-bodied Rip-N-Slash is one of Hayes' favorite colors. "I also use shad-colored Rip-N-Slashes. I like the black-pearl color and the emerald-ghost color. I use a line-to-line knot to attach a flourocarbon leader to my main line. Then I tie the flourocarbon leader to the eye of the Rip-N-Slash, and that process prevents line twist. The Rip-N-Slash also has really-sharp hooks, and you'll catch speckled trout, redfish, flounder, ladyfish and Spanish mackerel.
"Another lure I fish with a lot to catch big speckled trout is the Zara Spook (http://www.heddonlures.com/product/zara-spook-3/) or the smaller Zara Puppy. If the fish are feeding actively, I'll also fish with chugger type baits, because the redfish, the flounder and many other saltwater fish will hold in those cuts. They'll be looking for a disturbance on the surface of the water and for baitfish just under the water. They don't hesitate to come up and take these baits. I don't recommend this type of fishing for families, because we usually have to walk a good ways down the beach and try different places until we locate the fish. But when we find the fish, the fishing can be fast, furious and fun.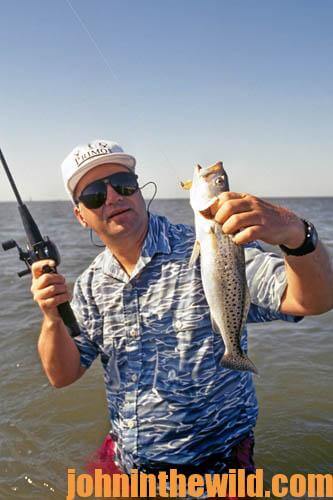 "When we catch speckled trout on the beach, the average fish will weigh 1-1/2- to 2-pounds, but they'll be shorter and chunkier than the bay trout. When the speckled trout are in the surf, they're generally feeding on bigger baitfish, and they're covering much more water, swimming up and down the beach, than they do when they're in the bay. At times we do catch speckled trout that will weigh from 4-8 pounds.
"The speckled trout are very hard-fighting fish. However, when we catch big speckled trout on the beach, they're usually females, and we generally release them, so they can spawn. If we want to keep speckled trout to eat, we keep the trout that are 20 inches or less. We believe that the trout that size provide better quality of meat than the bigger trout do, and we know that if we release the big speckled trout, there will be more big trout for everyone who comes to Orange Beach and Gulf Shores to catch. The limit on speckled trout is 10 per person per day that are 14 inches or longer. We'll often catch bull reds using this same tactic, and some may weigh 20-25 pounds each."
To see how, where and with what Dustin Hayes fishes, check out his video, "Hot Spots for Speckled Trout Surf Fishing:" https://www.youtube.com/watch?v=moptzhAgfug. If you'd like to go on a surf-fishing trip with him, call at 251-981-3811 or his mobile at 678-897-0167. You can check out his Facebook page and see what his clients are catching at https://www.facebook.com/Shorethingfishing.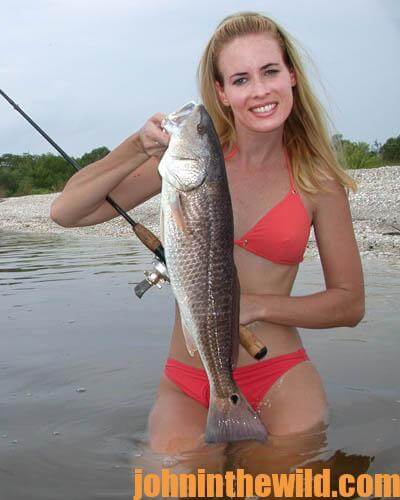 Speckled Trout Amandine
Specks taste delicious at any time of the year, and this recipe is probably our favorite for preparing the dish of trout amandine.
Ingredients:
Fillets of speckled trout, skinned
1 cup almonds, slivered
2-3 cups milk (depends on number of fish)
3 ounces beer (the alcohol in the beer will dissipate in cooking)
1 teaspoon dry mustard
2 ounces Worcestershire Sauce
Flour
Salt and pepper to taste
Preparation:
Thaw fish in advance. Cut the fillets the thickness of your little finger. Brown almonds in butter. Soak first batch of fish in milk, beer, mustard and Worcestershire sauce for 10-20 minutes. Roll the fillets in flour, salt and pepper, and then pan fry in enough butter to cover the bottom of the pan, turning the fish once when brown. Add butter as needed as the fish fries. Soak the second batch of fish, while the first is frying. When the fillets are brown (about 4-5 minutes), remove with a spatula, and drain on paper towels. Place on a warm plate, spoon almonds and butter over fish, and serve immediately.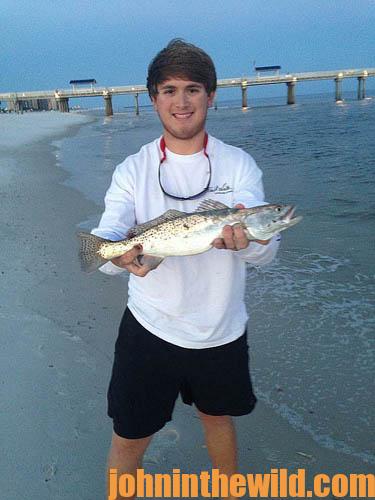 To get John and Denise Phillips' "The Best Wild Game & Seafood Cookbook Ever: 350 Southern Recipes for Deer, Turkey, Fish, Seafood, Small Game and Birds," go to http://amzn.to/WkbLRg and for "13 Freshwater Fish Recipes You Can't Live Without," go to http://amzn.to/18OiC9v. You also can download a Kindle App for your iPad, SmartPhone or computer.
To learn more about saltwater fishing, check out John E. Phillips' Kindle eBooks and some print books at http://johninthewild.com/books/#gulf.
Tomorrow: Why Dustin Hayes Thinks a Beach Cart Is Important
EXPLORE MORE: you'll love these stories from John too