John's Note: With a long list of wins at turkey calling championships, avid turkey hunter and caller Walter Parrott (www.walterparrott.com) of Frederickstown, Missouri, is known as one of the nation's top turkey hunters. He also hosts the TV shows, "100% Real Hunting" for Bass Pro Shops and "Winchester TV."
I really enjoy bowhunting from a blind when I'm hunting turkeys for fun. Here's why.
You can put two hunters in a blind and drastically increase your odds for taking a turkey with your bow. One of the hunters can do the calling and try to get the bird in position for the second hunter to get a shot with his bow. With one hunter responsible for calling and positioning the bird, all the shooter has to do is concentrate on the shot and the spot he wants to hit. I like to take first-time hunters and youngsters turkey hunting with me. A blind provides an opportunity for them to see the hunt without their having to sit completely still and remain silent. I can put all of my calls on the floor of the blind, pick them up and use them whenever I want to without fear of a turkey's spotting me. I can change positions in the blind without spooking the turkeys, if I get tired of sitting.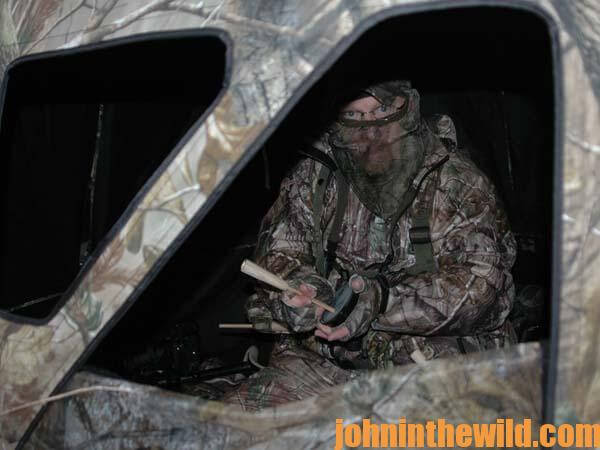 The easiest way to bag a gobbler – whether you're hunting with a bow or a shotgun – is to be in a place that the turkey naturally wants to be. You can bowhunt field gobblers by following these steps:
1) Find a field where the turkeys like to feed and strut every day.
2) Study the turkeys with binoculars for a day or two, and determine what time they usually show-up, where they prefer to strut, and where they like to enter and exit the field.
3) Set-up a portable blind, or build a natural blind near one of the places where you've spotted turkeys.
4) Place your decoys, get in your blind, call the turkeys, and get ready to take the shot.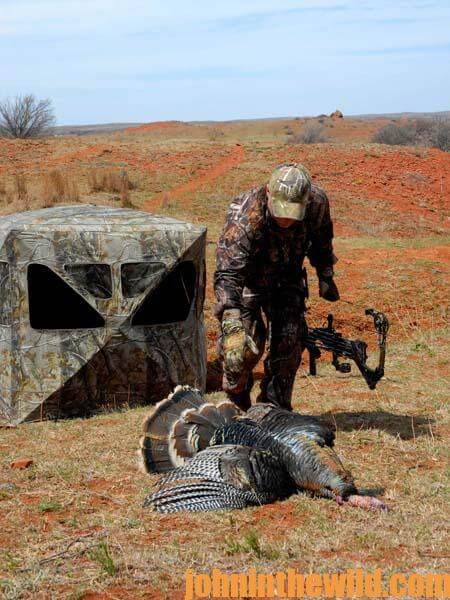 Turkey hunting with a bow was once considered an ordeal. You had be a skilled hunter, a master caller and an extremely lucky individual just to get off a shot. If you did make a shot, you had to be doubly lucky to recover your bird. However, with lightweight, portable blinds, lifelike turkey decoys, a good string tracker and some realistic turkey calls, getting your gobbler with a bow isn't nearly as difficult as it once was. But never forget – anytime you hunt a turkey with a bow, a gun or even a slingshot, you have an opportunity to enjoy one of the greatest hunts of a lifetime. I believe that the wild turkey is the ultimate challenge for the hunter, and taking a turkey with a bow makes the hunt more exciting for me.
To learn more about turkey hunting from the masters, get these Kindle eBooks by John E. Phillips, including: "The Turkey Hunter's Bible (available as an eBook or in paperback)," "PhD Gobblers: How to Hunt the Smartest Turkeys in the World," "Turkey Hunting Tactics" and "Outdoor Life's Complete Turkey Hunting." Click here to get these books.