Editor's Note: There comes a time in every hunter's life when he wants to take a really-big buck. Knowing the habits of a big buck can put a trophy deer right under your stand.
Here's the hunt plan of one of the best big-buck hunters I know. "I go into the woods at 3:00 am, because I want to have plenty of time to reach my stand. I'll usually have to walk from 1 – 1-1/2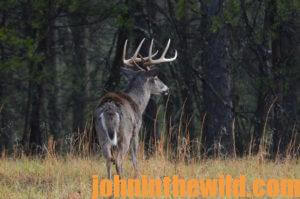 miles. I want to allow myself 60 – 90 minutes to cover the distance. I believe a hunter must approach his stand as slowly and quietly as possible to stalk a deer. Using the water that divides the thicket and the feeding ground, I always wade to reach the stand site I've selected. I never use a light going to my stand. A flashlight moving through the woods at night spooks every animal within a half mile. I make sure I've picked out at least three trees where I can set-up a stand. Then, no matter which way the wind's blowing, I won't spook the deer if they are in the thicket.
"Once I arrive at the tree where I plan to place my stand, I want to have at least an hour to assemble the stand and to get up the tree. By wading to my stand, I haven't made any noise or left any scent. When I arrive at the tree, I don't want to make noise setting-up my stand or climbing into the tree. So, I've put rubber on the metal parts of my stand and carpeted the platform. I want to be in my tree and ready to hunt 30 minutes before daybreak to allow the woods to settle and become absolutely still before first light.
"When I'm in my stand, I prefer to have a feeding area in front of me and water and a thicket behind me. I like to have my back to the water, because I can hear the deer moving in the water, and I don't have to turn around and look for them. I can spend all my time watching the feeding spot in front of my stand. Often I won't be close enough to a deer to take a shot, if I'm hunting with my
bow. But after the first day of hunting, I'll notice when and where the deer are crossing the water. Then on the second hunt, I'll be better able to set-up my stand within bow range of the deer."
Successful bowhunters never force their shots if the distance is questionable. When hunting in areas with no other hunting pressure, if you don't take a questionable shot, more than likely you'll be able to come back and hunt that same deer in the same spot another day. Deer generally maintain the same movement patterns for longer times in undisturbed, remote regions than in places of high hunting pressure. So, if you see a nice buck and aren't sure you can take him, let him walk by, and hunt him another day.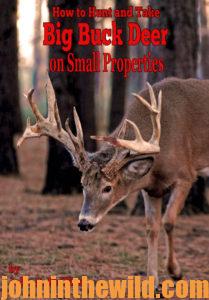 To learn more about hunting deer, check out John E. Phillips' book, "How to Hunt and Take Big Buck Deer on Small Properties," available in Kindle, print and Audible versions at (http://amzn.to/1vIcj4m).
Tomorrow: Understanding the Value of All Day Deer Hunting