Editor's Note: Bill Custer of Clovis, California, is a member of several outdoor companies' pro staffs and has hunted elk in Oregon, New Mexico and Utah. But 90 percent of his hunting is in Colorado on public lands where he can buy a tag over the counter. This will be his 35+ season hunting elk on public lands, where he's taken numbers of elk with his bow.
Secret #7: Watch Your Odor – Particularly from Campfires:
Campfires are warm, comfortable and fun to sit around, but I won't have a campfire in elk camp. I don't want to have wood smoke in my clothes. Fire is natural, but elk on public lands today are street-smart. If an elk smells smoke without seeing smoke or flames and has seen hunters before when he's smelled that odor, I think the elk is smart enough to relate the smell of campfire smoke to danger. I don't go out and spend a lot of money on odor-eliminating products. You can spend thousands of dollars trying to get rid of odor and still stink. If I'm hunting into the wind and spook a bull, most of the time I can call him back within bow range. But if the wind is hitting me in the back as I stalk the bull, and that bull smells my human odor, I'll never see that bull again. A big, smart bull probably will change ZIP codes when he smells human odor. As long as you're wearing a camo pattern that keeps the bulls from seeing you, and you wear a mask and gloves, and the bull doesn't smell you, you have a good chance of calling a spooked bull back to you.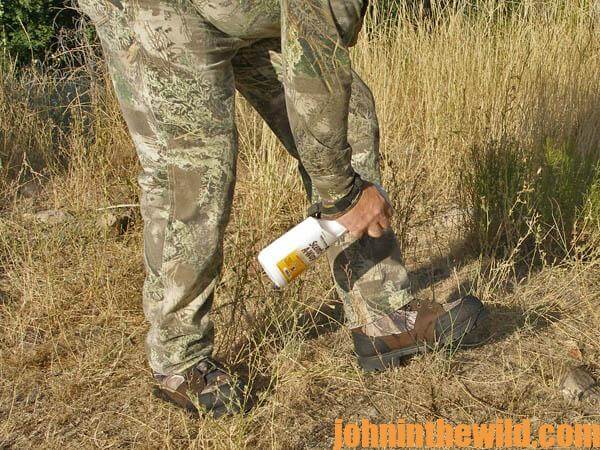 The only smell I want on me is a natural scent like earth or elk scent. My favorite cover-up scent is Hunter's Specialties (http://huntersspecialties.com/) Scent Wafers in the Cow Elk Urine scent. I put one on my hat, one on my waist and one on my backpack. When I wash my clothes, I use Hunter's Specialties Scent-A-Way detergent. I use unscented deodorant and depend on those scent wafers to cover my back trail. I hunt into the wind. If I stalk an elk, I make sure I have the wind in my favor. When I'm in a tree stand, I make sure the wind's coming to me from the direction I expect the elk. I think hunters often think they completely can eliminate human odor and hunt wherever or whenever they want, but I haven't found this to be true.
Secret #8: Know the Man Who Knows the Land and Get to Know Your Neighbors:
One of the best tips for finding elk on public lands is to know the man who knows the land. On public lands, that's usually the game warden or the wildlife biologist. These people can be very helpful, especially in a new area. Naturally, they'll tell you the same thing they tell everybody, but you'll know things the people who haven't called won't know. Once I called the game warden about a place I planned to hunt, introduced myself and talked for a while. When he arrived at our camp to check our licenses, he already knew who I was. I said, "You've been here all summer, since I talked to you 3-months ago. Where have the elk moved to since we talked?" He smiled and told me to hunt near a certain reservoir. I went where the game warden advised me to go, and I took a 320-point bull. You can call the district office of the fish and wildlife section for the state where you plan to hunt, and they can give you the name and number of the game warden or biologist for the unit where you'll hunt.
I have four different game wardens' cell phone, home and office numbers that I can call at any time. I've become their eyes and ears on the ground. I report game violations, trespassers and anyone breaking game laws, just like I will if I see a burglar breaking into my neighbor's home. Good, honest hunters can be the game warden's eyes and ears. If you're an ethical hunter and help the wardens, they won't mind sharing information with you. I never violate game laws or act in any manner except that of an ethical hunter. I understand that the game wardens and biologists are ethical hunters' friends. The lands they manage are there for all of us to enjoy, and when someone breaks the rules and takes an animal he's not supposed to take, he's stealing from all of us who hunt that region. One of my game-warden friends, Terry, retired a few years ago. We had a new game warden come to the area who was young, about 27-years old. I thought to myself, "Oh, no, I have to start all over again with a new game warden." But I found him to be a nice, knowledgeable guy. He came rolling into our camp when I was bringing in the meat from an elk I'd just shot. He made sure I had all the proper paperwork, and then we sat down and talked for a while. He told me that if I needed to reach him, all I had to do was call Terry's number, because he had taken over her cell phone.
There's a lot of help out there for people who hunt public lands, if they understand where to find the help. I've been elk hunting on public lands for a long time and realize that to be successful you need an edge. The best way to get an edge is to help all the public-land hunters who ask for your help. I go on elk forums to help people find elk and give them hunting tips. I had a fellow from Tennessee write me and say, "We can't hunt our old area anymore. Will you help us find another good area?" I helped them out when they came to the place where I hunt, and in return they helped me out. This may not make sense to many people, but the more you help other hunters, the more they'll help you. That's a secret that's hard for most public-land hunters to figure out. A forum, www.elknut.com, is good. The main site is a store, but they have a forum too. I try to answer questions when people come to that forum looking for help.
To learn much more about elk hunting, get John E. Phillips' eBooks, print books and audiobooks by going to johninthewild.com/books#elk.
To get John and Denise Phillips' free cookbook, "Miz Denise's Outdoor Cooking: More than 35 Recipes for Elk and Mule Deer," and "How to Make Venison Jerky – the Ultimate Snack Food" (recipes also can be used for elk jerky), as well as other free eBooks, go to http://johninthewild.com/free-books.
Tomorrow: Two More Secrets for Taking Public Land Elk