Editor's Note: Roger Gant of Corinth, Mississippi, has fished Pickwick Lake on the Tennessee River for more than 40 years. Some fishermen haven't recognized Pickwick Lake, located on the Alabama/Tennessee/Mississippi border, as a crappie lake. However, Gant guides on Pickwick Lake more than 200 days a year and consistently catches good limits of slab crappie.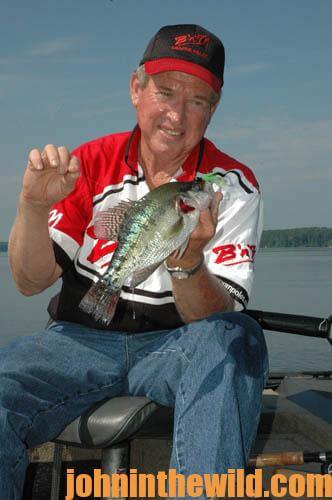 * Remember, speed determines crappie-fishing success. If crappie bite aggressively, troll the jigs at a faster speed. If the crappie act finicky or seem not to want to bite, slow down the speed at which you troll. The speed at which you troll often determines the number of crappie you'll catch in a day of fishing. I believe when crappie don't want to bite, I have to aggravate them into biting.
* Don't fish with two jigs of the same color on one line. I always want to have two colors of jigs that look alike but not exactly the same. I don't think a crappie really cares about the color of the jig. The fish makes a biting decision on the color he can see. A crappie can't distinguish colors. He can't tell the difference between green, pink or orange. But, under certain water and weather conditions, a crappie can see one of those colors better than it can see the other colors. The crappie usually will bite the color they can see the best. On the lakes that I fish, the water basically remains clear. The crappie can see the chartreuse and lime-colored jigs best in Pickwick Lake. If you move west of Pickwick Lake into Mississippi, where the water becomes more stained, the crappie seem to prefer orange and pink colors. The soil in those lakes allows the fish to see those colors better than the fish can the chartreuse and the lime. In the spring of the year, when the lake I fish becomes stained, I'll use gold, yellow and pink jigs to produce better in those stained-water conditions.
To learn more about crappie fishing with Roger Gant, call him at 731-689-5666 or 662-287-2017, or go to http://visitmississippi.org/events-and-points-of-interest/super-pro-guide-service-26669.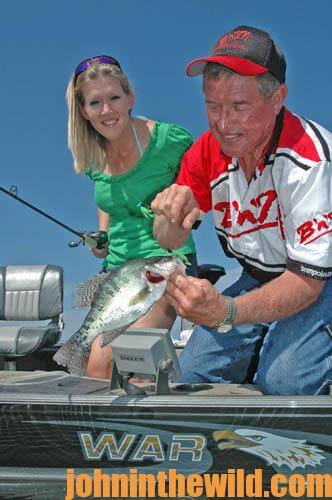 To learn much more about crappie fishing, get John E. Phillips' Kindle eBooks, and print and Audible books by going to http://johninthewild.com/books/#crappie or to www.barnesandnoble.com for Nook books. To receive and download for free "The Crappie Catchers' Cookbook," by John and Denise Phillips, go to http://johninthewild.com/free-books.
Tomorrow: Learn the Importance of a Depth Finder, Baitmate and the Best Dip Net with Roger Gant