John's Note: In mid-October, I attended the Tiptonville, Tennessee, Fins and Feathers Expo at Blue Bank Resort (www.bluebankresort.com, 877-258-3226) on Reelfoot Lake. While there, I learned that hand-carved decoys and duck calls could be solid investments, that 1/80-ounce jigs were being made, and that good stringers of big catfish could be caught from September until Christmas Day. In the next couple of weeks, I'll be sharing what I've learned at the Expo, but I'll let the people I met there tell you more about why they do what they do through videos. Rob Hurt of Dyersburg, Tennessee, is an avid duck call and duck decoy collector, seller, buyer and appraiser.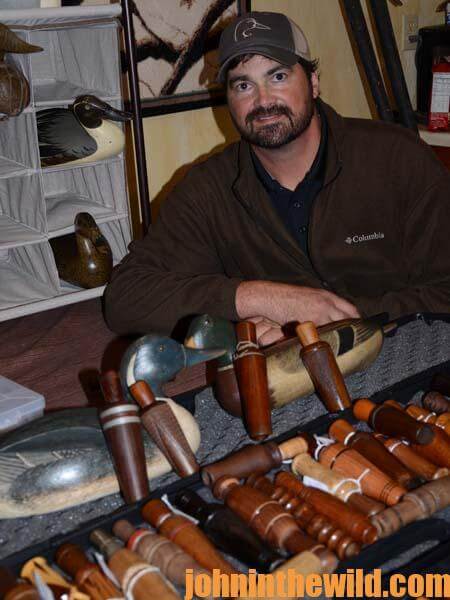 I only have been into buying and trading duck decoys for the last 5 years. First I started collecting duck calls, and then I included duck decoys into my collection. I only collect decoys that the custom duck call makers have made. My most-expensive decoy is an Elmer Crowell one that's valued at $14,000-$15,000. This decoy is almost perfect. When you buy a custom, handmade, wooden duck call or wooden decoy, you're purchasing a piece of a man's life and the history of the man, including where he's lived, what he's done for a living, and what's the beauty of his art. These characteristics all play a part in the value of the decoys and the calls he's crafted.
Crowell was from East Harwich, Massachusetts, was born in 1862, started making decoys when he was 14 and continued until 1951 before passing away in 1952. I was able to get this decoy at a trade show. I had done a lot of reading about Crowell, his life, the decoys he made and the value of his decoys. Plenty of information is available on many of these custom-made, hand-carved duck decoys and duck calls. To make good investment decisions, you need to read, study and learn the value of these works of arts. Or, you can hire an appraiser to help you determine the value.
The most-valuable decoys are hand-carved and hand-painted. The paint on this old Elmer Crowell decoy is original, which is unusual for an old decoy. Most valuable old decoys will have 40-50% of their original paint still on the decoys, but this decoy of mine, a male pintail with glass eyes, has 94-95% of the original paint.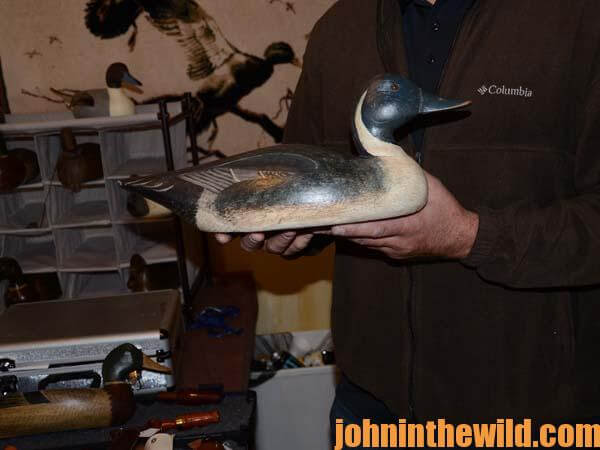 Another of my favorite decoys is a male mallard decoy I have from southern Illinois that was carved and painted by Robert Elliston of Henry, Illinois. The decoy was made 1910-1920 and has all the original paint still on it. If you could get a male and a female mallard that Mr. Elliston created, the two of them would be valued at $10,000-$15,000 a pair. This mallard decoy I'm holding in the picture is valued at $7500. Mr. Elliston's decoys all typified the distinct style of decoys at the Illinois River.
Shows and auctions are held all over the country where investors can buy, sell and trade duck decoys and duck calls. Call me at 731-445-8516 or 877-926-9629 to learn more about the decoys and duck calls I collect, sell and trade. I started collecting duck calls in 1989, and one of my favorite duck calls is a Victor Glodo that was carved by a duck hunter from Samburg, Tenn., who hunted on Reelfoot Lake, here in northwest Tennessee. I just obtained this call that's worth $22,000-$25,000 a couple of weeks ago. No more than 12 of these duck calls still exist, and their value increases every year. I also had a J.T. Beckhart duck call, an Arkansas duck call, that's hand-carved. One of Mr. Beckhart's calls sold at auction for $162,000 – the highest-priced, documented duck call ever sold. I bought my Beckhart call for $4,500 and later sold the call for $16,500. As you can see, collecting duck calls and duck decoys is a great investment. The handmade, custom, wooden calls and duck decoys just continue to grow in value each year.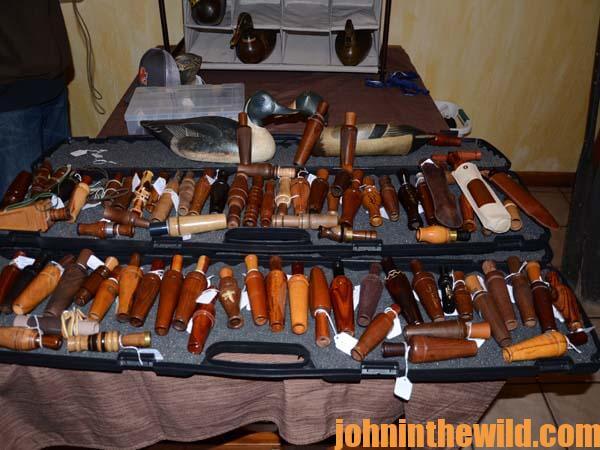 When people ask me what duck calls and decoys they should buy, I always advise them to buy the very-best they can afford to buy, if they plan to become a collector and an investor. Quality calls and decoys made by individuals with histories of making custom calls and decoys always grow in value. Right now I have 2200 custom-made duck calls. However, I only have about 35 custom-made duck decoys. The reason that the number of decoys I have is so low is due to my only buying decoys that have been carved, painted and sold by men who made custom duck calls.
If you're searching for an outdoor investment opportunity, and you enjoy beauty and knowing the history of custom-made duck calls and duck decoys, I strongly advise you to learn all you can about these and begin collecting these calls and decoys right now.
To learn more about Rob Hurt and to see more of his collection, go to https://www.youtube.com/watch?v=dWEudBNOOwQ.
You can go to Rob's Facebook Page at https://www.facebook.com/Feathered-Finds-641548399256155/.
Also, you can go to the Callmakers and Collectors Association of America, at ccaacalls.org.
For more information on Reelfoot Lake, check out the Kindle eBook and print book, "Reelfoot Lake: How to Fish for Crappie, Bass, Bluegills and Catfish and Hunt for Ducks."
Next: A Duck Call Tells the Christian Gospel with Brett Hall