Editor's Note: When I think about elk and elk hunting, the first person I think of is Wayne Carlton of Montrose, Colorado. Wayne and I have been friends more than 30 years, and he's built calls for 33 years with his latest, the Native by Carlton calls and hunting accessories available at http://www.nativebycarlton.com/. We've hunted turkey, deer and elk together. Wayne has been on TV shows and featured in videos, and he's one of the most well-known elk hunters and elk guides in the nation. Wayne Carlton plays a very-active role in the Rocky Mountain Elk Foundation (RMEF) https://www.rmef.org/.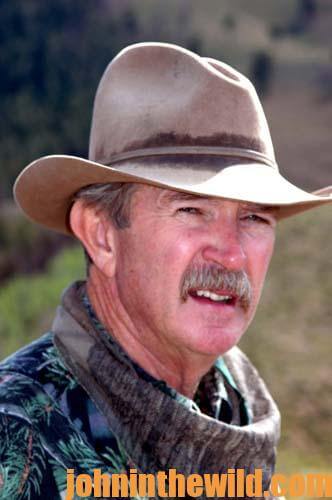 When you spot a bull elk at 300-500 yards, and you call to him, he'll do one of two things. He'll either come to you or walk away from you. In the past, those two options were all an elk hunter had. I had studied not only elk but how other animals reacted to decoys for many years. Often if you used a decoy – especially an elk decoy – it was so light and flimsy that an elk just about could see through the decoy, and you couldn't give that decoy motion. If I was hunting elk in wide-open country, I didn't believe that an elk decoy would help me.
But my opinion about elk decoys was drastically changed in the 2017 elk season when I saw a very-nice bull elk come running down a mountain from ¾-mile away once he spotted Butt Head, a cow elk decoy I had created that had photo-realistic detail with a 3-D face and ears, true-to-life shape and color in a compact size with a collapsible stomp stake for quick set-up.  At the same time, I gave him an elongated cow elk call, I held Butt Head up above my head – making Butthead about 8 feet off the ground – and started twisting Butthead's head around to look as though she was alive. That bull walked in about 30-yards away, looked back at Butt Head, stopped and came to within 15 feet of Donnelle Johnson, who was the shooter on this elk hunt, giving her a broadside shot. Donnelle loosed her arrow successfully. The first time I used Butt Head in 2016, I decoyed in seven bull elk. I had some bull elk come in so close to Butt Head that I had to bop them on their heads to keep them from running over me.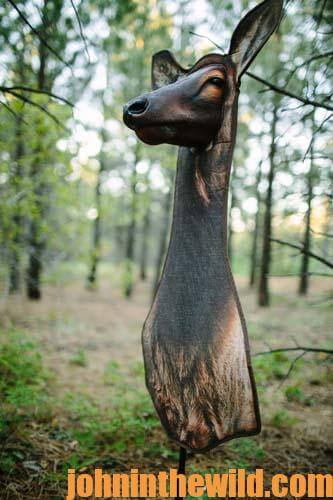 This Butt Head cow elk decoy is a photograph of a cow elk from her shoulders all the way to top of her head. Two rigid ears at the alert position are on this mannequin of a sculpted cow elk head made of black foam with a stick inserted that goes from the bottom of the cow's head down past the cloth with the 3D photograph that's imprinted on it. When you cow call to an elk, you can hold up Butt Head and turn her head left and right and move it forward and back. The first time I ever used Butt Head I learned that when the bull elk came in close, I should push the stick down in the ground, or put the stick in any nearby bushes to keep Butthead's head straight and looking at the bull.
I've been calling elk most of my life, and I'll often throw my calls to the left or to the right to sound like an elk that's moving in the direction where I have my hunter set-up. When I thought about making an elk decoy, I remembered the well-known and popular ventriloquist from the 1940s – the 1970s named Edgar Bergen. He had a dummy he named Charlie McCarthy. The dummy sat beside Bergen, and Bergen moved the dummy's mouth, eyes and body and threw his voice into the dummy to give the illusion of the dummy talking to him and asking him questions.
I decided that if I could create a realistic cow elk's head with her ears point forward at the alert position, attach that head to a piece of durable weather-resistant fabric with a photo of a cow elk's head, neck and shoulders on it and replace the face of the cow elk with a sculpted cow's face, then I could turn that dummy's head left and right, move it forward and backwards, while making my cow calls. I would sound not only like a cow elk looking for a bull but also look like one. Once the bull turned to see what was making the cow call, he not only would see a cow but also watch her move her head back and forth and from left to right and leaning forward when she began giving her calls.
See Butt Head Decoy with Wayne Carlton:
https://www.youtube.com/watch?v=5eKWjTOAZUU&feature=youtu.be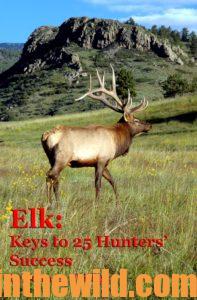 You can read John E. Phillips' latest book on hunting elk, "Elk – Keys to 25 Hunters' Success"  and learn more at https://www.amazon.com/Elk-Keys-25-Hunters-Success-ebook/dp/B07F3CNTX2 for Kindle and print books versions. You can download a free app to enable you to read this book on your computer or your tablet. You also can download a free book, "Miz Denise's Outdoor Cooking – More than 35 Recipes for Elk and Mule Deer," at  https://www.emailmeform.com/builder/form/rtJ6fD5m97CYhMXd.
Tomorrow: Wayne Carlton Tells More about Butt Head – the Ultra Realistic Cow Elk Decoy That Works