John's Note: What many people don't know about Wayne Carlton of Montrose, Colorado, is that for most of his life outdoorsmen knew him more for his turkey calling and hunting skills rather than hunting elk. Carlton has helped develop many elk calls and has been very active in the Rocky Mountain Elk Foundation organization and shows. But, before he moved to the West, Wayne Carlton had his own line of turkey calls and was known across the East as a very-good turkey hunter and turkey caller. Carlton frequently does turkey hunting seminars and still loves to call, hunt and teach turkey hunting.
I'm from Florida originally, and although we get quite a bit of rain there, it doesn't rain every day in Florida like it does in Oregon. So, I've learned that if you have to hunt in Oregon, you have to be prepared to call turkeys in the rain. In Oregon, I've seen some of the ugliest turkeys I've ever seen in my life. I define an ugly turkey as a full-grown gobbler with all his feathers wet that looks like he's been in a washing machine, and he's in full strut.
I called in an ugly tom in the drizzling rain in Oregon one time. The day was one of those kinds of days that when you got up in the morning, looked outside, saw the pouring rain and the bad weather, you'd say, "I think I'll hunt those turkeys tomorrow, because I want to sleep in today."
However, I realized I had to hunt in the rain. So, I went to a place where I knew the turkeys should be and started calling. Sure enough this ole gobbler came in strutting in the rain. Now, I'd hunted and killed turkeys in the rain before, but I'd never seen a turkey come in strutting in the rain. He was in an open place strutting, and I kept a spruce tree between us, until I was close enough to get to him to call. Then the turkey heard me and strutted right to me, and I took him.
From this Wet Oregon Gobbler, I've learned that to take turkeys even in the rain, you have to:
* get out in the rain and let those rainy-day gobblers teach you how to hunt them.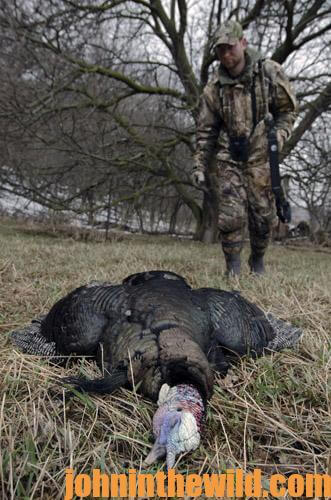 * remember that turkeys are very adaptable if they live in an area of the country where there's a lot of rain much of the time. These turkeys must learn how to do all the things a turkey does when the rain's not falling, including finding his hens and calling his hens to him by strutting and drumming – even in the rain.
* call a lot and move often because the turkeys can't hear from as far away in the rain as they can on a dry, clear day.
To learn more about turkey hunting, check out John E. Phillips' print, Audible, Kindle and Nook turkey books at http://johninthewild.com/books/#turkey and at www.barnesandnoble.com. You also can download a free Kindle app that enables you to read the book on your iPad, computer or SmartPhone. You can learn more about calling turkeys by going to johninthewild.com/audio-files/ for audio turkey tapes to purchase of Lovett Williams, Rob Keck and Chris Kirby, available for download to your SmartPhone, tablet or computer. For a free copy of John E. Phillips' "The Turkey Gobbler Getter Manual," go to http://johninthewild.com/free-books/ to download.
Next: Wayne Carlton's Western Mariah Turkey
EXPLORE MORE: you'll love these stories from John too