John's Note: David Hale, co-founder of Knight and Hale Game Calls in Cadiz, Kentucky, also co-produces the "Ultimate Hunting" TV show. Each year he travels the country doing TV shows and videos for Commonwealth Productions. When Hale and his partner Harold Knight go hunting, they have to produce animals for TV and video, and they use motion-sensor cameras to accomplish this task. As Hale explains, "We've been using motion-sensor cameras ever since they first came to the market."
David Hale considers trail cameras accurate at predicting when a buck will show-up on a trail. 
But during the rut, he doesn't find the camera reliable when trying to predict the exact time that the buck will show-up. Hale says, "When the buck locates a doe in estrous, he may stay with her for a day or two. Or, he may run all over the countryside, chasing does in all directions." However, trail cameras do let you know when the property homes bucks. Then Hale knows that a buck will travel a trail or close to a trail, looking for an estrous doe or in the company of one.
Too, a camera will show bucks on the property that you never may have seen. Hale says in some cases, "I may be trying to take buck that will score 135 to 140 points on Boone & Crockett (B&C). However, I may not see that size deer on any of my trail cameras, but I may spot a 150- or a 160-class buck that I've never photographed before on the property, because he's migrated in or chased an estrous doe to my land. Or, perhaps he's the dominant buck in the area and just has expanded his home range on the property I'm hunting. Or, maybe he's stayed in thick cover and never come down any of the trails that I've had cameras on until the rut begins."
Hale recalls a time when motion-sensor cameras enabled his son-in-law to take a trophy buck. "A couple years ago, my son-in-law had put out trail cameras on some property near his house. Before the season, he and I had inventoried with our cameras eight or 10 bucks that would score from 140 to about 110 B&C. After the rut, but still during deer season, my son-in-law set-up his cameras again to try and determine how-many bucks of the group we had photographed had survived the rut. He put his cameras around a feeder and photographed a buck that would make the B&C record books. For 3 consecutive days, he photographed that buck he'd never seen before during the season coming to the feeder. Every day, the buck showed-up within an hour of the time that he'd appeared the previous day. On the fourth day, my son-in-law set-up a tree stand and took that trophy buck with his bow."
Too, Hale likes to set-up three or four cameras at different stand sites to enable him to hunt under different wind conditions. He says, "The good thing about these cameras is when I'm on one stand site, those other three or four cameras are recording deer movement at the other stand sites for me. So, I'm actually scouting while I'm hunting." The cameras also enable Hale to scout an older-age-class buck that only may come down a certain trail once every 2 or 3 days. Hale uses the cameras to, "Let me know what trails he's using on the days he doesn't come down the trail that I'm hunting." The other cameras let him better predict where a buck will show-up the next day.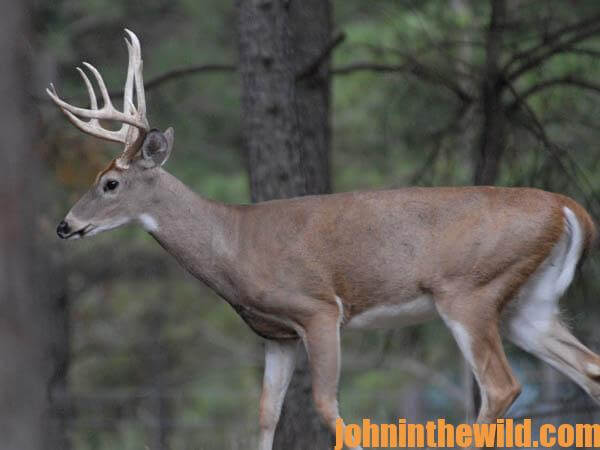 Hale reports that you can learn a wide variety of information using trail cameras, including:
"there's a buck on the property that's the size that you want to take;
"where that buck is coming from and going;
"how often he's coming down the trail you want to hunt over; and
"where along that trail can you find a place that pinches the terrain down, so that you can set up a tree stand that will be downwind and close enough to take that buck with a bow."
To learn more about hunting deer, get John E. Phillips' new eBooks "How to Hunt Deer like a Pro," "PhD Whitetails," and "Deer and Fixings." Click here to get these books.
About the Author
John Phillips, winner of the 2012 Homer Circle Fishing Award for outstanding fishing writer by the American Sportfishing Association (AMA) and the Professional Outdoor Media Association (POMA), the 2008 Crossbow Communicator of the year and the 2007 Legendary Communicator chosen for induction into the National Fresh Water Hall of Fame, is a freelance writer (over 6,000 magazine articles for about 100 magazines and several thousand newspaper columns published), magazine editor, photographer for print media as well as industry catalogues (over 25,000 photos published), lecturer, outdoor consultant, marketing consultant, book author and daily internet content provider with an overview of the outdoors. Click here for more information and a list of all the books available from John E. Phillips.
EXPLORE MORE: you'll love these stories from John too