John's Note: Most beach goers never see the true beauty of the beach because they're asleep. But at first light the beach becomes a spectacle of God's paintbrush as He demonstrates the beauty of a new day in the sky on the beach and in the water. And, that's when the fish bite best.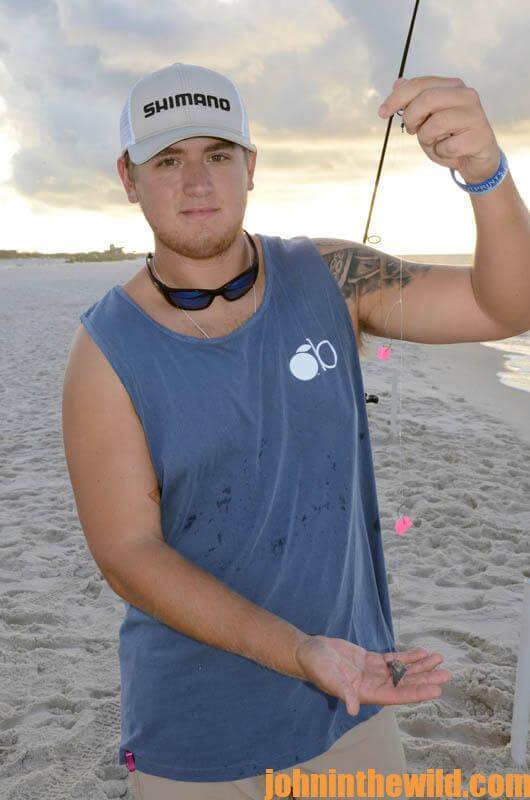 In mid-August, 2016, Don Steele, Abby Grimes, Hayes and I caught pompano in the surf, fish that fight hard, have firm white meat and are one of the best-eating saltwater fish. We also caught whiting, another choice fish for the skillet, and ladyfish, also called skipjacks because they put on aerial shows after they're hooked.
One of the problems that Dustin Hayes solves for the people he guides is how to get all their stuff from their vehicles to the spots on the beach where they want to fish. Hayes uses an aluminum beach cart called Reels on Wheels that comes in two sizes. Hayes prefers the bigger beach cart that allows him to carry more gear and more rods with 8 rod holders, a bait tray for cutting bait and a place to hang extra rigs on its sides. "The more prepared you are, the more easily you can move from spot to spot to fish easily and comfortably in the surf," Hayes says. "Too, you can bring rain jackets, snacks, sandwiches, cold drinks and a chair to make surf fishing more fun, comfortable, productive and relaxing. The beach cart will hold all the rods, an ice chest, a tackle pack, rod holders and gear for one to six fishermen. I supply all the bait and tackle for surf fishing and also make my own sand spikes that I push down into the sand to hold the rods up off the beach, until we get on a fish. You can buy sand spikes at most bait and tackle shops, primarily made of 36-inch long PVC pipe. The sand spikes I build out of PVC pipe are longer than 36 inches. I like to put my sand spikes a foot or more deeper into the sand and want my rods to be higher up off the beach than other sand spikes."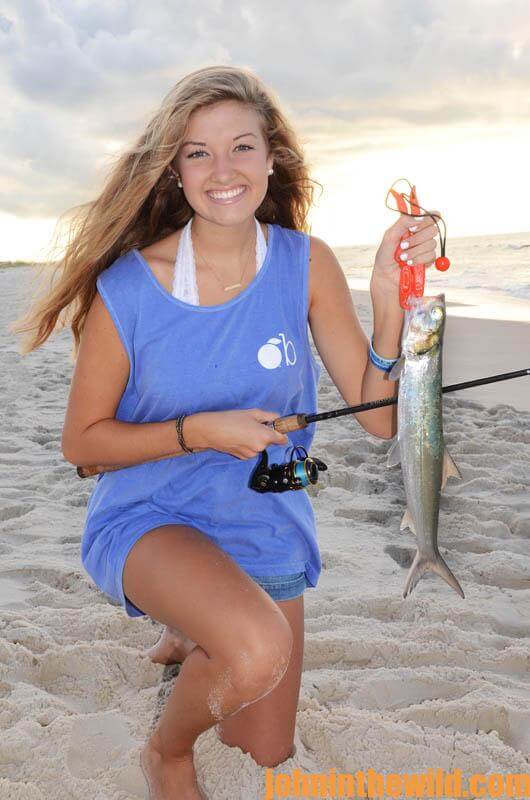 Sand spikes prevent having to lay your rods on the beach and getting sand in your reels, which can cause damage. Sand spikes keep the line coming from the rod above the waves and prevent the waves crashing down on your line, causing your bait to continuously move toward the shore. Taller sand spikes also keep the line tighter than short sand spikes do. Then when the fish takes the bait, the tension on the line helps to set the hook in the fish's jaw. Sand spikes also allow the angler to sit in a chair or on the beach and not have to hold the rod for a long time. By using sand spikes, you can fish more rods than you can if each angler has to hold a rod. Hayes also recommends trying different baits on each rod to see which type of bait fish prefer on that day." "During the fall of the year, which is coming up in a few weeks, we catch redfish, pompano, flounder, whiting, black drum, ladyfish and bluefish in Alabama's surf," Hayes emphasizes.
Contact Dustin Hayes to learn more about surf fishing at: 678-897-0167, shorethingfishing@yahoo.com, or facebook.com/shorethingfishing.
To learn more about saltwater fishing, check out "Alabama's Inshore Saltwater Fishing: A Year-Round Guide for Catching More Than 15 Species," "Alabama's Offshore Saltwater Fishing: A Year-Round Guide for Catching Over 15 Species of Fish," "Fishing Mississippi's Gulf Coast and Visitor's Guide," "How to Fish Mississippi's Gulf Coast in June" and "13 Saltwater Fish Recipes You Can't Live Without," available in Kindle eBooks and some print books. To learn more about hunting and fishing from John E. Phillips' print and eBooks, go to www.amazon.com/author/johnephillips and www.barnesandnoble.com.
Next: Where to Fish on the Beach